Securing passenger belongings with Bluetooth®
20 October 2021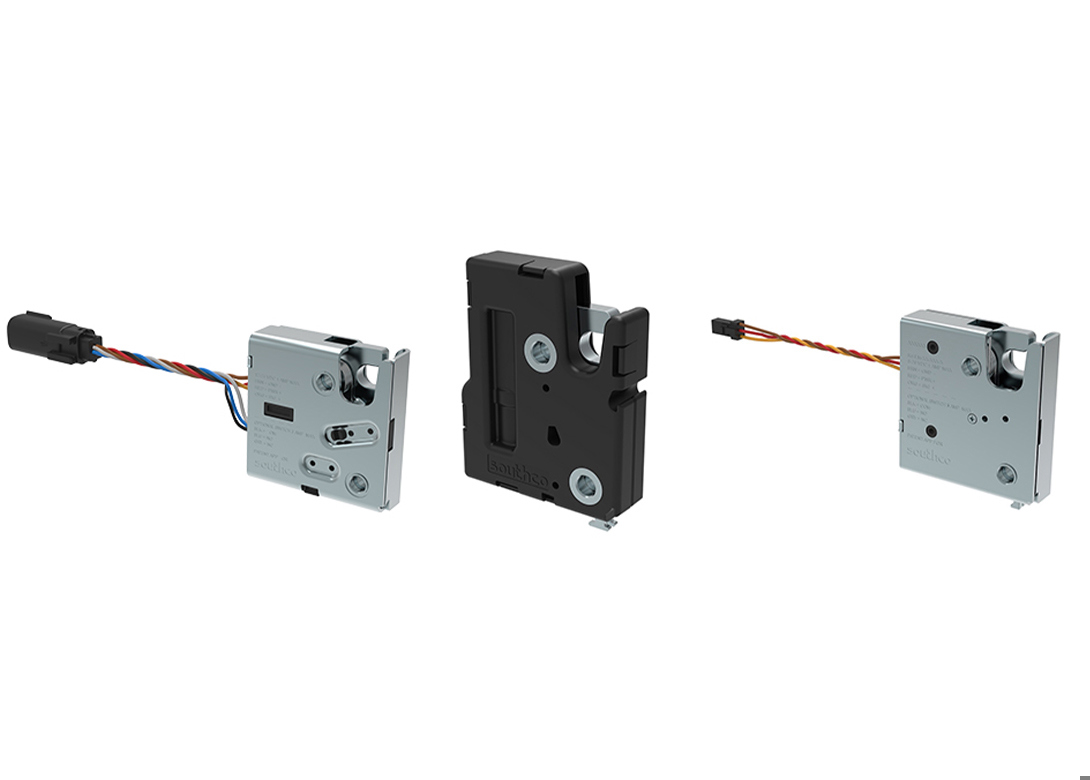 Security continues to present issues for rail networks, especially when it comes to protecting passenger belongings. Manufacturers of innovative locks and latches, such as Southco, can help improve the secure and safe storage of luggage, as well as managing access control to lockers with intelligent electronic locks.
Electronic locking solutions offer a secure solution for rail carriers looking to eliminate common issues with mechanical locks, such as key management. When combined with an appropriate access control device, electronic locks can be easily networked into an existing infrastructure and provide remote control and monitoring capabilities.
This digital record of access provides security personnel with a record of who has accessed a compartment, and when, which can be used to prevent unauthorised access. Electronically actuated rotary latches, for instance, offer a simple but versatile solution to achieve maximum security with a small design footprint. The latch is concealed on the inside of the frame and panel, taking up very little space – allowing increased locker capacity and a clean, exterior surface free of visible pry points.
Storage units with electronic locks can be designed into new trains or electronic access systems can be retrofitted to existing storage lockers to replace or supplement an existing mechanical solution. This can be achieved without comprising on space or adding additional weight to the carriage.
To avoid jamming conditions in gasketed or heavily loaded compartments, electronic locking solutions designed with gear-motor driven mechanisms require less current to handle greater loads versus traditional solenoid-type locks. Incorporating high-quality, microprocessor-based motor driven locks in storage locker designs allow these solutions to be precisely controlled and monitored for better performance and security.
The rise of mobile and digital technology is also changing access control. With smartphone embedded Bluetooth and 4G connectivity, manufacturers are using this technology to control access to storage units on-board the train that have been equipped with electronic locking solutions.
Traditional electronic access control is managed in one of three ways – through a key or RFID card, a PIN, or something unique, such as a fingerprint.
Bluetooth technology offers a user-centric, streamlined solution for the remote management of user credentials. When connected with Cloud-based applications, Bluetooth enabled devices – such as a smartphone – can be used as a key.
Electronic access solutions that integrate Bluetooth controllers offer a simple solution for on-board locker access. Time-based virtual keys can be sent wirelessly to a smartphone App via a Cloud-based web portal. The passenger then simply opens the App to see their virtual keys, along with the associated locked equipment location, description and period of access time.
To access the locker, the passenger must approach it and click the access button on the App, which transmits the encrypted Bluetooth signal to the reader, unlocking the door and sending a record of the access via the smartphone App to the Cloud. With Southco's BT Bluetooth® Lock Controller, the user does not need a wireless network to open the lock.
The mobile App simply communicates via Bluetooth, with the lock controller. At the same time, this technology also allows the rail carrier to monitor access to the storage wirelessly and remotely from any Internet portal, without having to connect to an existing security network.