CNC Onsite premieres wind turbine repair service and tools
09 January 2023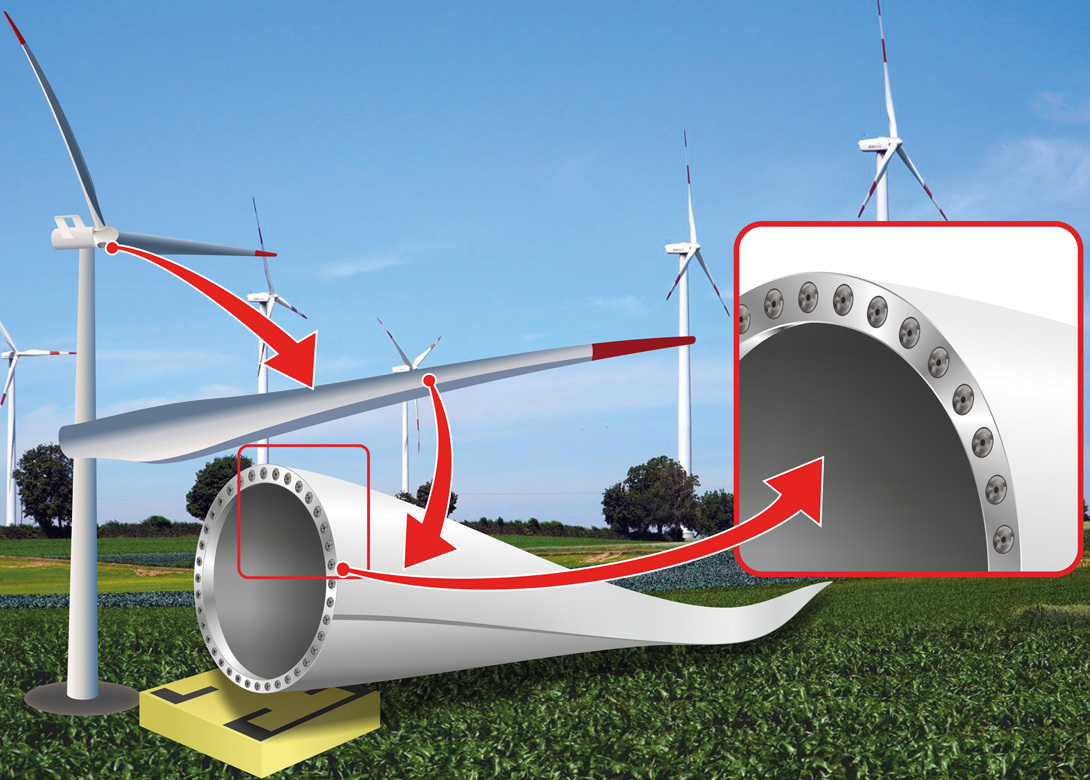 September's WindEnergy show in Hamburg saw machining specialist, CNC Onsite ApS, unveil a new on-site repair service and tool to enable the precise, cost-effective replacement of damaged, threaded inserts in wind turbine blade roots.
The service, which takes two to three days, avoids lengthy downtime and costly logistics for the turbine operator faced with having to either transport a blade back to the manufacturer for repair, purchase a new blade, or scrap an entire turbine altogether.
Threaded inserts are critical for joining turbine blades to nacelle hubs, but can become loose over time – issues are usually detected during maintenance and mostly occur in turbines older than 10 years. Microcracks can form in older blades allowing contaminants such as grease and hydraulic oil to weaken the bonding. As a result, blade-root structural safety can be compromised, especially when fatigue loading is high and can, in worst case scenarios, result in a blade breaking away. 
Previously, repairs for such problems had to be conducted at a turbine maker's facility and could take months, but these can now be carried out on-site at the wind farm, using the new CNC Onsite service, for which the portable tool was developed specifically and in response to operator needs for an on-site repair service. Tool development also drew on the company's CNC controlled machine technology, used to perform minute repairs to yaw ring and tower flanges.
Using the new on-site service, a turbine blade is removed and placed in a repair environment at the wind farm where faulty inserts can be drilled out and separated from the composite structure using the new portable, automatic machining tool. To ensure drilled holes match the exact diameter and shape of replacement parts, additional precision drilling makes certain new parts can be inserted and fastened using bonding material.
A partner in the new service is international blade rotor and blade root connection expert, We4Ce, with which CNC Onsite has teamed to deliver a complete repair solution focused on high strength blade roots. 
"The difficult parts of replacing a threaded insert include both centering the replacement part, as well as the processing technology for the bond. We have developed inserts with a design that considers both. This full solution offers a consistent and stronger bond between the insert and the blade," said Edo Kuipers, engineering manager and co-owner at We4Ce B.V.
"Repairing the blade root inserts on-site can be a complex operation. You need to be able to control several process parameters to ensure you do not do more damage to the blade and it is important to drill exactly in the centre of the existing inserts," explains Søren Kellenberger, sales director and partner at CNC Onsite.
The energy transition to green power means blade manufacturers are not only running at full capacity producing new blades, but that older blade models are often phased out after five or ten years, requiring moulds to be recreated. One of the most fragile components of a wind turbine, blades are also their most expensive parts, accounting for 25% to 30% of the build cost. Replacing them, therefore, on older turbines is often unviable, with operators, instead, opting to either keep a turbine running at reduced capacity, or to decommission it. 
Keeping them running is important to meet renewable energy targets and their efficient repair will be an increasingly vital element of global renewable energy transition; by helping extend the lifetime of existing turbines, CNC Onsite's new repair service can play an important part in a renewable future.
The full repair service will be available from late autumn 2022 and caters for blades of all sizes.