Bostik further extends Born2Bond™ range
05 January 2022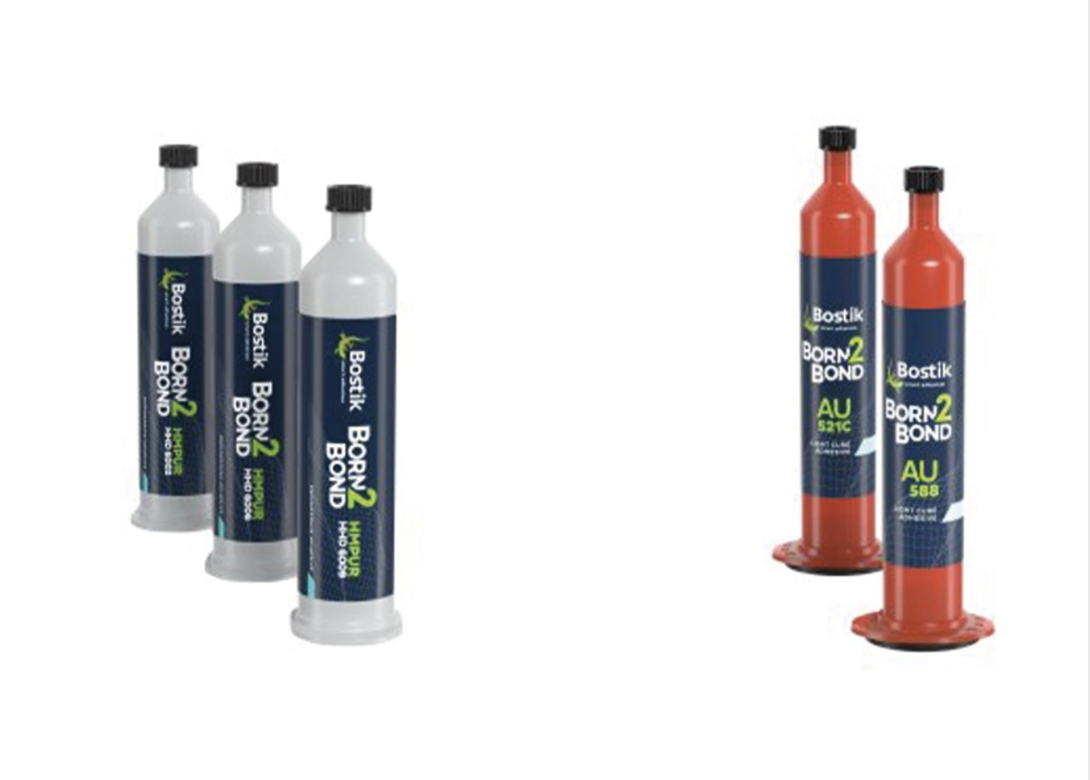 Bostik, an Arkema company, has extended its Born2Bond™ engineering adhesive range – designed to support the electronic manufacturing sector in the assembling, waterproofing, dustproofing and serviceability of miniaturised electronics, such as wearables and handheld devices and larger applications such as smart meters and LED lights.
Born2Bond™ MECA-based cyanoacrylates and innovative dual-cure light lock adhesives (patented in multiple countries) are already available for electronic OEMs for
high precision instant bonding, encapsulation and potting applications. Coupled with automatic dispensing solutions they provide high performing and convenient options for designers and engineers.
The new versatile and single component high performance HMPUR (Hotmelt Polyurethane Reactive) range has been designed specifically for the manufacture of miniaturised handheld and wearable electronic devices such as mobile phones, smart watches and headphones. High performance HMPUR products are available with a range of viscosities and open times to suit different applications and assembly processes.
"Born2Bond high performance HMPUR adhesives deliver excellent bonding performance (both rigid and elastic) and are capable of withstanding fluctuations in temperature and humidity, as well as being resistant to impact and chemical or organic compounds such as sweat or sebum," points out Bostik.
Also part of the Born2Bond range is the new UV-CIPG (UV Cure-in-place Gasket) adhesives, which provide single component, precise gasketing solutions with typically 0.5mm – 2mm high gaskets for waterproofing, dustproofing and serviceability of mobile phones, tablets, smart watches, digital cameras, and automotive applications such as battery management systems (BMS), electronic control units (ECU) and advanced driver-assistance systems (ADAS). 
The adhesives offer excellent adhesion to a variety of substrates including plastic, glass and metal –
as well as providing effective and cost-efficient solution to cut or moulded gaskets that are typically assembled by hand with significant labour costs and carry a high risk of defect. They also eliminate the need for investment in expensive and space-consuming equipment such as moulds and ovens.
"The UV-CIPG range delivers an extremely flexible and robust result that does not crack even when compressed or deformed. It can also withstand exposure to temperature fluctuations and chemicals," explains Bostik. "With high thixotropic indexes, the products provide a consistent bead aspect ratio and can be rapidly and precisely dispensed using automatic dispensing equipment."
For larger applications, such as smart meters and LED lights – where 2mm – 5mm high gaskets are required for dust and waterproofing, Bostik's UV-FG (UV Foam Gasket) range provides a fast curing alternative to moulded gaskets that can easily be integrated into manufacturing lines. Its single component design means mixing is not required and a high-foam expansion enhances resilience during the assembly process.