Be the first to secure Jubilee® flexiband
12 September 2018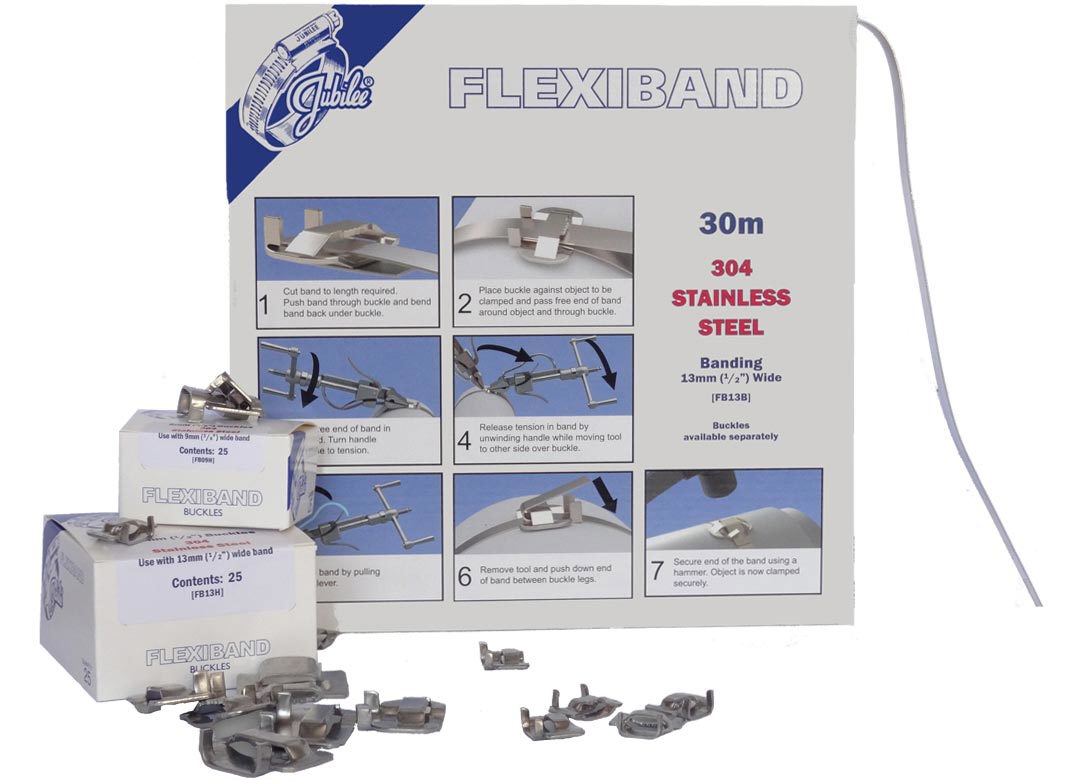 Jubilee® Clips has introduced a new 'band and buckle' system, Flexiband, as a further addition to its wide range of clamping and banding solutions.
Available in all 304 stainless steel, the new Flexiband range comes in four different sizes: 9mm, 13mm, 16mm and 19mm band widths with matching buckle sizes. Both band and buckles display the Jubilee® stamp, a symbol of quality recognised worldwide. Flexiband is available in dispensers containing 30m and buckles are sold in boxes of 25 pieces.
Jubilee's Flexiband range is easy to use and also includes a user-friendly assembly tool, vital for ensuring that the banding is fastened correctly. The banding suits virtually any diameter, as it is simply cut to the length required using the assembly tool. For extra strength, the band can be wrapped twice around the object to be clamped and secured through the buckle.
'Band and buckle' systems are ideal for strapping items securely and can commonly be seen in municipal applications such as sign fixing, where the tamper proof nature of the product is of paramount importance. The low profile of the buckle is also useful where space is a consideration, or where there is a snagging hazard such as on hose assemblies that could need to be dragged along the ground during recoiling. These benefits, combined with the corrosion resistance of all stainless steel construction, give a very wide range of industries where Jubilee Flexiband can offer optimal performance, including industrial applications, agriculture, automotive, civil engineering, marine, food, petrochemicals, offshore and oil and gas.
"After acquiring our existing Multiband production in Birmingham in 2013 we found that we had an ever increasing customer base in various sectors requiring a cut to fit solution. As a result, we have had a number of enquiries for this type of product. Considering the technology to produce pressed and coiled metal parts is well within our capabilities, we decided to introduce the Flexiband range, thus complementing the already successful Multiband products, as well as our other ranges of UK manufactured clamping and fastening products," explains Ian Jennings, managing director at Jubilee Clips.