Adhesives on the production line
17 December 2020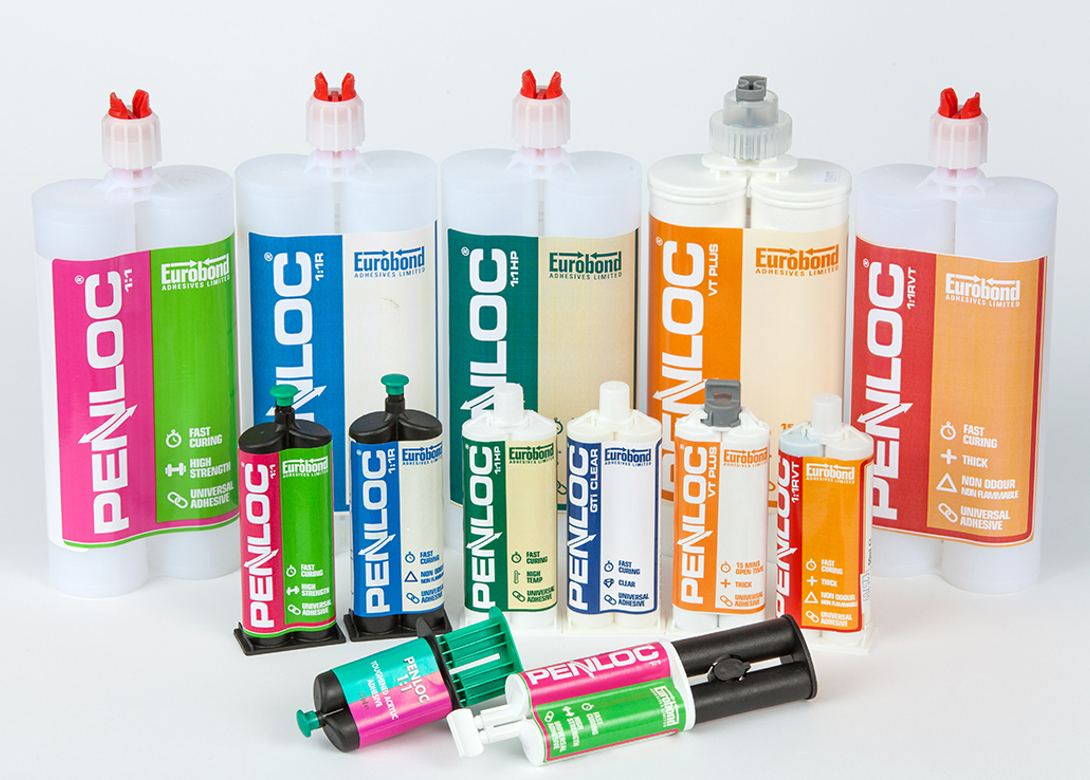 Adhesives can have many benefits over the use of more traditional mechanical fixings. Here, Simon Dearing, managing director at Eurobond Adhesives Ltd, looks at how adhesives and tapes can be used over these traditional fastening methods on a production line.
Adhesive bonding can simplify a product's design as they can often reduce the weight of a finished product. Eliminating mechanical fixings can also allow the product design to be more aesthetically pleasing with cleaner, simpler lines and form. It can also reduce the number of processes and components required to manufacture a finished product. Finally, adhesives can give a uniform bond line with no stress points, which could be caused by riveting, using nuts/bolts or welding.
In many cases production can also be increased by the use of adhesives. For example, if a product may be fixed with five screws and washers, making ten components that need to be handled and five holes that need to be drilled, a simple bead of cyanoacrylate adhesive could cure instantly. For variety, it could also be cured 'on demand' if it were a UV light curing adhesive, as well as curing instantly if it were an adhesive tape.
A two component adhesive could also be used, which would cure in a matter of minutes and whilst the material is curing the operator can move on to another job. If it were an electronic application, perhaps bonding SMDs to PCBs or bonding heat sinks with conductive adhesive, these processes can be done simultaneously and cured in the oven with heat. The curing and production processes really depend on the application.
This also depends on what dispensing equipment is available for a production/assembly line. Advances in both adhesive chemistry and dispensing equipment have vastly improved in recent years and this has helped to increase production rates. Some one and two part adhesives can be dispensed simply by using a manual or pneumatic hand gun for small production runs.
Larger production lines can incorporate an in-line metering, mixing and dispensing machine, which can dispense adhesives from small 30ml syringes up to 1,000 litre bunds and these can incorporate XY axis control. As many products, particularly in electronics, get smaller every year, dispensing equipment has had to develop new application techniques to keep up. It's now possible to 'jet dispense' many adhesives – including electrically conductive adhesives in very fine adhesive lines up to 0.5mm wide. Dispense equipment can operate in three dimensions delivering adhesives with immense precision.
Two component structural adhesives such as methylmethacrylates, epoxies, polyurethanes, silicones and polysulphides can also be used on production lines. However, production has to be modified to meet the pot life of the adhesive.
For example, most two component adhesives will be applied via a mixing nozzle. As the two components mix, the curing clock starts ticking. The machine will have a limited time to dispense the adhesive before it cures in the nozzle if unused or cures on the product. If substrate 'A' with the mixed adhesive on is not applied to substrate 'B' in good time the adhesive may cure before the two are put together. Similarly if the mixed material is not purged from the nozzle or the nozzle is not replaced when production stops for shift changeovers, tea or lunch breaks, the adhesive will cure in the nozzle.
But what should be used? Liquid adhesive or an adhesive tape? Once again it depends on the application. The design of a product may make it impossible to apply a regular bead or dot of adhesive without it contaminating another component. Adhesive tapes can either be cut to the required length from rolls supplied or can be die cut to specific shapes that fit an application and spooled onto rolls for easy application.
Eurobond Adhesives has an extensive range of high performance adhesive tapes, including high strength metals and plastic bonding tapes, clear tapes for bonding glass and acrylics, thermally conductive tapes, automotive application grade tapes, flame retardant and high temperature grades, as well as a range of tape for bonding low surface energy substrates – such as polyethylene and polypropylene.