Multilevel classification with Brankamp process monitors
25 March 2020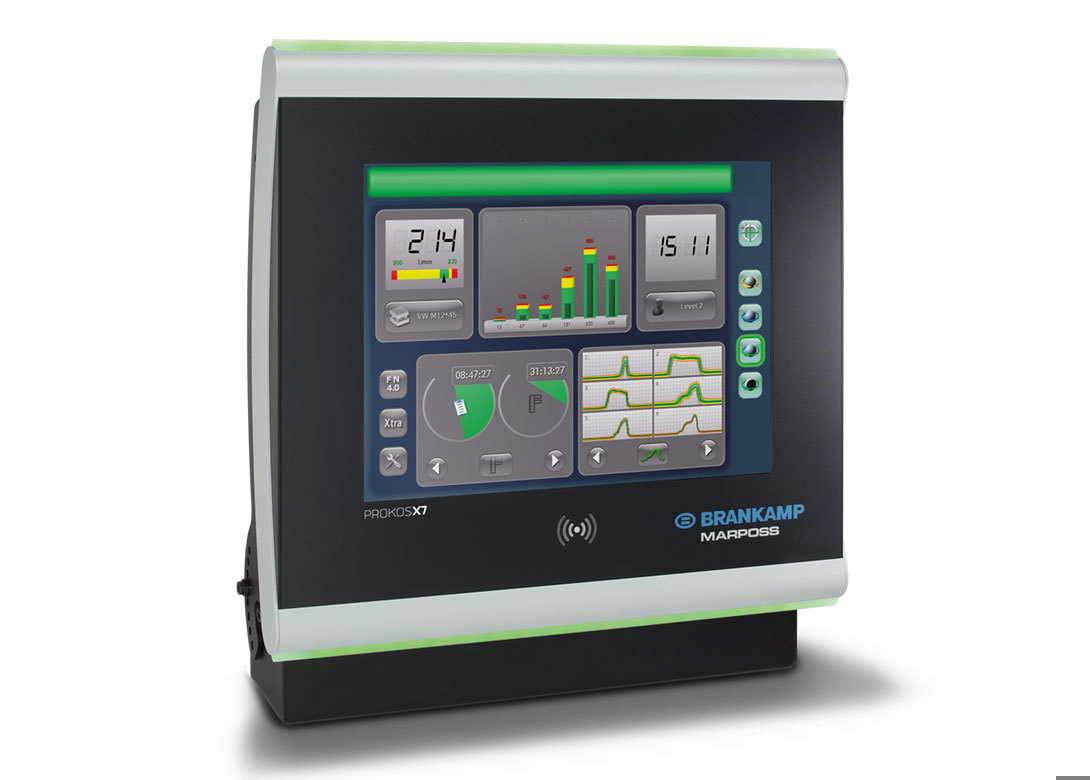 Marposs is a worldwide leader in precision equipment for measurement and control in the production environment. Its extensive product line of monitoring, control and measurement units for cold forming include the Brankamp monitoring system, X-series, with its several innovative features and process integrated methods.
The development of process integrated monitoring methods offers an effective way of detecting, right at the manufacturing stage, any quality defects such as cracks in head or flange sections, as well as fractures in tool elements or turned parts. Efforts have therefore gone into steady improvements in the accuracy of process monitoring systems, for the earlier and more reliable detection of marginal quality defects in formed or threaded parts.
An increase in monitoring accuracy creates a need for flexible responses of process monitoring system (and of the forming equipment), so that machine productivity is not reduced by the more frequent detection of defects. Multilevel classification procedures designed to sort defective components or shut down the forming machine in accordance with the nature of the malfunction are required.
Quattromatic double dynamic envelope curve technology
A high performance signal evaluation and classification system is required in order to be able to carry out detailed assessment and flexible sorting of the high resolution pressing force measurements obtained. The use of Quattromatic double dynamic envelope-curve technology permits a differentiated response that triggers a component sorting process (in all forming stations and without interrupting production) whenever the system detects quality defects, but which shuts down the machine immediately in the event of serious tool related malfunctions. The narrower, adjustable classification limits of the inner envelope curves activate a sorting process whenever there are minor signal fluctuations (e.g due to crack formation or misaligned items), while larger signal variations, which interfere with the outer envelope curve, lead to an immediate shutdown of the header in order to prevent subsequent damage to tool stations located downstream.
Optimizer Plus – self adjusting envelope width
The Optimizer Plus self-optimising envelope curve algorithms used here permit the automatic calculation of the optimum envelope curve width in accordance with the corresponding signal stability of each sampling point in the monitoring window. A combination of better quality signals and their high resolution conversion, coupled with high performance envelope curve algorithms, achieves a monitoring accuracy that considerably exceeds the performance of conventional process monitoring systems. At the same time, the machine operator no longer has to adjust the device, thereby allowing the optimum monitoring limits to be selected automatically, likewise without intervention on the operator's part.
Systomatic for tool defects
While cracked, misaligned or missing items constitute random, often single events in the production process as a whole, all tool related damage (such as cracks, fractures or weld on defects), along with wear and tear, creates changes that affect permanently the conditions of the forming process. It then becomes possible to link the processing signals mathematically to a series of sequentially arranged strokes, in order to achieve clear improvements in detection capability (including persistent, marginal signal fluctuations).
At the same time, a system of averaging offers various signal shapes designed to restrict stochastic signal elements (signal dispersions caused by fluctuations in processing parameters) and to highlight persistent, systematic changes to pressing forces (defect related changes to signals). This procedure now makes it possible to recognise even smaller, systematic processing malfunctions, such as fractures of punches or die chipping, thereby detecting marginal signal fluctuations. This so-called Systomatic monitoring basically functions by calculating tighter envelope curves (as signal dispersion is reduced) and can therefore make detectable those signal deviations that are persistent but more marginal.
In all Brankamp systems the monitoring procedures described (Quattromatic and Systomatic) are calculated and tracked in parallel, in order to be able to detect each type of defect as accurately as possible. This combination of targeted monitoring to detect random and systematic processing malfunctions represents a clear improvement in monitoring accuracy for various forming procedures.
Zoom to detect failure critical signal sections
Cracking in head sections and flanges of different parts (screws, bolts, nuts and shafts) occurs in various signal ranges of the forming force curves. The brief drop in the strength of the forming force signal is typical for the onset of crack widening, as – depending on the concentration of stress – less force is required for the forming of the flange. It is therefore often advantageous to use a special monitoring window (zoom channel) to monitor this failure critical signal section of a forming stage susceptible to cracking.
As cracks often form when the material is flowing freely, zoom monitoring is selected so that the initial signals of this forming force sensor are subject to a greater amount of more intensive sampling. In the event of any anomaly affecting the width of the envelope curve, the inner curve can be used to carry out an extremely accurate evaluation of this crack critical signal element. If the envelope curve value is lower (due to cracking being detected), a sorting device attached to the machine separates out the defective part concerned.
In addition to the Brankamp in-process monitoring systems, Marposs also has the Optoflash which is an exceptionally fast optical measurement system that takes 100 static component measurements in two seconds. Marposs states that the Optoflash is the first optical measurement system in the world that can measure components up to 300mm long at this accuracy – using fixed 2D image sensors. From multiple cascaded cameras, the sectional views of the workpiece measured are 'fitted' together for an overall view without breaks or gaps.
Marposs is also able to supply the FactoryNET 4.0 software suite that functions as a powerful interface between machine, operator, production and resource planning, and higher-level ERP systems. Unlike other data acquisition systems, FactoryNET 4.0 enables end-to-end documentation of the processes, which results from interconnecting directly with process monitoring.
The T1 terminal can be connected to the FactoryNET 4.0 by network interface. The respective orders and quantities are downloaded to the terminal. Stop codes are entered and on reaching the order quantity the machine can be stopped.
Besides the Brankamp X-series, FactoryNET 4.0, and Optoflash, Marposs also has Aeroel laser systems for 'real time' diameter and ovality measurement – offering to wire drawers effective instruments to enhance the process efficiency and the wire quality.