Face2Face: Jens Gutsche
25 January 2019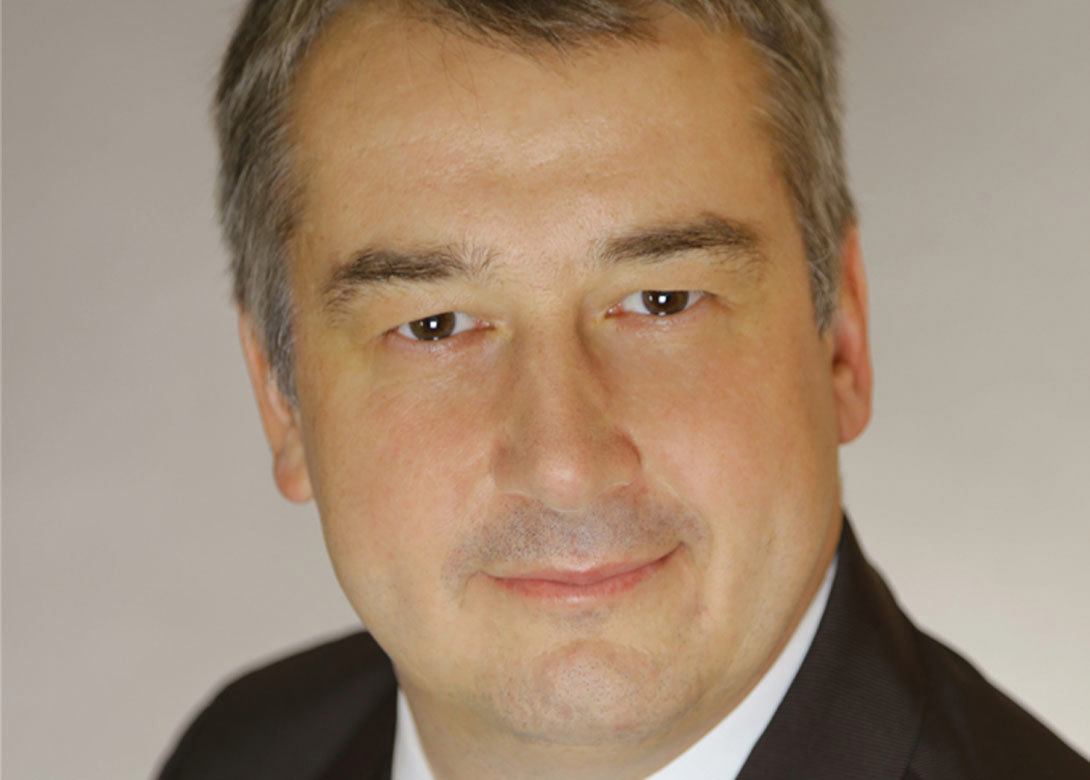 Managing director, WAFIOS Umformtechnik GmbH

Jens Gutsche, with almost 20 years of professional experience in the international field of mechanical engineering, became managing director at WAFIOS Umformtechnik in September 2017. Editor Will Lowry visited the company's headquarters in Wuppertal, Germany, to find out how his first twelve months have progressed and what plans the company has for the future.
Jens' first task after joining WAFIOS Umformtechnik was a simple one – to learn about the business. "Similar to politicians I gave myself 100 days to understand everything about WAFIOS Umformtechnik. I verified the processes, and learnt about the people, the employees, as well as our business partners, and customers. I discussed what was successful in the business and what we should change. I did this not only with the employees at WAFIOS Umformtechnik but also with the overall WAFIOS Group."
By analysing the business Jens was able to highlight synergies within the Group that could be introduced at WAFIOS Umformtechnik. "We may develop different types of machines, but the processes and development strategy across the organisation is very similar," points out Jens. "By looking at how the Group optimises processes and solutions we could adapt and implement them within our existing structure."
WAFIOS Umformtechnik produces a wide range of machinery including single and double stroke cold formers, 2 die 3 blow and 3 die 3 blow cold formers, as well as 5 or 6 die cold forming stations. Other machines include forming centres for miniature and micro screws, pointers, thread rollers, nut tappers and wire nail machines.
With this in mind, one of the first things introduced was a new enhanced work schedule process for the shop floor, which was designed to help avoid potential bottlenecks. "We have clear visuals on the shop floor that highlight the material stock we have within the company, as well as the machines that are being worked on," explains Jens. "By introducing this schedule, in partnership with the shop floor management, we have been able to improve the pre-assembly and final assembly of the machinery."
To add to its machine range, WAFIOS' operation in Reutlingen, Germany, has further built up its wire nail machine business. "Initially when we took over the nail machine range from our headquarters in 2015 we kept it the same, as we didn't really have the knowledge of the machinery. However, we studied the machines and their capabilities and now feel confident in procuring material and assembling nail machines, such as the N-series – N90, N80 and ND91 versions, which offer users more features and are now true 'WAFIOS Umformtechnik machines'."
Another part of WAFIOS' business that has been streamlined is its retrofitting and repair activity in the service department. "We have introduced a new schedule for retrofitting, repairing and carrying out maintenance on machines, which works in parallel with the construction of new machinery," mentions Jens. "This means we can give customers clear feedback on their machines and quickly, and effectively, carry out any tasks required. We have a lot of experience within this department and the support they can offer to customers is becoming even more important in today's market."
For many years the company has also produced thread rolling dies. This know-how complements the thread rolling machines of EWMenn, which was acquired in 2015 by WAFIOS Umformtechnik. "We want to be responsible for the tools and process know-how for our machines," reports Jens. "To produce today's machinery, you need to have the technical ability and specialist know-how not only for the machinery, but also for the tooling. Our machining service offers us the flexibility to provide specialised solutions to meet customers' needs as we can provide the machine and tooling from one source."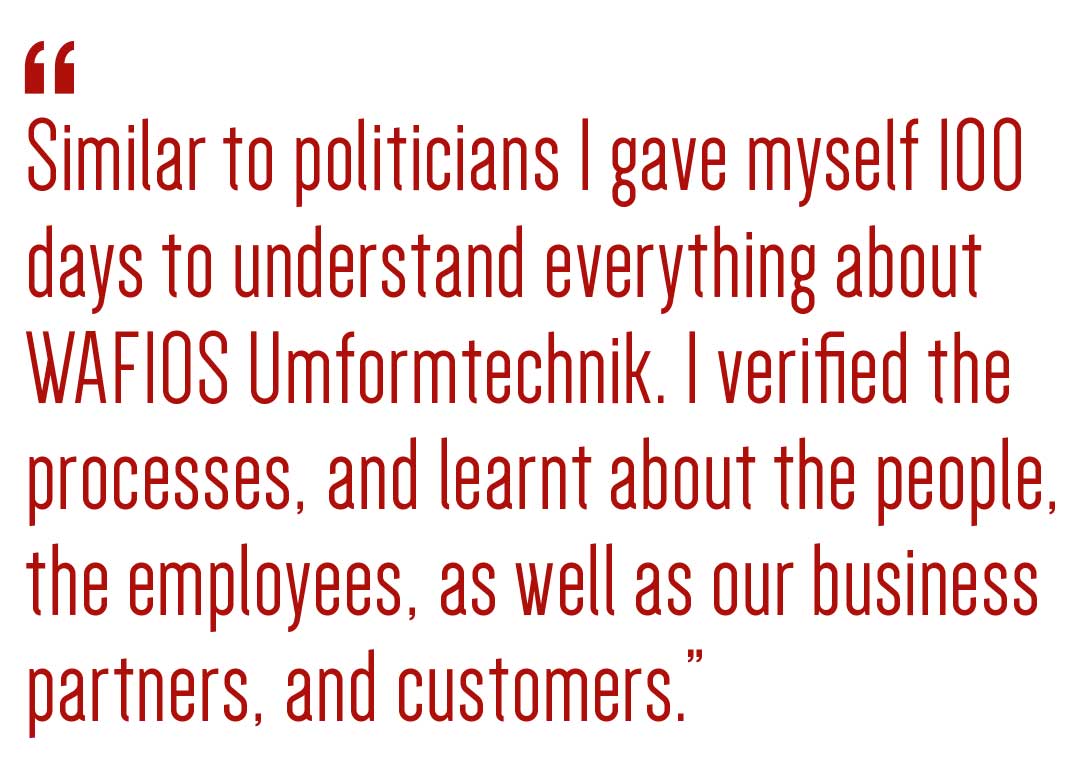 International service
Being part of the WAFIOS Group also means the company is able to find synergies to offer a comprehensive international service. "We have access to the WAFIOS network of sales and service centres, with locations in 100 countries worldwide. The highly trained customer service personnel are able to meet our customers' wishes and demands and provide support wherever the customer is based."
Jens continues: "As a business you need to be able to provide a global service as the markets have developed significantly over the last couple of decades. Previously 40% of the German machine building sales were to the EU, 25% Asia-Pacific, 25% Americas and 10% rest of the world. Today, 50% is Asia-Pacific, 25% EU, 20% Americas and 5% rest of the world. Our growth in the Asia-Pacific market is due to the wide range of machinery we can provide, as well as the high-speed machinery. There is intensifying global competition across the machinery industry, which means you have to be continuously rethinking your business models and ensuring you are providing a complete solution."
Jens explains that a big factor in staying competitive within the market is the ability to supply innovative solutions. "The market is changing. It is no longer enough just to be a machine builder. You must supply the whole solution from one source – the machine, tooling, automation, software solutions, etc. Previously, approximately 80% of building a machine was focused on the machinery, 10% was software and 10% service. Now it is split equally between the three – machinery, software and service. You need to be able to develop the entire package."
Power of digitisation A growing driver for new technology is the move towards Industry 4.0, which is having a big impact on the fastener machinery sector. "The power of digitisation is helping companies improve products and services, customers experience, analytics, and automation. The software solutions will continue to develop and as a business we need to continuously work on our electrical and software capabilities – not only for new machinery but also to retrofit existing machinery. An important task when looking at new technology is to identify which digital solutions offer the most value and how digital technologies can be supplied to increase efficiency and decrease costs."
A significant part of WAFIOS Umformtechnik's ability to develop new technology and machinery is the close relationship it has with its customers. "Having a good working relationship with customers is vital so that you can clearly understand the direction they are looking to develop and they understand what you are looking to achieve as a business," points out Jens.
Close relationships
To ensure its machines and support service meet customers' needs, WAFIOS Umformtechnik regularly holds workshops with customers that focus on products, machinery and strategic content. "We can exchange information with our customers, which is crucial to understanding requirements and customers' plans for the future – both for our customers and our customers' customers," says Jens. "We also exchange information with customers, as well as suppliers, and talk about trends and future projects. You always need to check what the customers' require, because we have to understand what we need to develop and provide."
Another big event for WAFIOS Umformtechnik is its Open House days, where the entire WAFIOS Group showcases its machinery capabilities. "The Open House events are a mix of highlights and new innovations that the entire WAFIOS Group can provide to customers," says Jens. "We are proud to hold the event at our Wuppertal site, which we have done for many years. We invite business partners, suppliers, and software partners, to the Open days so that they can show their products and we can underline our cooperation and solutions. Two years ago we had the highest number of visitors – with more than 1,000 – for any Open House, and we hope the event in 2019 (8th – 11th May) will be even more successful."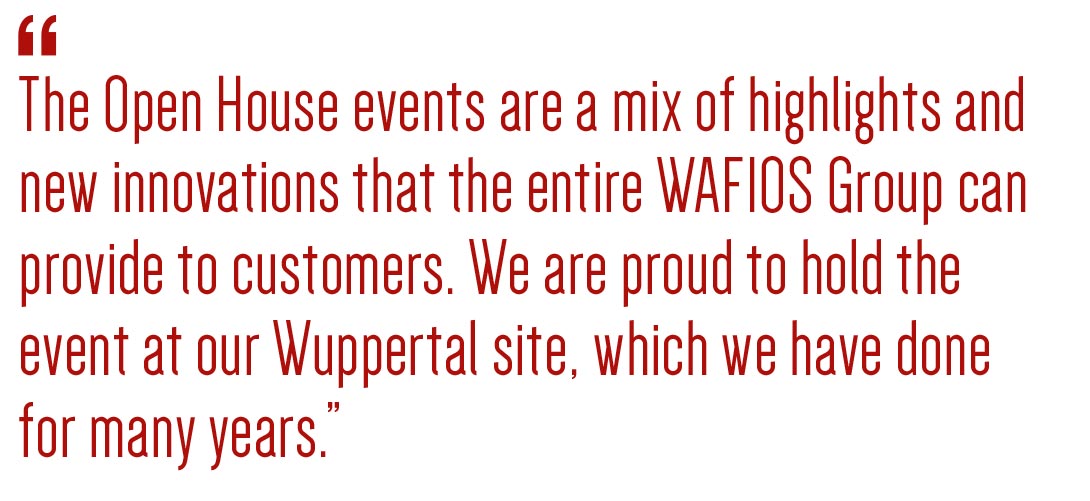 Planning for the future
So, has the last twelve months progressed as Jens expected? "We had a very busy but successful 2017 where we saw order intake increase. This meant that when I first joined, we had to deliver a lot of machines within a short time before the end of the year. It was a very big task, but we were successful in achieving all deliveries."
"As for 2018, we predicted a sluggish start, a good spring time, a summer hole and a golden autumn – as this is normally how the market developments. However, we experienced a very good first half year for 2018. This was despite the challenges of 'on time' material procurement for our machines. The market was overheated, and the suppliers had full order books, which meant capacity was limited and it was difficult to get all the necessary parts. This impacted our assemble time planning, which created a very big challenge. However, we have been able to work around the problem and the situation is now a lot better."
"As for the future, Germany will continue to lead the high technology machinery sector in the short and medium term and will continue to be a key market for us as a business," concludes Jens. "The easy and non-demanding parts market will increasingly be focused in Asia-Pacific, where we are already strong and looking to develop even further. The key is to work out the added value for customers in all markets as this can bring decisive advantages."
"Everywhere around the world the names WAFIOS Umformtechnik and EWMenn are known as a very strong brand, as are our former brands – such as HIGELAND, KIESSELANG, and NUTAP. Our brands are known for their long tradition and wide range of high-speed machinery. We will continue to offer these solutions and support customers with a first-class international service."
Find WAFIOS at fastener Fair Stuttgart on Stand 3.1780