AICHELIN develops 'glass furnace'
05 February 2018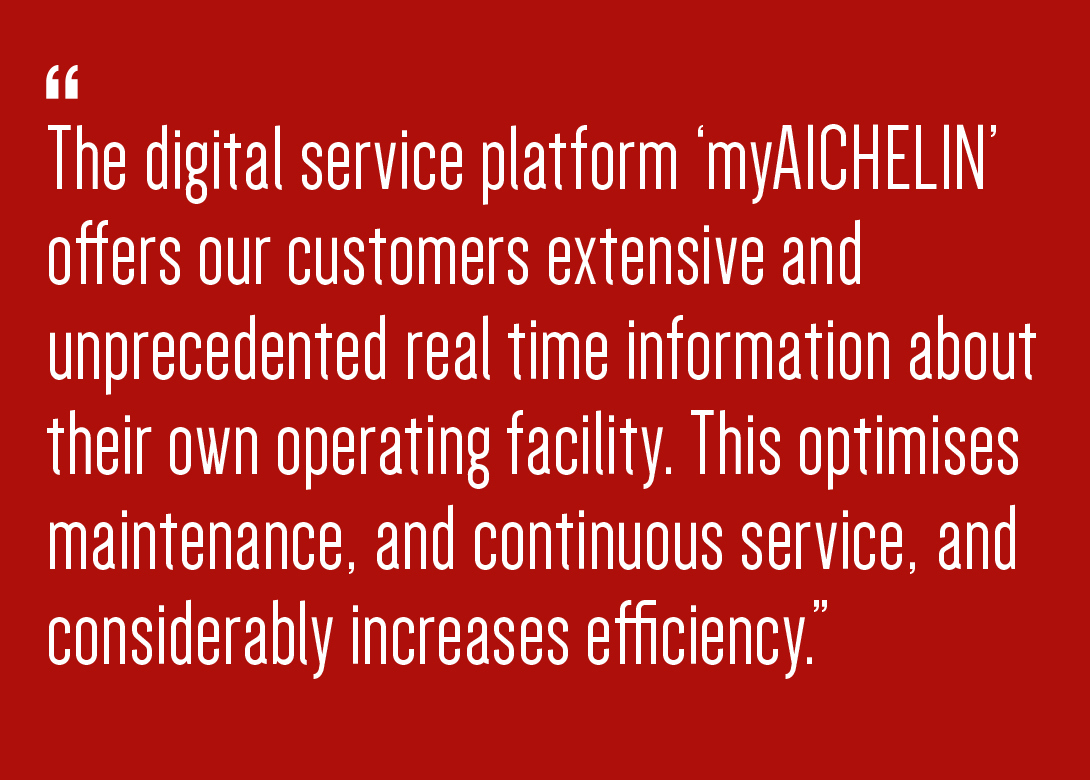 AICHELIN Service has developed an internet-based customer portal for the ideal maintenance and upkeep of furnaces. The heat treatment experts from Baden-Württemberg, Germany, says it has therefore transformed every single thermal processing plant into a 'glass furnace' and is setting an advanced tone for the entire industry and Industry 4.0. 
Carsten Stölting, CEO of AICHELIN Service GmbH, explains: "The digital service platform 'myAICHELIN' offers our customers extensive and unprecedented real time information about their own operating facility. This optimises maintenance, and continuous service, and considerably increases efficiency. Our customers should be able to get the most out of their furnaces.
360 degree tour with myAICHELIN
The new platform enables deep insight into plants in the heat treatment industry. All furnaces under the umbrella of AICHELIN Holding, including plants by SAFED, BOSIO, EMA, and NOXMAT, plus AICHELIN, are serviced under the myAICHELIN platform.
However, plants by different manufacturers may also be serviced through the customer portal. myAICHELIN provides all relevant data, such as lifecycle, defect probability, delivery times, availability, prices, extensive documentation, technical drawings, and much more. Thanks to the 1:1 presentation, customers can comfortably oversee all processes and follow them through a 360 degree tour of the entire plant. This also includes maintenance status or, in the future, condition diagnosis. Video documentation and checklists serve as additional guidance.
AICHELIN Service has restructured more than 90,000 plant components and upgraded them with a variety of additional information and features. This detailed overview enables a modern, visionary inventory management and facilitates the identification of plant components and needed spare parts. Spare parts can be found via a fault tolerant on-site search tool, via the relevant plant structure, or via the existing document history. 
Unerring decisions with big data
The platform supports businesses with automated suggestion lists in the stocking of spare parts and in the planning of their maintenance. Thanks to an innovative shopping cart function and quotation at the touch of a button, shopping is made simple. At the same time, an export function that can be integrated into the custom-made system will guarantee a smooth process. This way, more than just one employee will have access to the entire plant documentation and benefit from the integration and interlinking of all possible data sources. With myAICHELIN users will be able to make decisions based on a wide range of data.
The platform is set to have a modular structure, so that integrating it with the new AICHELIN software for process documentation, FOCOS 4.0, will be possible. Moreover, future scenarios such as expenditure data and fault probability can be determined and made available for the customer in real time. Software updates, as well as troubleshooting, will also become possible through this modularity. Customers will also be able to consult real time support whenever questions arise or they can request competent guidance through a hotline.
AICHELIN Service GmbH

AICHELIN Service GmbH in Ludwigsburg, Germany, is the centre for all services around the thermal processing plants of AICHELIN Group, as well as of plants by other manufacturers. Moreover, the Ludwigsburg site also houses the central spare parts depot with the dispatch logistics department and the main scheduling office for service engineers.
With around 80 engineers, technicians, and logistics experts in office and field service, AICHELIN Service supports its customers with services such as repair, preemptive maintenance (especially annual maintenance), modification and modernisation, inspections and audits, spare parts services, but also with trainings, seminars, and individual trainings, as well as consulting services.