Real time visibility with OrderWise Proof of Delivery
30 September 2019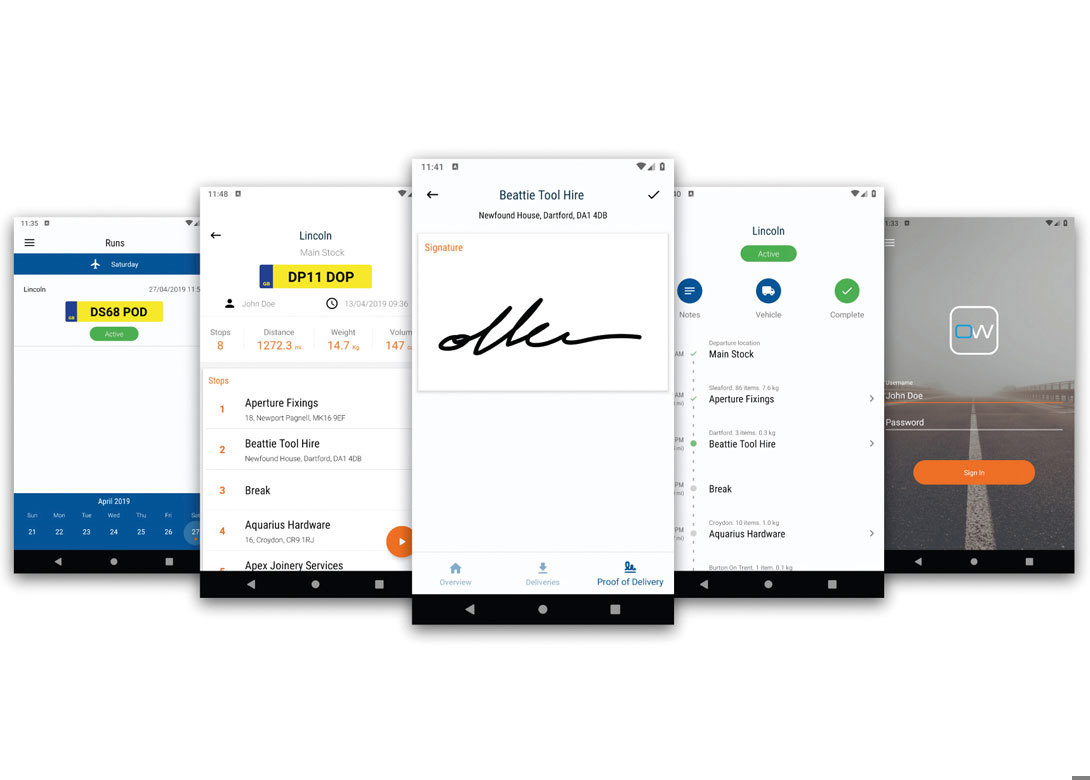 For any businesses fulfilling orders through their own fleet of delivery vehicles, it is important to ensure that drivers are always armed with the tools and information they need.
Without visibility of scheduled drop offs and collections, details on the optimum routes to take between stops, and easy access to customer contact details, drivers can quickly become disorganised. This results in more delays and failed deliveries, which ultimately impact customer satisfaction.
As well as providing drivers with the tools they need to deliver orders at their intended destination promptly and on schedule, it is also important for businesses to record when deliveries are successful. To capture this, many businesses will obtain proof of delivery to confirm shipments have arrived safely in the right place. However, the issue is that many businesses still use paper notes to record proof of delivery signatures, which can result in these getting easily lost, damaged or misplaced in transit.
With OrderWise Transport & Routing, businesses are already provided with a fast, organised method of managing fulfilment and logistics through their own fleet of vehicles. Now further extending the functionality available, OrderWise has recently launched a companion mobile App for Transport & Routing – Proof of Delivery (POD).
Functionality for successful fulfilment
OrderWise POD can be downloaded through the Google Play Store onto an Android device, with the flexibility to configure in-App colours and logos to match company branding.
Drivers can access their calendar and take on runs for customer deliveries, returns, collections or indeed a mixture of both. They will also have full visibility of delivery schedules, including which runs are assigned to which vehicle registration and estimated drop times for each stop.
Through seamless Google Maps integration for intelligent, up to the minute navigation, users can ensure drivers avoid traffic where possible and always take the fastest routes. If drivers need to call customers prior to drops, the OrderWise POD App also provides easy access to customer contact details, with telephone integration for making phone calls if needed.
Then once they arrive at their destination, the Proof of Delivery capture software on the App allows drivers to digitally record recipient signatures. Once the drop has been completed, these will then be accessible within 'delivery and return history' should they need to be referred to.
So, whether its managers looking for at-a-glance insight into delivery progress or drivers looking to manage all aspects of their delivery schedule on-the-road, OrderWise provides the complete transport management solution.

OrderWise robotics impress
OrderWise recently welcomed over 200 delegates to its annual client expo, where it unveiled its latest robotics technology.
The all day event, held at the EPIC Centre at the Lincolnshire Showground, UK, was an opportunity for clients and selected partners to find out about the latest developments in OrderWise software, as well as attend a series of useful business talks.
David Hallam, CEO of OrderWise, said: "This is only our second business expo and I am delighted the event was so well attended – visitors travelled from all over the country from Cornwall to Scotland, and some clients even flew in from Ireland. It was important to us that we provided our clients with a showcase of the latest OrderWise innovations, as well as useful tips to help clients grow their businesses."
David added: "Our new warehouse robotics were out in full force and clients were able to see exactly how these operate in our warehouse demonstration zone. Seeing the technology brought to life really highlights the benefits – delivering stock directly to the pickers – so businesses can achieve faster fulfilment at a much lower cost."
The OrderWise warehouse robots are due to be launched later this year with A Perry & Co (Hinges) Ltd, an OrderWise client since 2012. Guy Perry, director at A Perry, said: "The OrderWise software has been instrumental in streamlining all our business operations, from sales to stock management. The next logical step for us is to move to a warehouse robotics solution in order for us to remain competitive."
"Our warehouse is being prepped as we speak, and we are excited to benefit from the technology – not only will it give us a cost saving of approximately GB£154,000 per year but it will also maximise efficiency and allow us to keep up with customer demand."
Delegates to the client expo were also able to hear from guest speakers such as The Wilson Organisation on the importance of insuring your business, Parcel Hub on the rise of the customer review culture, along with Shooting Star offering advice on SEO and a digital marketing strategy.