Perfection in production
20 November 2017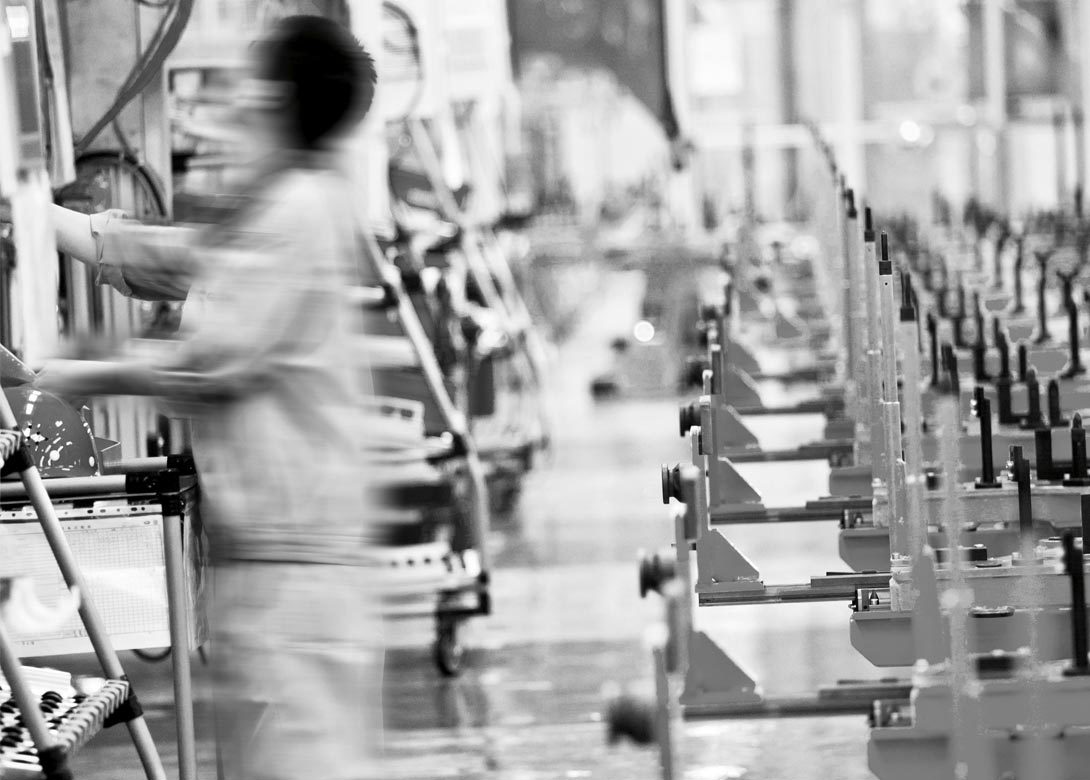 10 questions manufacturers and distributors should ask during ERP selection
Implementing ERP software is a necessity for mid-sized businesses. The problem is that small and mid-sized businesses, in particular, are often overwhelmed by the abundance and diversity of available solutions. 
Nearly all ERP systems come with classic functions such as CRM, accounting, purchasing and sales and allow for basic configuration. However, a large product catalogue alone does not guarantee an effective industry specific enterprise software.
Which functions are most relevant for efficient production processes? And what other key criteria can help manufacturers and distributors build confidence in the ERP selection process? abas Software has compiled a checklist of 10 questions manufacturers and distributors should ask before making a decision.
Question 1: Does the software suit our production processes? 
Individual production, serial production, variant production: Different types of manufacturing place unique demands on your ERP system. For example, when producing unique pieces or small batches, materials management must keep up with growing parts lists and be able to react flexibly to accommodate customer wishes. Because of this, small batch production benefits from an ERP system that enables strategic production planning that takes into account numerous unknowns and dynamically implements countermeasures in cases of deviation between the plans and the current situation.
In serial manufacturing, on the other hand, the challenge is achieving the greatest possible process standardisation and automation, while purchasing raw materials and components at low prices. Here, ERP systems that optimise process speed through automatic ordering and production, and that easily offer meaningful vendor and price comparisons, are at the head of the pack. The complexity of customer specific serial production requires professional ERP support, particularly for minimising processing and set-up times and for variant management. Depending on the company and product portfolio, individual requirements make it difficult to select the right ERP system. Does the 'extended workbench' play a role? Will supply chains need to be connected via interfaces? How relevant is integrated QM?
Regardless of the type of production, all manufacturing companies have something in common. The more industry experience the ERP vendor has, the higher the efficiency gains, and the smoother the software implementation. The costs of the ERP solution are reduced significantly if all of the production specific functions are already included in the standard range of functions, eliminating the need for time-consuming and costly customisation.
Question 2: Does the ERP system offer Advanced Planning?
Are your processes complex, with a variety of work steps and variations? Do you struggle with shortages or long set-up times? Then your company software should also provide an APS (Advanced Planning and Scheduling) in addition to a PPC (Production Planning and Control). 
Based on your order data, a draft plan is created by comparing the backward scheduling of processes to unlimited resources. However, traditional PPC systems are reaching their limits. With increasing time pressure and lean warehousing, system disturbances, rush jobs, supplier delays, and employee downtime, all leading to massive problems. In cases where PPC can't handle all of these parameters, the more agile APS takes over the detailed planning. Production events can be taken into account immediately, and the work sequence is adjusted automatically. Your planner has a full overview of all processes and immediately detects any bottlenecks, depicted visually on the control panel. In practical terms, within a matter of seconds, possible alternatives are played out in 'what if' simulations, and different scenarios are compared. In doing so, APS looks at a number of sources, including personnel data, machine maintenance schedules, and capacities for a scheduled shift. All changes and production progress are confirmed and communicated in real time to all involved departments such as purchasing, sales, scheduling, and warehousing.
The movement toward smart factories will continue to increase the demands on the flexibility of production processes. Integrated APS solutions support your production management, minimise slack time, while optimising inventory and machinery and personnel utilisation.
Question 3: Does the software optimise our logistics?
Is your company an automotive supplier? If so, you rely on effective ERP support to an even greater degree than other production companies. Since the automotive industry's requirements on the entire supply chain are enormously high, uncompromising customer orientation and state of the art technology are mandatory. Standard ERP solutions, even traditional product suites in the industry, are far from adequate in these respects. The ERP software needs to master manufacturer specific logistics processes, such as Audi's 'string of pearls' scheduling system or VW's New Logistics Concept (NLK), and enable electronic data exchange via EDI.
The Just in Time (JIT) concept in automobile manufacturing challenges suppliers to produce with a lead time of just a few days while adhering to delivery dates. The worst case scenario – a single delayed truck can bring the production line to a standstill. The consequences are expensive extra trips or high contractual penalties. Smooth material flow with the lowest possible capital commitment from the warehouse is therefore of utmost importance. All divisions, from purchasing to warehousing, are closely interlinked in order to detect bottlenecks as early as possible. External partners along the entire value added chain are also integrated via portals – this is the only way to determine in real time where certain parts or containers are currently located. Huge amounts of data must be exchanged quickly, correctly and securely, despite corporate and system restrictions. 
These challenging tasks and sometimes contradictory objectives cannot be achieved without highly specialised IT solutions for the supply industry. An industry specific ERP system contributes significantly to ensuring the competitiveness of automotive suppliers in increasingly volatile markets.
Question 4: Does the ERP system support our product over its entire lifetime?
Ever shorter innovation cycles require efficient documentation and management of all data in the product life cycle. Expenditures for joint use and synchronisation (for example, CAD data for global teams) are increasing, as is the demand for powerful tools that enable effective collaboration during product development. The solution: Product Lifecycle Management (PLM) encompasses all product data, from the first idea, to design and manufacturing, to service and disposal. Modern ERP solutions seamlessly integrate the product lifecycle into production planning and control. If, for example, CAD data from design drawings is stored, the system automatically generates item and parts lists. All product changes and versions are fully traceable. 
Because of this, PLM is much more than just a tool for central product data management in the technical development division. Practice shows that integrating the technical product level in the Product Lifecycle Management (PLM) along with the business processes (ERP) permanently increases efficiency in product development. Both areas are growing even more intertwined, which benefits manufacturing companies. Full transparency of product data and product experiences helps reduce time to market for new products, optimise the product portfolio, reduce production costs, enhance product quality, and improve service documentation.
Question 5: Does the software help us make better decisions?
By 2020, an estimated 50 million devices will be networked in the Internet of Things (IoT) worldwide. The decisive competitive advantage, even for mid-sized enterprises, will be not just to manage these exponentially growing volumes of data, but also to use them strategically. Only when you can generate added value for your process optimisation and management of big data does the flood of information become 'data gold'. Excel sheets are no longer sufficient for this purpose. Modern ERP systems provide professional analysis tools that strategically filter, evaluate, and prepare the collected data. 
Rather than manually gathering data from a variety of sources, integrated business intelligence solutions enable simple, fast, and up to date reporting at the push of a button. Sophisticated dashboards display your evaluations and metrics transparently and clearly – an enormous advantage compared to presentation in table form. Whether you are working on liquidity planning, procurement and processing times, forecasts, or customer and product segmentation, you can identify opportunities and risks at an early stage, analyse trends and outliers, and optimise processes in a timely manner. 
When selecting a BI tool, consider both its integration into your ERP dashboard as well as mobile access to your reports. Intuitive user interfaces that enable users without programming skills to prepare individual queries (self-service-BI) have proven themselves in the market.
Question 6: Will the ERP system grow with us?
For some time now, manufacturing companies have no longer operated only in local markets – globalisation is here to stay among mid-sized enterprises – procurement and sales are internationally oriented, and production locations or international partners are, in some cases, integrated into the corporate network. Often, the IT landscape within the company lags behind in terms of internationalisation. 
Are your project management teams distributed across the globe or is a merger pending? Do you have a production facility in China or are you planning a sales office in the United States? It is all the more important that you assess ERP software – and the vendor – for scaling potential. How easily can the new teams or subsidiaries be integrated into the system? Does the vendor have an international presence, and do they know the requirements of different markets? Does the product portfolio include not only client solutions, but true multi-site functions? Is the ERP system available indifferent languages, and does it handle multiple currencies?
Multi-site enabled ERP systems simplify management within even the most complex organisations by controlling the flow of materials and value – centrally and transparently – throughout the company. Automated workflows between factories reduce the effort needed for coordination, and also accelerate processes. The big advantage: Common information, such as master data, but also inventories, orders, and production plans, is available to all locations in real time. With material shortages or utilisation peaks, redistribution between subsidiary or sister companies ensures on-time delivery.
Question 7: Is the software available to everyone, including external partners?
In many manufacturing companies, data is exchanged continuously with customers and suppliers. To ensure a high degree of process automation and to avoid system failure or complex synchronisation, external partners can be easily integrated into the ERP system. ERP software has an open architecture, appropriate interfaces, and robust connectors. In this context, privacy and controlled access to information also play an important role.
In manufacturing companies, specialty applications must be integrated in order to acquire operational data, machine time and working hours, APS for deal planning, or PLM for product lifecycle management. 
Enquire with vendors not only about their technology, but also about their strategies. Does the software offer you important 'best of breed' special features, in other words, the best currently on the market? Which software partners does it collaborate with, and what does the middleware look like? Are hassle-free upgrades possible? Does the portfolio contain all of the industry specific extras that you need and which ones are currently being planned? 
Question 8: Does the ERP system mobilise the production processes?
According to polls, IT technicians attach growing importance to the use of mobile devices in everyday business. In turn, the demand for mobile accessibility has reached enterprise software – check whether the ERP system offers mobile applications. Modern work on mobile devices is more than just synchronising appointment calendars. Sophisticated Apps let users manage processes from nearly every business division via smartphone, tablet, or scanner solution from home offices, while commuting or while visiting customers.
The advantages are obvious – the entire database is synchronised in real time and is currently available in the ERP system to all users. Inconvenient data updates at the end of stressful workdays are eliminated, paper waste is reduced, and data quality increases. A mobile strategy is important, meaning that users should analyse precisely which processes within the company are suitable for mobile access, and whether these processes are supported by the vendor. 
Traditional areas like mobile shopping, sales, warehousing, and service are not the only manufacturing functions that can benefit from mobilisation. Innovative shop floor applications can significantly optimise production processes. Only in this way can data from personnel and operations be incorporated directly into detailed planning via mobile devices. Make sure that scanner solutions are designed for the efficient use of industrial devices in production. Successful mobile applications are limited to essential information, and can be easily operated with one finger. 
Question 9: Is the software also available in the cloud?
Sooner or later, anyone considering ERP applications will ask themselves: Cloud or non-cloud? Although mobile Apps can be used through an on-site server, mobile access can only reach its full potential when it is integrated with the cloud. In particular, small and mid-sized businesses benefit greatly from operating ERP software in the provider's cloud. Investment in expensive technical infrastructure is eliminated, and the use of 'software as a service' (SaaS) with flexible rental models increases liquidity. Important processes such as data synchronisation, software updates, and backups are controlled automatically and monitored by the provider – significantly simplifying the end user's work. 
Another aspect is pertinent in the manufacturing industry. Communication between intelligent workpieces and machines (M2M communication) leads to a rapid increase in data volume. A wide range of partners must be networked via a technological platform that enables data exchange between IT systems. There seems to be no alternative to the cloud working as a switchboard operator for Industry 4.0.
Important: Do not compromise performance and data security. Make sure that the cloud provider works with offsite local, certified high performance data processing centers. Redundant data storage and 24/7 support are also necessary. In addition, ensure that the system complies with federal data privacy guidelines, such as those applicable to processing personal data. 
Question 10: Does the ERP vendor also bring enthusiasm and ideas to the table?
Did you answer 'yes' to the first 9 questions? Congratulations, the software is a good fit. But how does the situation with the vendor look? Before you make a final decision, it is worthwhile to take a look behind the scenes. Was the software vendor's vision convincing, and do you trust that the vendor will provide you with skilled support along the path to digital transformation – not just now, but also in the future? For manufacturing companies, the vendor's expertise and industry know-how plays an important role. Only someone who understands smart factories and related concepts can provide you with the necessary processes within the ERP system. 
You should also inform yourself about the roadmap and the modernisation cycle. To what extent and in which divisions are investments planned for further development of the ERP system? What specialists, experts, and partners are on board? Sustainable vendors boast a high release rate and guarantee that both the scope of functionality and the technologies implemented in your ERP system are always state of the art. 
Conclusion
Technological innovation, growth and competitive advantage. For manufacturing and distribution operations of all sizes and industries, achieving these goals requires strong enterprise software.
Above all, industry appropriate ERP solutions are a decisive factor for handling increasing data volumes and optimising efficiency in production. Faster, cheaper, and more customer oriented manufacturing is a strategic imperative. With this in mind, don't wait too long to make an ERP implementation decision, but still take time to examine important selection criteria and get to know qualified vendors. 
Only software that is well suited to your business, industry and team culture can guarantee the success you desire.
About abas ERP
abas is an innovator of ERP solutions for mid-sized business that aspire to be the leader in its industry. It uses its 35 years of experience to deliver exactly what customers need – software that is agile, intuitive, mobile, sustainable for the long-term, and that works wherever needed – in the cloud, on premise or as a hybrid ERP solution. abas' unique ERP software maximises flexibility while allowing for easy upgrades. Want to know more? Visit www.abas-erp.com or email info@abas-erp.com