Digitalisation in the supply chain
11 April 2019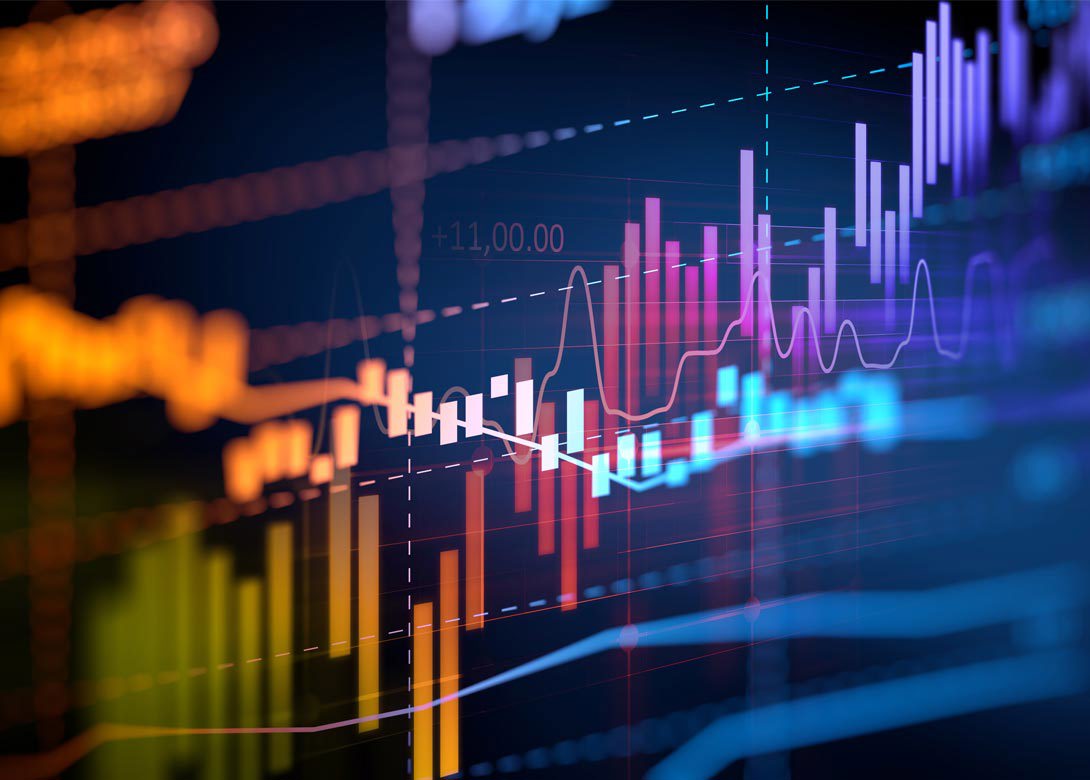 By Richard van Hooijdonk, trendwatcher, futurist and international keynote speaker
Digital technology has had a transformative influence on a wide variety of sectors over the years, including finance, retail, education, healthcare, agriculture, and construction. It now looks like supply chains are set to go on a similar path and experience a digital transformation of their own, spearheaded by emerging technologies such as robotics and automation, drones and self-driving systems, the IoT and big data, as well as blockchain.
Together with these technological trends, customer expectations have increased dramatically in recent years, in part due to a major boom in e-commerce. Today's customers want their orders to be delivered faster and cheaper than ever before, and companies are often forced to introduce drastic changes to satisfy their demands and create a smarter, more efficient supply chain.
"There is no doubt that digitalisation is having an incredible impact on supply chains and operations across the globe and is here to stay. Companies are faced with many options as new products and applications enter the market and gain acceptance in the industry. Having a purposeful strategy for supply chain digitalisation is now essential to assess the new technological landscape and chart a way forward to reap the benefits and stay ahead of the competition," comments Lisa Harrington, the president of the supply chain consulting company L Harrington Group LLC, in DHL's report 'Digitalisation and the supply chain: Where are we and what's next?'
Robots are taking over warehouses
Robotics and automation are viewed by many as the biggest threat to the future of human labour, and this designation may not be far from the truth. In a report 'Jobs Lost, Jobs Gained: Workforce Transitions In A Time Of Automation', the McKinsey Global Institute estimates that anywhere between 400 and 800 million people will lose their jobs to automation by 2030. While some professions are safer from automation than others, jobs in the supply chain will be among those most at risk, due to their highly repetitive and predictable nature. In fact, robots have already become a regular feature in many warehouses around the world, with Amazon positioned as the leading force behind this growing trend.
Amazon was one of the first companies to recognise the benefits of robotic technology, and it all began with the US$775 million acquisition of the robotics startup Kiva Systems in 2012. Today, the company operates a fleet of more than 100,000 warehouse robots throughout its global fulfilment network. Any time a customer submits an order, one of the robots drives to the shelving unit that contains the required item, picks it up, and transports it to a human worker to retrieve the item. The adoption of robotic technology has allowed Amazon to reduce the average time required to fulfil an order from two to one hour and to reduce its operating costs by 20%. According to Amazon, the robots aren't meant to replace human workers altogether, but rather to make their jobs easier and help them become more efficient. However, that doesn't mean that the warehouse of the future won't become fully automated eventually. In fact, the Chinese e-commerce giant JD.com has already announced the opening of the world's first warehouse operated exclusively by robots in Shanghai.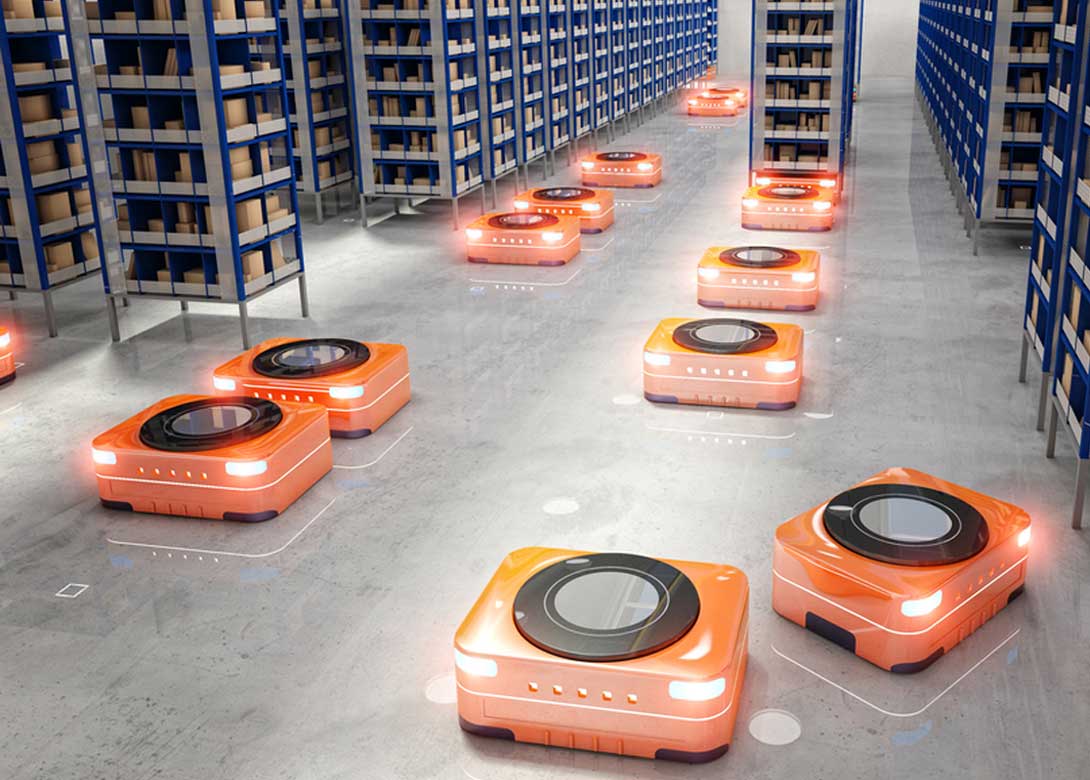 Solving last mile delivery issues with drones and self‑driving vehicles
Further up the supply chain, drones and self-driving vehicles are also becoming an increasingly common sight. They allow companies to address some of the issues that have plagued the supply chain for years, such as last-mile delivery. As in the case of warehouse robotics, Amazon once again finds itself at the forefront of this development, with Jeff Bezos announcing plans for a drone delivery service back in 2013. While these plans haven't materialised yet, Amazon has already tested the technology on multiple sites in the UK, and it's only a matter of time before Amazon Prime Air becomes a reality.
Drones could also have other useful applications besides delivery, such as inventory management. Inaccurate inventory records cost companies billions of dollars every year, but drones could make this problem a thing of the past. Companies could use drones to keep track of their inventory in real time and make sure that there are no discrepancies between inventory records and actual stock.
On the other hand, delivery with self-driving systems is already here. For instance, Kroger, the largest supermarket chain in the United States, recently joined forces with Nuro, a self-driving car start-up, to launch a driverless grocery delivery service in Scottsdale, Arizona. The service will enable Kroger customers to place orders online and have them delivered to their doorstep by an autonomous delivery vehicle called the R1. "Unmanned delivery will be a game changer for local commerce, and together with Kroger, we're thrilled to test this new delivery experience to bring grocery customers new levels of convenience and value," Dave Ferguson, Nuro's co-founder, said in a statement.
The IoT and big data provide valuable insight into every aspect of the supply chain
The Internet of Things and big data are also expected to play a major role in the upcoming transformation of the supply chain. The proliferation of IoT devices in recent years and rapidly decreasing costs of this technology are making it increasingly simple for companies to incorporate smart sensors into a wide variety of products and gather unprecedented amounts of information about various aspects of their supply chain.
For example, companies could embed sensors into factory equipment or delivery trucks to monitor their condition and detect potential problems before it's too late, minimising their maintenance costs. Furthermore, sensors can monitor the location of delivery trucks and delivery personnel to make sure everything goes as planned, and they can be embedded into various products to track their exact location at all times or monitor the temperature they're stored at. Companies could also choose to share some of this information with customers to allow them to keep tabs on their orders throughout their journey via an App.
However, collecting vast amounts of information won't be enough on its own. Companies also need to find a way to make sense of it, and that's where big data comes in. For example, it allows companies to identify transportation bottlenecks and determine optimal routes for their delivery trucks. It also allows them to gain valuable insight into customer behaviour and use it to predict future trends and anticipate demand. By analysing a wide variety of factors, such as historical shopping habits, social media trends, and weather data, companies can predict when demand for certain products is going to soar and adjust their inventory accordingly, significantly reducing the number of lost sales.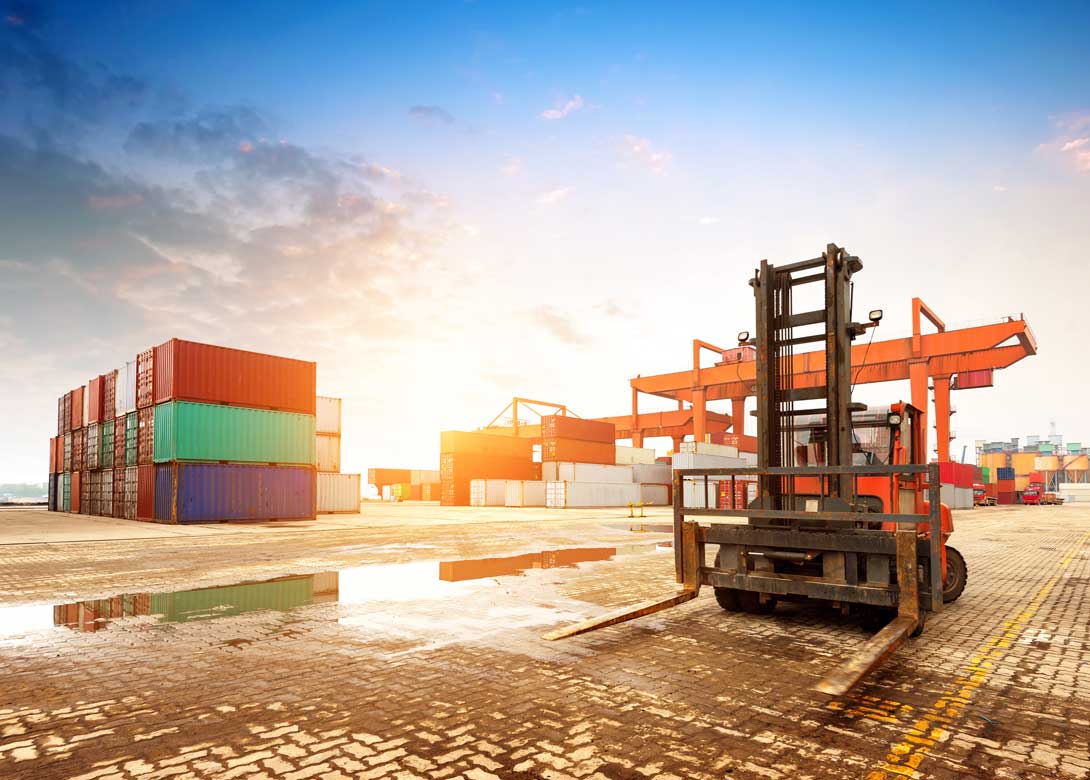 Blockchain could bring increased security and transparency
Blockchain technology could help solve one of the biggest issues associated with the supply chain – lack of transparency. For instance, Maersk, the world's largest shipping company, recently joined forces with IBM to launch a blockchain powered shipping platform called TradeLens. The platform creates a shared, immutable record of shipping transactions that allows all participants to keep track of critical information about each shipment in the supply chain in 'real time'. "TradeLens is leveraging the benefits of blockchain as a technology for distributed information sharing," Marie Wieck, the general manager of IBM Blockchain, told Forbes. "Whatever might be needed by customs and regulators to ensure efficient and safe trade, all of that information is available in 'real time' to the participants."

The TradeLens platform was used to capture more than 154 million shipping events in ports around the world during its initial 12 month trial, which revealed some very promising results. According to Wieck, the platform can help users reduce a shipment's transit time by as much as 40% and save them thousands of dollars per transaction. For example, discovering the location of a shipping container could take as many as ten steps and five people in the past, but TradeLens can bring that number down to just one step and one person. So far, 94 organisations from all over the world have signed up for the platform, including more than 20 port and terminal operators, international customs authorities, logistics companies, freight forwarders, and cargo owners. Blockchain technology could allow companies to simplify the global trade even further by introducing smart contracts that will automatically process payments as soon as the conditions stipulated in the contract are met.
Just like many other sectors before it, digital technology is about to transform the supply chain as well. Digitalisation will enable companies to address a number of issues and create a smarter, more efficient supply chain. Whether it's using robots to optimise warehouse management or solving last mile delivery with drones and self-driving vehicles, using the IoT and big data to improve end-to-end visibility and anticipate demand or increasing security and transparency with blockchain, almost every aspect of the supply chain is set to experience major disruption. To remain competitive in today's digital economy, companies will have to adopt these emerging technologies or risk being left behind.
About the author 
Trendwatcher, futurist and international keynote speaker Richard van Hooijdonk has had sessions attended by over 420,000 people. With his international research team, he investigates tech trends such as robotics, drone technology, autonomous transport systems, Internet of Things, biotech, nanotech, neurotech, blockchain, 3D and 4D printing, as well as augmented and virtual reality, and their impact on various industries. His findings are published weekly in the form of compelling articles, e-books and white papers.
References: