This is SARIV
15 March 2023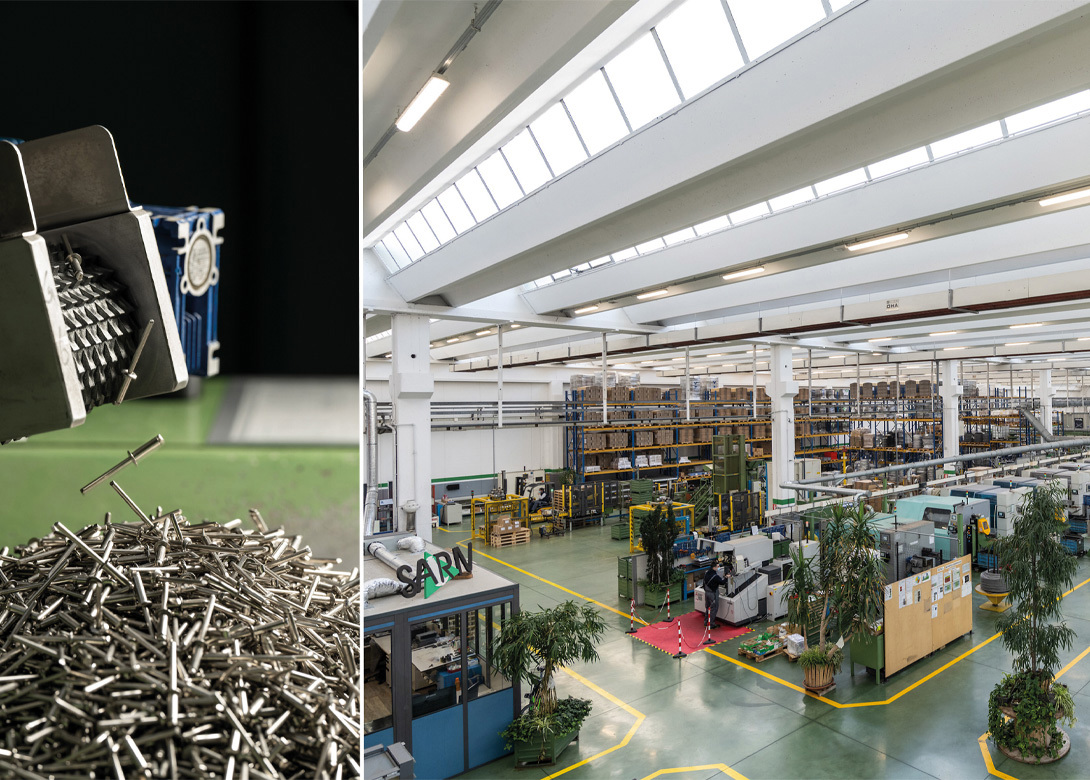 SARIV is an Italian company that has been designing and manufacturing fastening systems for over 30 years – with competence and know-how characterising its team of professionals in Italy and at the company's five distribution points around Europe.
With two production plants covering a total area of 9,000m2, and all processes, except for zinc plating, carried out in-house in order to guarantee the full control of each manufacturing step – SARIV has a manufacturing capacity of 3 million blind rivets and blind rivet nuts per day.
Thanks to its commitment to internal production, from design to finished product, SARIV can satisfy custom requests and provide full traceability on the production steps of each batch – with a continuous data flow ensuring control of processes and quality.
"From year-to-year, SARIV also makes sure it implements new processes and production options to best meet customers' needs," points out Nicola Sartore, CEO of SARIV. 
Constant growth
SARIV's growth path is continuously evolving in order to provide constantly improved products and services to its customers, whilst at the same time making processes more efficient. For this reason, for more than ten years the business has been investing heavily in implementing digitalisation within the company.
"Quality, digital control and traceability are the key aspects of SARIV's production and quality system," states Nicola. "Each step of our production chain is digitally monitored by software, thanks to a computerised production progress platform in which the quality system is also integrated, including measuring tools."
This means from just the batch number, SARIV can trace all details of the product, including the raw material used; processes carried out; tests and measurements; as well as statistical process indices Cp and Cpk and OEE. 
Other important investments that have been carried out in the last year have been dedicated to making SARIV's production department more efficient. For instance, a new bay for the automated warehouse; the creation of a direct connection between the two production areas; the installation of a second automated vertical warehouse for equipment management; and a new assembly department. 
"The will to invest in evolution and efficiency is always deeply rooted in SARIV's corporate culture and will continue be so going forward," highlights Nicola.
Unique customised solutions
The development of customised solutions is one of SARIV's main strengths, with the company having the ability to custom make products according to customers' demands. "This is what allows us to stand out, and also to collaborate with the major brands in the automotive industry," points out Nicola. "We are also certified according to IATF 16949:2016, which is essential."
Starting from a customer's application, SARIV's dedicated consultancy office designs and develops the most suitable fastening solution – with possible customisations including product design; ad hoc materials and surface coatings; anodisation and RAL upon sample; branded packaging and labelling; camera sorting to guarantee PPM beyond the standards; as well as all the necessary tests and certificates. 
A philosophy of sustainability
As part of the philosophy that guides SARIV's business model, the environment has always been a main topic and making sure the company is sustainable is a process that is constantly evolving.
In addition to ISO 45001:2018, SARIV also achieved ISO 14001: 2015 certification. By respecting its standards, the company also created an Environmental Management System based on a dynamic and cyclical process, to manage its environmental risk through the search for continuous improvement.
In order to reduce its impact and reduce waste, SARIV also uses the energy produced by a photovoltaic system of 250kW – installed above the roof of the two factories – to power the activities carried out within the plants. 
Additionally, until a few years ago, the process of degreasing products was done using water. However, SARIV has been implemented an innovative washing system that has allowed it to completely remove water from degreasing. The innovative washing system uses a vacuum cleaning machine that separates the mechanical oil from the washing solvent, so that it can be reused in
the circuit.
Other steps include digitilisation helping to significantly reduce the use of paper, and, when it remains necessary, only recycled paper is used. Plus, for several years now, SARIV's two production plants have been enriched with plants, as 'sentinels of the sanity of the air'. "If the plants themselves are fine, the air in the department is healthy and operators are working in a healthy environment," mentions Nicola. 
www.sariv.it