Standing strong for the future
18 March 2021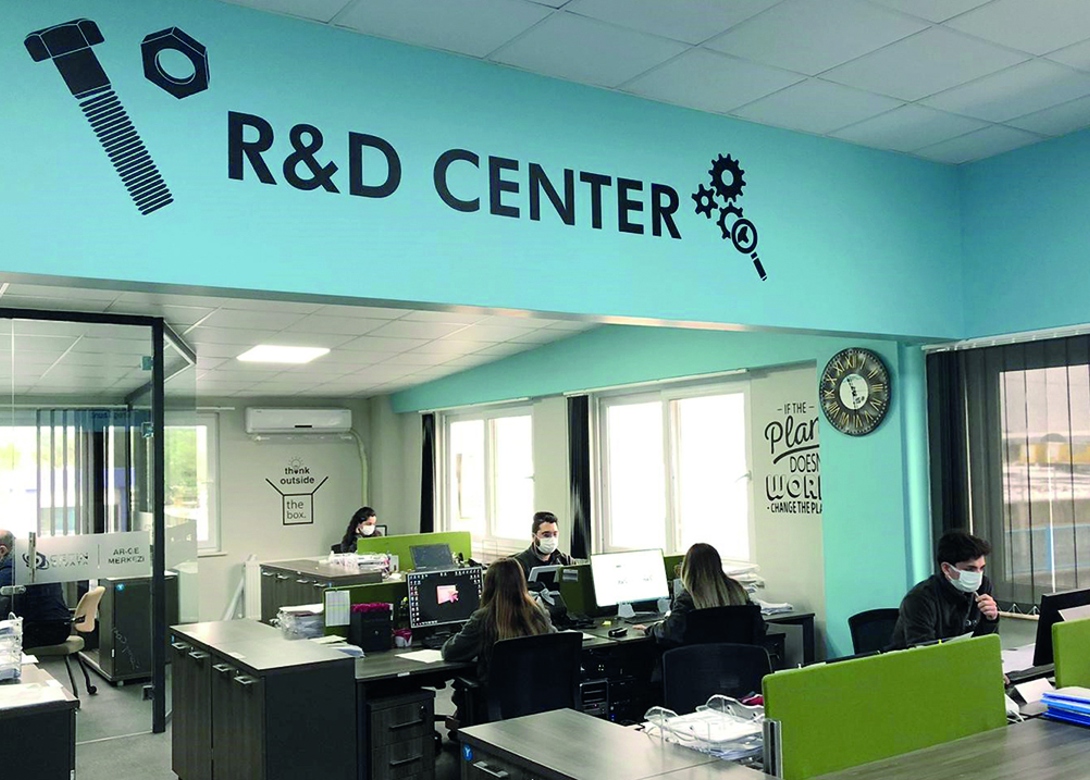 Çetin Cıvata, one of the biggest cold forming fastener manufacturers in Turkey, has opened its own R&D centre to help develop the next generation of products to meet customers' needs.
By cooperating closely with technical universities across Europe, regarding the laboratory, production and technical studies, Çetin Cıvata is able to carry out projects based on simulations and academic studies for new specially designed products. The R&D centre will also help Çetin Cıvata improve the quality of products; the manufacturing processes; increase the service life of the materials; as well as encourage energy saving.
The R&D department is already working on design and product developments jointly with automotive, white goods and other industries from Çetin Cıvata's customer portfolio. Every stage of a new product's development, from the initial RFQ stage, prototyping of the product, as well as trialling and testing, is meticulously and systematically carried out by Çetin's R&D team in accordance with the agreed plan and structure organised with each individual customer. Çetin Cıvata's R&D team is also able to meet 'one on one' with the R&D and technical teams of customers and carry out projects aimed at increasing the manufacturability and quality of new special products, as well as their sustainability. Through feedback from customers, the R&D department is also constantly improving its processes.
"When it comes to our products, we focus on continuous production efficiency, saving energy, sustainability and reusability of products," states Mustafa Tecdelioğlu, president at Çetin Cıvata. "By increasing the quality of our products, we are able to increase production efficiency. In addition, our R&D team is working on projects that comply with the European Green Deal and Horizon 2020 calls for reducing carbon emissions, changing energy sources and reducing energy of the products that are produced."
Outlook for 2021
In addition to the R&D Centre, Çetin Cıvata has also continued to invest in its machinery in 2020, with the manufacturer now able to produce cold forged parts up to 320mm in length – further increasing its existing product range. "This new investment will enable us to continue to meet the demands of our customers at the highest standards, as well as increase our capacity in special fasteners – which are in demand from all sectors," mentions Mustafa.
Çetin Cıvata also invested in its employees and implemented strategic marketing plans that saw it achieve all the targets and measures it set for 2020, including a 20% increase in its performance and production. "Thanks to our alliance with strong partners around the world, we were able to be successful in what was a challenging year," states Mustafa. "Çetin Cıvata exports to more than 40 countries worldwide and this is growing every year. A large part of our production serves the automotive and white goods sectors, but we are able to support a multitude of industries. This meant that whilst the automotive industry was greatly affected by the pandemic in 2020, our production continued both in this sector but also a variety of other sectors, which turned this situation into an advantage both in the domestic and foreign markets."
 "Of course, we, as a company, are always in search of different markets and our goal is to increase the existing ones as well. In 2021, we will also focus on increasing our market share as well as our brand recognition worldwide. Learning from 2020, we have also targeted new developments in digital platforms for existing and new markets. We aim to bring this digital platform to the highest level to not only meet but surpass the demands of customers."
Mustafa concludes: "With this corporate stance we will provide quality, brand awareness, production power and adaptability. We will combine this with our new digital communication techniques, and R&D capabilities, to increase our sales and market share in every sector around the world."