Specialised in fixing solutions
03 October 2018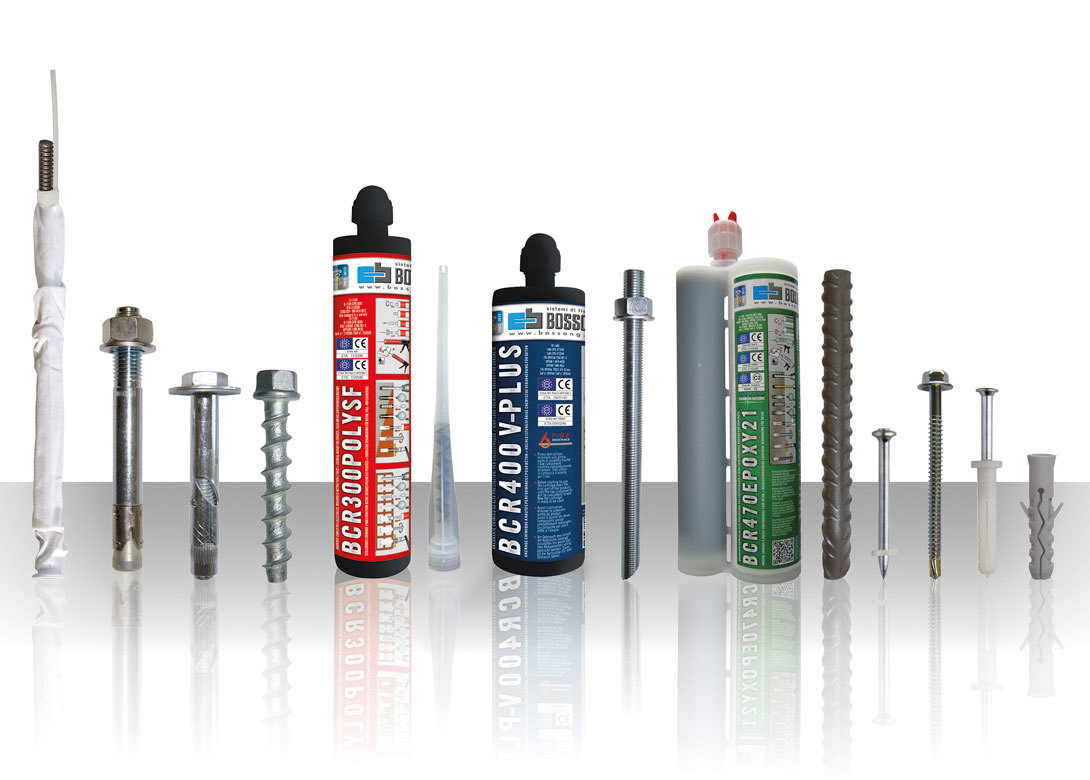 Bossong SpA has been an Italian manufacturer of fastening systems since 1962 – deeply specialised in chemical anchors for anchoring and post-installed rebar connections, as well as heavy-duty fixings and powder actuated fixings.
Initially Bossong was founded in Germany in 1937 as a producer of automotive components, but in 1962 the company was acquired by the Taddei family and firmly established itself as an Italian fixings manufacturer and supplier. Since then Bossong has become one of the most qualified companies in the production of fixing systems, with the company manufacturing a full range of chemical anchors suitable for all kinds of base material, and all types of application, including cracked concrete and seismic design.
Bossong's range of chemical anchors includes polyester styrene-free (with and without ETA), epoxy-acrylate styrene-free (with ETA), vinylester styrene-free (with ETA) – available in Winter and Tropical versions – as well as pure epoxy (with ETA). Through its R&D capabilities, implemented over the years, Bossong has also been able to develop its range of mechanical anchors, automatic and semi-automatic powder actuated tools, as well as a range of nails and loads suitable for competitors' tools.
For its mechanical anchor range, Bossong recently announced two new heavy-duty anchors that are now available on the market – the new concrete screw CLS-CE and the new mechanical anchor NWS-CE1 – both of which have been assessed following the recent EAD 330232-00-0601.
The new concrete screw CLS-CE has a European Technical Assessment for cracked and non-cracked concrete (ETA – 17/0471), with seismic qualification in category C1 and with fire resistance R120. Available in a range of diameters – 6mm, 8mm, 10mm, 12mm and 14mm – the strengths of the CLS-CE concrete screw include a high mechanical performance and high flexibility in use – thanks to three different depths of installation for each diameter.
The CLS-CE requires small minimum distance between anchors and small minimum distance from the lower edges.Plus, a smaller hole diameter means a lower installation time is required in respect to other anchorage systems.There is also the possibility of adjustment after installation of the screw – the CLS-CE can be recoiled twice up to 10mm if the nominal embedment depth is guaranteed.
Available in galvanised and A4 stainless steel, three different kinds of heads are available – hex head, countersunk head and pan head. Each type of head has a different type of assortment with different length and diameters.
Bossong's other new mechanical anchor is the NWS-CE1, which has been assessed for cracked and non-cracked concrete (ETA – 17/0506), has fire resistance R120, and also the seismic qualification in category C1 and C2 according to EAD 330232-00-0601.
The strengths of the new Bossong mechanical NWS-CE1 anchor include a very high mechanical performance and a wide range of diameters – 8mm, 10mm, 12mm, 16mm, 20mm, 24mm and 27mm. The NWS-CE1 also offers high flexibility thanks to two different setting depths and is available in galvanised steel, A4 stainless steel and high corrosion resistant steel HCR.
"Through our innovative solutions we have been able to enhance our presence across Europe, especially where professionalism and product quality are needed," explains Bossong. "Our solutions provide advantages to professionals in the engineering and building sectors, supported by top level approvals and an excellent technical service and support."