Max Mothes the manufacturer
25 November 2019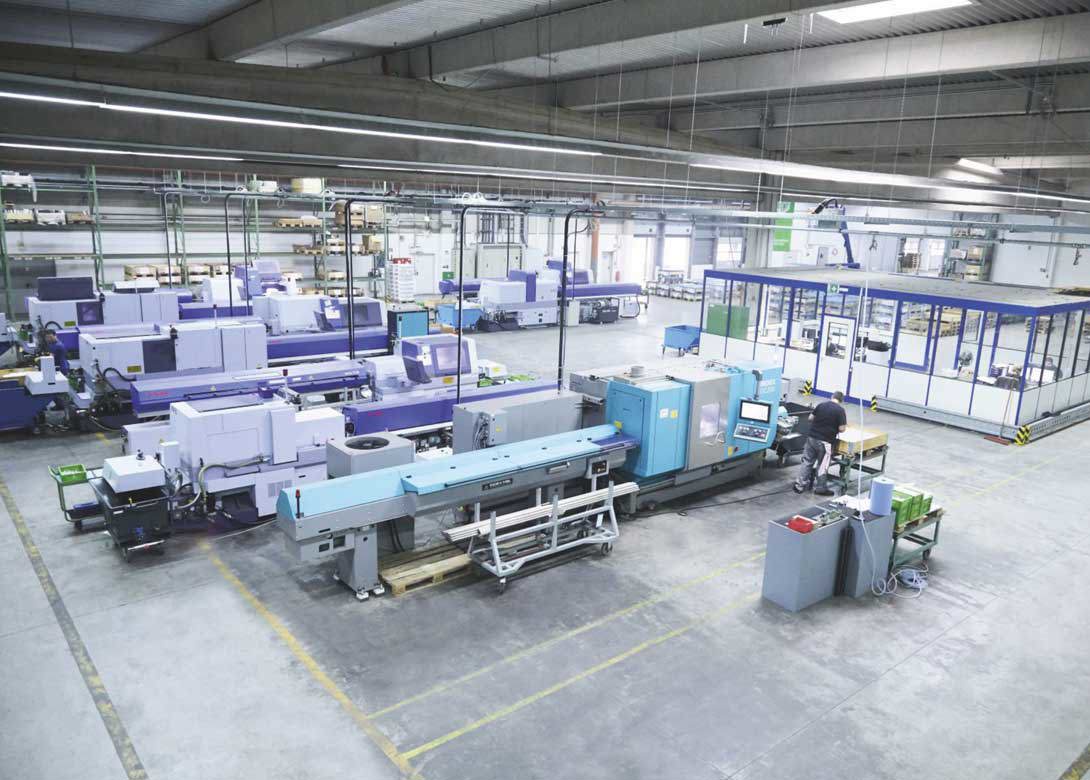 Celebrating its 100th anniversary in 2018, Max Mothes has a long and proud history as a leading distributor within the fastener industry. However, since 2012 the company has changed its focus to become a manufacturer of high performance technology.
Martin Schermbach, managing director at Max Mothes, explains: "In the past we were one of the biggest distributors in Germany and Europe and we were known for our depth and range of stock. However, due to competitiveness of the distribution market, we decided we would change our focus to manufacturing."
Thanks to its customer base and experience of over 100 years, Max Mothes was fully aware of the type of manufacturing requirements demanded within the market and set out to meet those needs. "A key factor of us developing our manufacturing capabilities was our relocation to our new facility in Neuss," mentions Martin.
Max Mothes' previous head office had been in Düsseldorf city centre, but there was no room for expansion – which is why the company decided to move to its new location in Neuss. "The new site has enabled us to expand, with the production, manufacturing and logistics covering around 20,000m2," points out Martin. "The whole site is around 60,000m2, so we have a lot of space to extend in the future if necessary."
High performance manufacturing
The capabilities within Neuss include CNC machinery and inductive heating, as well as a clean room. "We have heavily invested in a wide range of CNC machines over the last four years for new projects and products," highlights Martin. "We have also built up our own production machines and tooling department to ensure we have a good production flow, as well as setting up our own laboratory and prototyping service."
Through its strategic partnership with Sumeeko, which started in 2018, Max Mothes also has access to further manufacturing capabilities in Germany, Italy, China, as well as two factories in Taiwan. "Through the partnership we are able to manufacture via cold forming, hot forging and machining," states Martin. "By working closely with our customers, we are able to make sure we are providing the service they require. If they have smaller quantities, we can do parts by machining; if they have big quantities, we can do it by forming or hot forging. We simply analyse the part and look at what will be the most efficient and cost-effective manufacturing process."
System connectivity
To add to its production capabilities, Max Mothes also introduced a new ERP system two years ago, which enables it to manage both external and internal processes. "Introducing the ERP was a long process, but we wanted to make sure we benefited from the system as much as possible," explains Martin. "The first thing we did was to sit down and look at each process for every department. We then looked at what the standard is for the ERP system and worked out how we could optimise our processes to make them efficient and effective. We are now seeing the benefits of the hard work and we are able to analyse data from across all our sites around the world to give us a complete overview of each production technology."
To go alongside its production capabilities, Max Mothes also went through a targeted hiring strategy to add more manufacturing and engineering experience to the business. "We needed to be able to work alongside customers and sit down with them and see how we could help them reduce costs whilst still offering a high-quality solution. We have added experienced manufacturing professionals and can now work very closely with customers."
Max Mothes products
In addition to developing its manufacturing capabilities and knowledge, Max Mothes also started to develop its own product lines, including sealing nuts and MOTHES FIX.
"In the area of sealing nuts, we have developed a nut that reliably prevents the escape of liquids and gases – providing a firm, permanent fit due to the securing device," mentions Martin. "This has been made possible by the combination of nut body and a sealing ring that is resistant to oils and solvents. When tightening the nut, the sealing ring presses under high pressure in a specially cultivated recess on the metallic nut body and at the same time against the wall of the through bore. Even after repeated loosening and tightening, the connection remains tight."
The sealing nuts are available from M6 to M20 with different surfaces. The temperature resistance ranges from -40ºC to about 110ºC and the pressure load is over 640 bar.
The MOTHES FIX is a captive sleeve and bolt connection, which can be supplied on pre-assembled modules directly to the production line of OEMs for assembly. "The MOTHES FIX is a screw that is fastened even before installation and is an indispensable part of modern connection technology," points out Martin. "The resulting savings potential in the areas of logistics, assembly and quality are enormous and can be generated immediately. Put simply, the MOTHES FIX is a small component with a big impact on processes."
Distribution mindset
Whilst Max Mothes has changed its focus to production, it is still using its distribution experience to ensure it is providing customers with a first-class logistics service. "Whilst distribution is no longer our main target, we can still offer a high-quality logistical service, which gives us a big advantage against other manufacturers," explains Martin. "We still have the knowledge and size of a logistics operation that enables us to offer key services such as bin systems and scanning systems. We can combine our manufacturing and logistics capabilities to provide customers with one focal point."
Automotive focus
Currently 40% of Max Mothes production is focused on the automotive sector – both OEMs, as well as tier 1 and tier 2 suppliers – with the company also recently achieving the IATF 16949 certification. "Our main automotive business is for safety systems, such as steering columns, braking systems, transmissions, etc," points out Martin. "These are high-quality parts and play critical roles within the automotive market, which highlights the quality of our products and the trust our customers place in us. When you work with the automotive industry it means your products have to be of the very highest quality and you need to be able to provide a first-class service – there can be no delay."
"A big opportunity for us going forward is the e-mobility sector where we are already producing a lot of products – predominately made from copper. We will look to continue to develop this area in the future, but we still see the traditional car industry being our main focus," states Martin. "The parts we are producing now are only just going into production and we will be producing them for the next 8 – 10 years. We therefore do not see any dramatic changes. However, if there are further developments in e-mobility then you never know what will happen in the future. That is why it important we are able to provide a quick response to customers' needs and be flexible."
Future markets
Max Mothes production is currently based on the ramp up from automotive customers that it originally attracted when it first started manufacturing in 2012. "Our production is focused on new parts, with the quantities growing over the last two years from a few hundred to tens of thousands," points out Martin. "However, we don't want to be dependent on solely automotive. That is why we are developing other sectors, such as commercial vehicles, construction and agriculture, renewable energy and wind power, as well as mechanical engineering."
"Currently 80% of our development is within Europe, but we have a global network that means we can supply customers around the world. It has been a big challenge changing from a distributor to a manufacturer, but it has been one that we have relished. We have now established ourselves within the market as a key production partner that has wide range of manufacturing capabilities, backed up with an in-depth technical knowledge."