Lancaster Fastener increases stock capacity by 20%
25 September 2019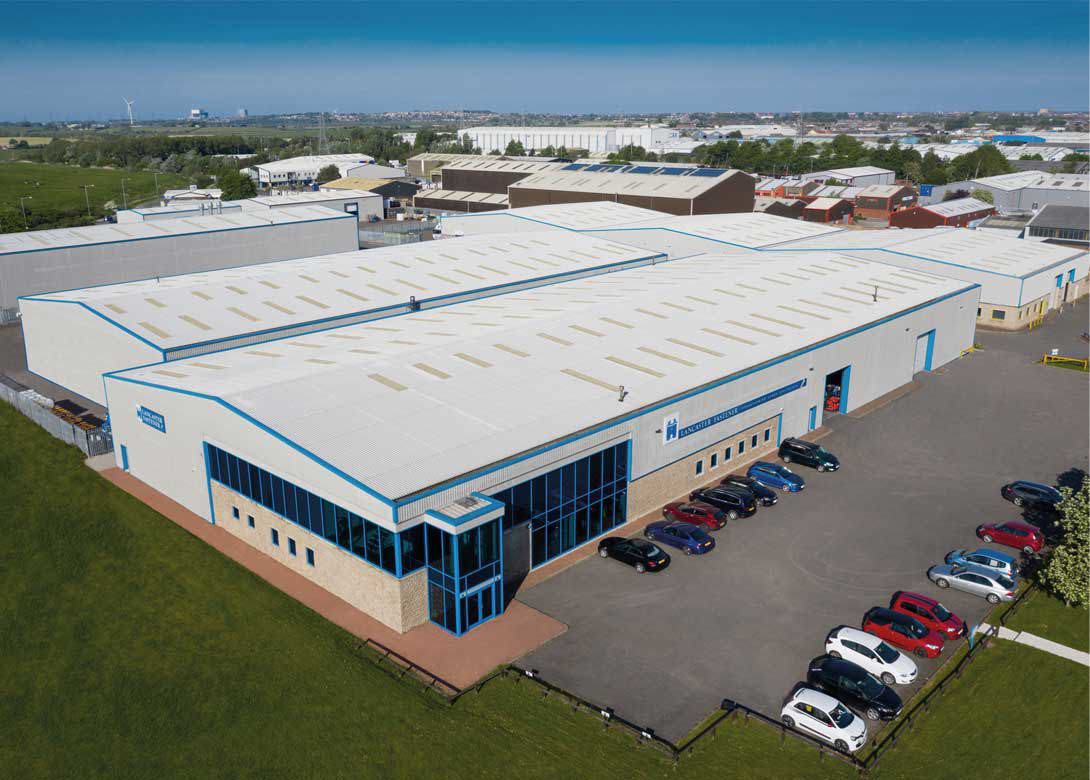 As a stockist, Lancaster states that the key to its year-on-year growth over recent years has been stock availability. Now, with the recent completion of a warehouse extension, the company is able to increase its pallet locations and continue investing in its stock levels, to further improve availability.
Lancaster Fastener Co Ltd is recognised throughout the global fastener distribution industry as a specialist importer and stockist of small diameter industrial threaded fasteners. Trading within the fastener industry for over 35 years, Lancaster Fastener has successfully developed a brand that is synonymous with exceptional standards of quality and customer service. Product ranges are sourced from 'quality assured' manufacturers and supplied to a network of fastener distributors in over 50 countries worldwide.
Operating from 3,150m2 premises in the North West of England, Lancaster Fastener supplies many of the leading multinational fastener distribution groups – whilst also offering support to smaller distribution companies throughout the world. Lancaster's position in the market forms an essential supporting stock interface between the distributor and the Asian manufacturer, reacting largely to the infill demands of the industry.
"It is our commitment to invest in large volumes of stock against a specialised, small diameter product portfolio," explains Sam Wilson, managing director at Lancaster Fastener. "The recently completed extension to our warehouse will allow us to increase stock levels across our entire product range to offer customers a dependable and continuous source of supply."
Product ranges include: Screws for plastic applications, self-tapping screws, self-drilling screws, Tap-Fix® DIN 7500 thread rolling screws, DIN 7985 and DIN 965 machine screws, micro diameter screws, tamper proof security screws and fasteners for sheet metal.
From over 3,000 tonnes of stock, comprising over 10,500 product lines, customers are offered a fast and efficient delivery service supported by an excellence in worldwide logistics. Lancaster's stock profile is geared to meet the demand for 'fast moving' product sizes and to offer peripheral sizes that are outside other ranges available within the industry. "It is the depth of our range that differentiates us from our competitors," adds Sam Wilson. "In addition to stocking commodity size ranges of products within our range, we also offer smaller/larger diameters and shorter/longer lengths that aren't readily available elsewhere."
Lancaster's stocked ranges are reviewed regularly to identify gaps within each product group from which to formulate future stock investment. "It is our aim to be in a position when preparing a quotation, irrespective of the number of line items, to offer at least a 95% stock availability against the products listed within our stock list. On the occasion of a partial 'stock out', our sales team will automatically advise customers when new stock has arrived into our warehouse," continues Sam Wilson.
Product ranges are available for immediate despatch in 20kg bulk carton quantities. Lancaster can also split carton quantities and offer products in small box quantities to meet the exact quantity requirements of its customers. Complete batch traceability is guaranteed by a clearly defined product label that is included on all despatched goods. All labels display a product image, item description, box quantity, supplier reference, batch number and RoHS compliance confirmation logo. A product code specific barcode is also displayed on each label to allow automated product identification and the implementation of data.
Lancaster Fastener is continuously listening to the industry and developing its product range to meet the requirements of its customers. To this end, more stocked ranges of threaded fasteners with a black finish have been added to its product range. "The decision last year to increase stock levels of fasteners with a black finish was also a driving factor behind the decision to increase our stock holding capacity," explains Sam Wilson. "Our increased stock availability and our willingness to have other zinc plated products from our range finished black has been welcomed by our customers in what is often seen as a problematic and time-consuming product range for fastener distributors to source."
Lancaster Fastener understands the urgency of the fastener industry and the daily pressures faced by distributors when contacting suppliers to enquire after stock availability, check current pricing options, progress existing orders or to seek technical support.
Lancaster believes that a considered and timely response to customer enquiries is mutually beneficial and strengthens relationships and enhances loyalty between all parties. "It is our service commitment to reply to customer enquiries within 30 minutes in an effort to increase efficiencies throughout the supply chain," concludes Sam Wilson.