High-quality products in CELO's DNA
23 November 2021
CELO's product range covers all applications from light fixings to safety relevant heavy-duty fixings. Now the company is further improving its high-quality technical fixing solutions with its multifunction frame plug.
Marko Römpp, general manager at CELO, explains: "CELO has always been focussed on developing innovative screws and fixings that reduce costs and times in installations. A very significant part of our product portfolio is therefore comprised of products that save time for installers – such as the multifunction frame plug."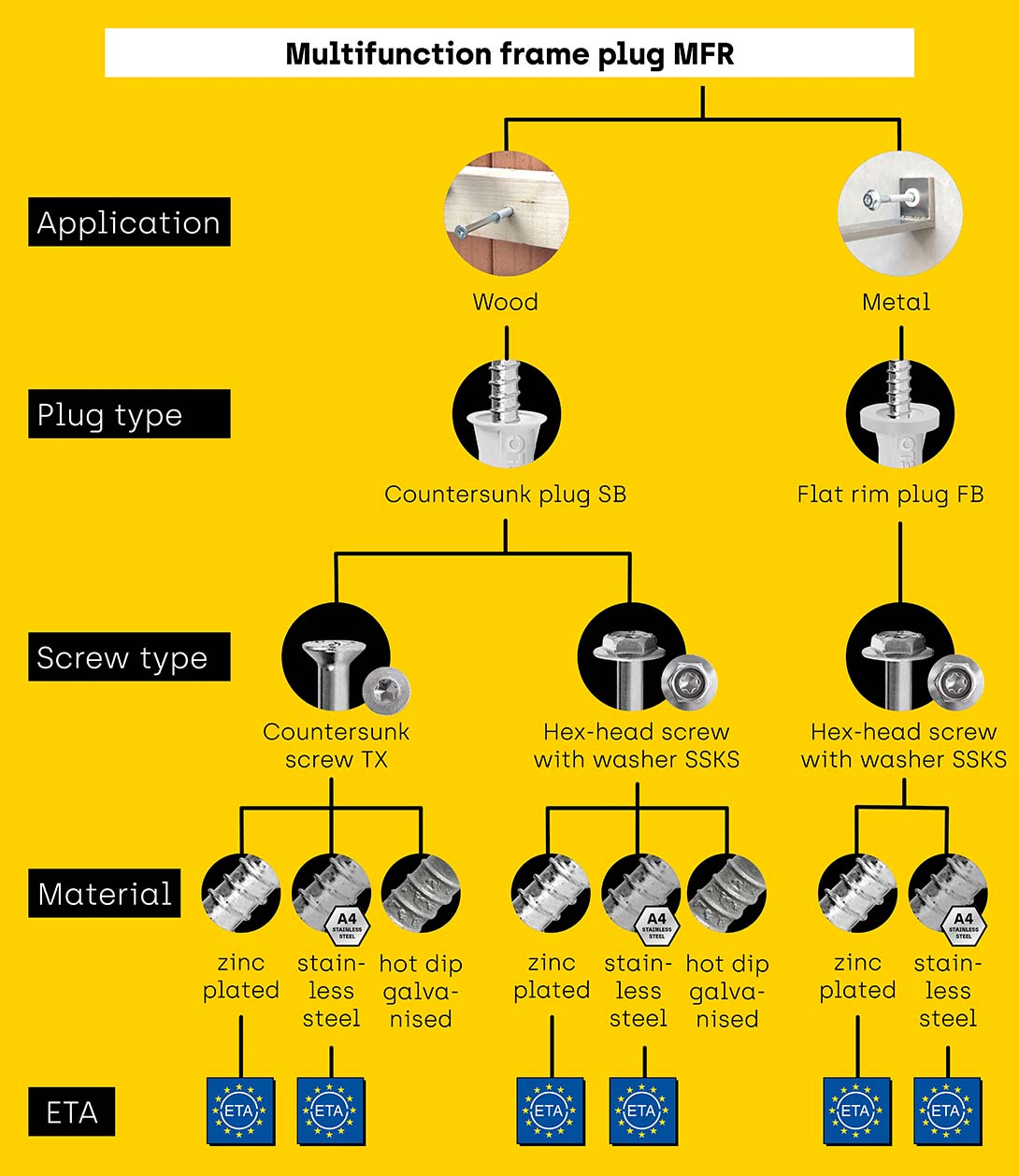 "Multifunction frame plugs, also known as frame fixings, are one of the most popular fixings when looking to mount façade substructures made of wood or metal, metal brackets and wooden slats, or windows and door fixings. Compared to chemical fixings, frame fixings are far less expensive and quicker to install – not even considering the curing times. Instead, they can be installed immediately and unlike metal anchors are suitable for almost all substrates."
The advantages of the multifunction frame plug MFR go beyond the general advantages of frame plugs. For instance, they pass through their entire creation process – from development and production to shipping – and meet the highest quality requirements at every step. The MFR multifunction frame plugs also feature a new and improved geometry for two setting depths of 50mm and 70mm, allowing a wider range of thicknesses for fixtures. In addition, excellent load values and a secure hold derive from its lateral bars and long expansion area, while the ageing, weather and UV-resistant nylon guarantees long-term security. 
The MFR multifunction frame plugs are mostly pre-assembled for easy handling and to minimise assembly efforts. The possible combinations of plugs with different collars and screws, with different materials and coatings, offer almost endless possibilities for frame fastening. The zinc plated and stainless steel variants have additionally been ETA tested (ETA – 07-0337) and approved for maximum user security.
MFR frame plugs can also be combined with other innovative products such as the ProtectFIX® window protection bracket, which provides fall and burglary protection for windows and doors. 
"'Made in Germany' is a worldwide seal for high-quality, innovation, technology and best technical values. Our customers appreciate that and it helps us to position the brand CELO in the fastener premium segment," explains Marko. "High-quality products are in our DNA and to ensure this we have to control every aspect of the production. This has not always been an advantage where costs are more competitive in different locations, but we have continued to invest to improve our productivity and produce local. This has also benefitted us during times of major disruptions in the supply chain – enabling us to strengthen our services to our customers."
"It's fair to say 2021 has been challenging for our supply chain. The availability of raw materials, cost increases, availability of
sub-contractors, the lack of experienced and specialised workers in the German market, as well as the ongoing Covid-19 pandemic have all had impacts. As a small company, we must have a clear focus on our strategic objectives and be flexible and adapt our road map to the current situations."
"Despite these disruptions, the German construction economy is quite resilient at this time. German consumers are spending money in their houses, doing renovations and making construction investments – something that is a positive trend for us and the construction economy. There are also potential opportunities in the renewable energy – particularly wind and solar – markets, which opens doors for all in the construction industries – including fasteners and fixings."
Multifunction frame fixings guide
Multifunction frame plugs have a wide range of applications in concrete, perforated and solid bricks, as well as aerated concrete. Because of this, it is often difficult to know and choose the right type of fixing, which is why CELO Befestigungssysteme GmbH has also created a simple guide to aid installers.
CELO's 'Easy guide to choosing your frame plug' takes the installer step-by-step, going through the different decisions needed to find the right fixing, such as the different head types of the plug and screw the installer can choose, as well as the materials and applications that will be worked on. 
"Our vision is clear. CELO is an international reference in screws, fixings and support systems that reduce cost and installation times. We will continue to strengthen our product portfolio and invest in our international expansion."


www.celofixings.com