Facing the 'new normal'
28 September 2020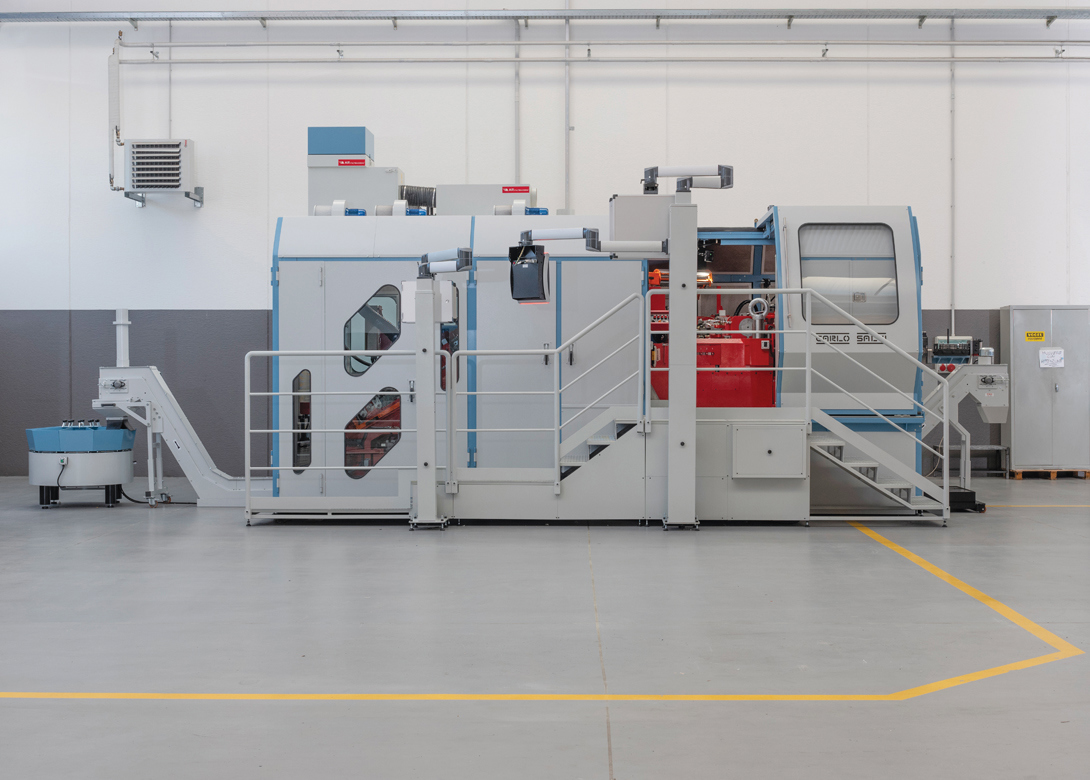 Up until the beginning of 2020, Carlo Salvi SpA was focused on its effort to strengthen its global sales network, as well as continuing to benefit from its partnership with Hatebur. The company was poised and ready to launch its latest technology at various shows across the globe. That was until Covid-19.
Marco Pizzi, chief commercial officer at Carlo Salvi, explains: "Certainly the pandemic has hit hard and upset our sector. From a technological point of view, our group was ready to provide customers with some new advancements and improvements, and it was our intention to showcase these innovations during 2020 around the world."
These new developments include the new servo-electric linear infeed on CM 725; the redesign of the clutch-brake combination for the AMP 20/AMP 20 S series; and the introduction to the market of the first 5 station combined machine – Model CS 513 TH.
At the beginning of 2020, Carlo Salvi was also seeing extremely positive results from market expansion into protagonists countries that, traditionally, have been little explored – including Korea, India and Malaysia.
"Right now, it is very difficult to predict where the market is going to go and the challenges the future will bring. As a group, when the pandemic struck we organised ourselves promptly with digital systems that allowed us to monitor and manage our headers remotely, even for both ordinary and extraordinary maintenance works," explains Marco. "This allowed us to guarantee each customer the necessary service assistance, respecting social distancing and continuing to collaborate 'safely'. It's clear that some aspects of digitisation, to which the pandemic has opened the doors, can be a source of great benefit even once we return to normal everyday life."
Technology and automation will be essential in ensuring that companies can work safely, protecting themselves and customers. Carlo Salvi believes a very important role will also be played by research and development teams, in sectors such as the automotive and aerospace sectors – where demand is changing, preferring electric, high strength but ultralight materials.
"To face this 'new normal', it will be important to develop strategies that allow us to fulfill these requests, digitising and automating all related operations as much as possible," states Marco. "First though, I believe manufacturing companies must strengthen their sales network in order to guarantee very high-quality standards. In my opinion, the pandemic will favour local manufacturing and the redistribution of 'Made in…' production. Big companies will start to reevaluate their operating areas and their suppliers, thus reducing risks, logistics costs and improving quality standards. Of course this change may generate many difficulties, but I am of the opinion that a 'Made in Italy' product has always been more attractive on the market than others."
Marco continues: "Made in Italy is for us synonymous with 'the best of all', and there are many reasons for this affirmation. First of all, the many years of experience and the continuous search for improvements and innovations, as well as the flexibility and versatility that characterises us. There's also the pleasure in building high-quality products starting from the raw materials we use, the problem solving attitude and finally, but not least, the competitive price that we are able to offer."
Carlo Salvi has over 80 years of global history. Each enquiry is treated as a new challenge in offering an 'ad hoc product', and the service is completed by a strong attitude towards problem solving and customer satisfaction. Its partnership with Hatebur and the union of synergies have helped to strengthen its attitude, and enable the company to offer a more complete service.
"In five years' time I see a company continuing to work alongside its customers to support them in new projects. I also see a company present in all the markets of the world. Above all, I see a company that is always motivated and in step with changing situations," concludes Marco.