Çetin Cıvata – taking the right steps
26 May 2021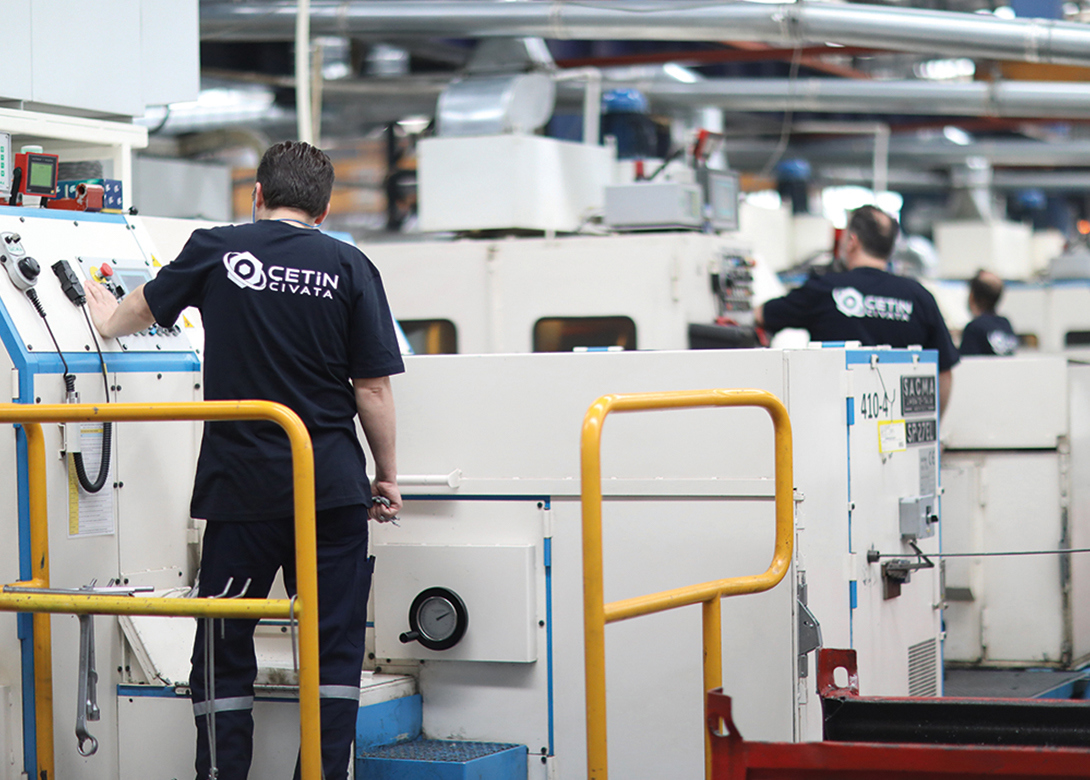 In a world where everything is changing rapidly and competition is growing day-by-day, Çetin Cıvata is looking to take the right steps in its investment strategy, as well as rely on the strength that comes from its roots as an experienced manufacturer, to become the preferred brand in the market known for its reliability and efficiency of its services.
Çetin Cıvata over the years has become one of the leading fastener producers in Turkey with a vast amount of experience gained from working within the field and closely with its customers. The Turkish manufacturer now exports more than 50% of its products worldwide and is continuously investing, developing and looking for better solutions to improve quality, standards and variations of products for customers.
Analysing the current situation within the market, Çetin Cıvata has made some big investment decisions when it comes to its plans for 2021 – even though the Covid-19 pandemic has continued to be a major factor within the market. "We took the necessary measures regarding Covid-19 and we made many strategic plans according to our investments schedule for 2021," explains Cenk Turfanda, general manager at Çetin Cıvata. "Growth in our business and the demands on our products are increasing day-by-day. To be able to handle our customers' expectations correctly, and ensure our services meets their expectation levels, we have to be ahead of the market and increase our volume and production."
Due to this, Çetin Cıvata has implemented several stages of its investment plan, including the purchasing of well known and reliable machinery and equipment; building a new head office and production building; as well as the introduction of the Çetin Fastener Academy.
"At the beginning of the year we started the first stage of our plan by laying the foundation of our new extension of the production building, as well as our new head office where we will have our sales and management office – equipped with the latest technology," points out Mr Turfanda. "In addition to this, the growth and increase in our business volume always brings the need for personnel. Investment in people is at the forefront of our business and we prefer to train personnel in technical matters within our organisation, which is why we are aiming to establish our Çetin Cıvata Academy."
The Çetin Academy will enable the company to invest in its people and create theoretical and practical work areas relevant to the business. Çetin Cıvata has also made agreements to work alongside technical colleges. "We continue our efforts to become a national education approved academy and we aim to achieve this grade by the end of the year," states Mr Turfanda. "We believe that investment in people will always lead companies to better positions and to more efficient, powerful and profitable transformations. We want to adopt this as a principle for our company for the next generation and move forward in this direction. We are sure that we will achieve this within ourselves."
Whilst the demand and increase in production is a positive aspect for Çetin, it also leads to the question of when a business should expand its production capacity. "As a company we have decided to increase our capacity by increasing our machinery investments, such as the introduction of new heat treatment furnaces," points out Mr Turfanda. "Through other investments in new high-tech machinery, based on intense demand from our customers, we are also now able to supply long length bolts up to 320mm. We also have upcoming arrivals of new press and rolling machines for bolts and screws, as well as new machine expansions for nut products."
Another area in which Çetin Cıvata is also looking to invest is in the digitisation of the business. "Everything is even more digital in today's world. Life through social networks has become even more important in how we live," mentions Mr Turfanda. "Online meetings, communications, accessibility, and sales on different platforms, all constitute an important part of our lives. In order to keep up with this, we are on the way to bringing ourselves to the forefront in all social networks and digital media in order to increase our accessibility. We follow all developments in this segment and adapt them to ourselves."
Mr Turfanda concludes: "At Çetin Cıvata, we are changing our shell. We aim to be one of the leading companies in the sector and thanks to our investments in both technology and people we are taking strong, confident steps in adapting to new world requirements. The pleasure and the pride of being a preferred and approved manufacturer for all industries, and for all automotive related industries, gives us signals that we are on the right track."