Bringing production back to Italy
25 September 2020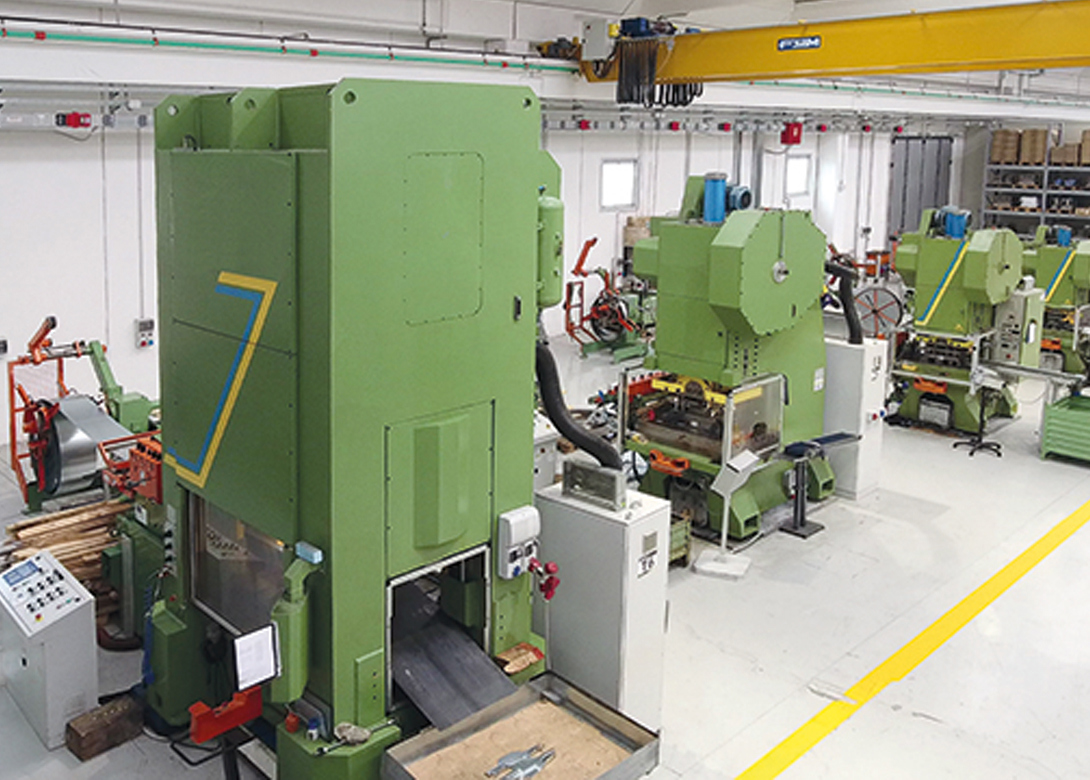 Thanks to its high number of production processes worldwide, which includes metal sheet stamping, plastic material injection, rubber material injection and wire cold forming, Tecfi SpA has been able to establish itself as a key manufacturer within the fastener and fixing industry.
With a total building area of around 15,000m2, on more than 61,000m2 of land, Tecfi recently added a 7,000m2 production site to enhance its internal production capacity; offer a suitable space to the technical area; and maintain the high-level of service that the company offers to its customers.
From the very beginning, Tecfi has invested in its capabilities, which includes a high-tech laboratory, an advanced quality control system and a qualified team. Through these key areas, Tecfi has been able to gain competitive advantages, represented by patents and very strict product certifications.
Today, the advanced assessment laboratory is equipped with the most important and certified equipment – testing from the raw material to the finished product, through mechanical, metallurgical and corrosion tests. This helps ensure customers receive highly qualified product. Over recent years, the laboratory has also been equipped with the very latest facilities for static, dynamic and seismic load tests, which have been used for the research and development of anchors to be used in cracked concrete and seismic zones.
In the direction of providing safer solutions to engineers and craftsman, Tecfi's R&D department has studied a lot on seismic topics. As a result, in April 2015 Tecfi reports it was the first company in the world to get the C2 Performance Category for the installation in high seismic hazard zones for its HXE-CONCRETO® concrete screws. The C2 Performance Category is available on diameters 12mm and 16mm, while diameter 10mm received the C1 Performance Category. Tecfi offers three additional lines of anchors provided with C2 Performance Category: AJE wedge anchors (also available in very long sizes for wood construction), HVE-ROCK® heavy-duty anchors and SWE styrene-free dual component pure epoxy resin.
Tecfi also manufactures a very wide range of sleeve anchors (DSE and DXE ranges, with a huge selection of heads) that have already received ETA-CE Option 7 for non-cracked concrete many years ago. In addition to the anchors, Tecfi has manufactured, for several years, numerous other products through the stamping of metal sheet, such as wood connectors (with ETA-CE), saddle washers and many other metal accessories.
Tecfi is also equipped with a big assortment of machines for plastic and rubber material injection. Through these machines the company can produce nylon and HDPE plugs and anchors, as well as EPDM umbrella gaskets.
Within this section, Tecfi's VS-Handyplug® nylon façade anchors received a great response from the market, thanks to their very good performances in many base materials, as well as being ETA certified for use in category a, b, c and d, including a big variety of bricks coming from Germany, Austria and North Europe. The VS-Handyplug range is composed by two shapes of nylon plugs and four different screws available in steel (also with special coating) and A4-70 stainless steel, wholly manufactured in Italy.
Another plastic anchor that received great feedback from the market is ZZE-Handyplug®, the HDPE multi-purpose anchor for ETICS, which got a very high grade ETA for a spread of base materials (a, b, c, d and e). Over recent years Tecfi has also increased the number of nylon plugs and accessories internally produced. These include: VZ-Handyplug universal plug, available from diameter 6mm to 14mm, and YZ multi-expansion hammer plugs, available with several shapes of the collar and with zinc plated and A2 stainless steel screws, both underlining the benefits of Tecfi investing in this manufacturing process.
The last manufacturing process Tecfi added to its capabilities was wire cold forming. Through this production process Tecfi is able to produce in-house screws and bolts, through the use of the most technologically advanced Italian multi-station and 1 die 2 blow heading machines and threading machines. This means that concrete screws, wedge anchors, wood and chipboard screws, and special bolts, are today manufactured in Italy, with a special focus on the A4-70 stainless steel line, which is becoming more and more demanded by the market.
In its new plant, Tecfi has also introduced new machines for the automatic assembling of metal anchors, nylon plugs and screws with washers. In addition, Tecfi has launched a huge automatic packing line, not only to get more efficiency, but above all to help the innovation of the retail and DIY. Tecfi today offers solutions in small boxes, plastic cases and blisters, which can be selected by the customer to 'dress' its shop. To go alongside this, Tecfi is also able to offer customers a 'sales point restyling' consultancy service, which involves initial site inspection; the designing of the layout for the dedicated spaces; the realisation and instalment of the merchandising; as well as the final analysis of the results achieved.
"The widening of the production and the implementation of our capacity; the strengthening of the automatisation; together with the big investments in terms of laboratory equipment and staff; are the clear evidence that Tecfi is investing more and more capital and energies to bring back to Italy all its strategical operations," concludes Tecfi.