A vision becomes reality
15 March 2016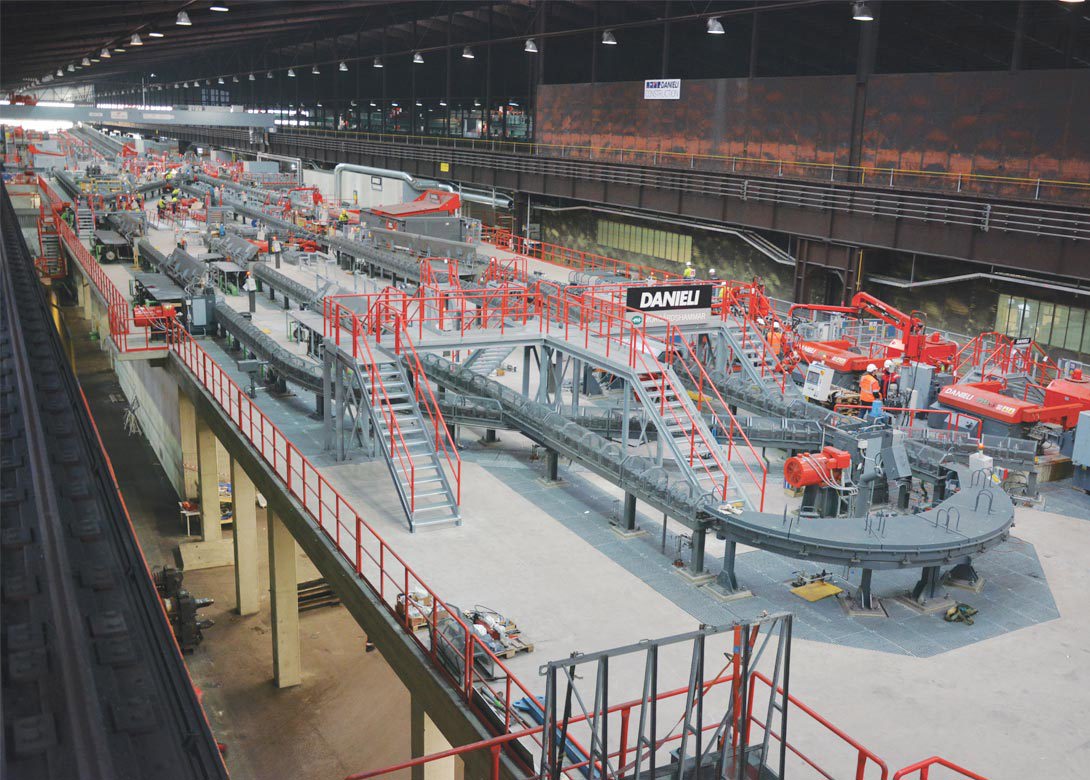 The world's most advanced wire rod rolling mill starts production
voestalpine Wire Technology GmbH is the leading European producer of wire rod and drawn wire, specialising in servicing the requirements of the advanced cold heading industry amongst other demanding sectors. In 2016 the culmination of a three year, nine figure investment, programme reaches fruition as the world's most advanced wire rod rolling mill at voestalpine Wire Rod Austria's St. Peter-Freienstein site commences production.
Voestalpine Wire Technology already confidently lays claim to the position of the leading European producer of wire rod and drawn wire. In addition to cold heading wire (CHQ) it specialises in shaped wire for sour gas applications in the oil and gas sector, and in ultrafine saw wire. A global sales operation represents voestalpine Wire Technology's premium offer to demanding sectors that include the automotive supply industry, energy, manufacturing equipment engineering, and construction. A constant focus on innovation, research and development maximises customer value, delivered through long-term customer partnerships.
voestalpine Wire Rod Austria's new wire rod rolling mill at St. Peter-Freienstein fulfils an emphatic strategy to further improve the performance and flexibility of wire rod production. In doing so it represents an important step forward, bringing long-term benefits to voestalpine's customers and employees.
The St. Peter-Freienstein facility helps voestalpine set new standards in the industry and, through an integrated and highly systemised process, ensures optimised supply, sustainable energy use and an ergonomically tailored working environment.
By using the latest generation of burners, advanced rolling technology, and a fully integrated plant control system, wire products will be produced to meet increasingly demanding requirements. The flexible plant design will provide customers with the benefits of tailor-made solutions and an even wider range of high-quality rolled wires. The world's largest high bay warehouse for wire rod coils, with some thousand single coil boxes, is part of the integrated logistic solution at the St. Peter-Freienstein site.
Locating the new facility on the Donawitz site, voestalpine Wire Technology takes maximum advantage from close collaboration with the Group's advanced compact LD steelworks, which focuses on the production of high purity special steels – the basis of voestalpine wire quality. As a result, voestalpine Wire Rod Austria draws its wire rods entirely from a single source.
The voestalpine value chain is founded on an integrated production process starting with steel production using the blast oxygen furnace (BOF) process. The company exercises tight control from the iron ore mine through to the production of the final wire. To fulfil its commitment to stable wire rod supply voestalpine Wire Rod Austria operates a fail-safe operation, utilising state of the art equipment, optimising its processes through an integrated electronic network.
The integrated BOF production process assures the least trace element content and the lowest analytical spread. The highest consistency of surface quality is provided through continuous round shaped casting in an integrated billet rolling mill in which systematic surface inspection is carried out. The best possible formability is ensured through thermo-mechanical rolling, combined with modern annealing facilities and a large number of in-house coating processes.
Underpinning market leading quality is a deep reservoir of technical and process know-how, with the expertise of highly qualified staff enhanced through close cooperation with centres of academic excellence.
voestalpine Wire Technology extends these technology and people based competences through to its customer relationships. Targeted technical solutions, drawn from a broad product portfolio and founded on continuous research and development, are coupled with tightly tailored logistics solutions to precisely meet customers' needs.
The overall combination makes voestalpine Wire Technology an outstanding partner for specialist requirements – in particular a market leader in complex cold heading applications.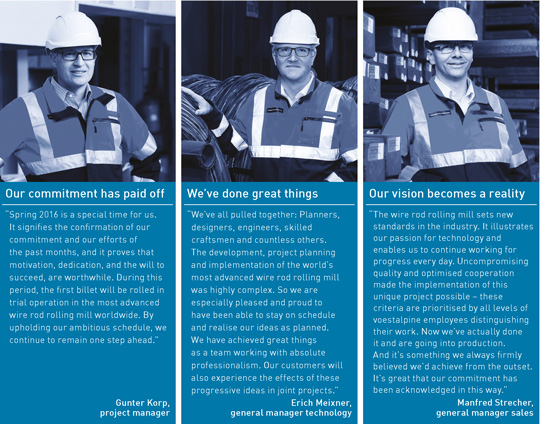 One feature, just part of an overall commitment to long-term customer and development partnerships, is that voestalpine Wire Technology carries out its own simulation of cold and hot forming processes. It also offers the widest range of analysis varieties and techno-mechanical properties in CHQ grades.
A group of specialists from throughout voestalpine's internal metallurgical network, engage in joint research and development activities with key customers – delivering short development times, in the knowledge that full traceability and test parameters from bloom to coil are assured through a quality inspection regime fully integrated with the production process.
The result is an extensive range of micro alloyed CHQ grades providing tight tensile ranges and optimised microstructure. These include high purity steels for especially critical final-use applications, such as automotive airbags. Ultra high strength CHQ wires are also available for extreme high temperature powertrain fasteners, in final strength classes of 14.9 or higher.
The result is the highest possible level of customer advantages, with the specific benefit that they can eliminate process stages contributing to their own cost efficiency. All of which is attested by the lowest reject rates on finished products and voestalpine Wire Technology's consistent recognition as a benchmark in delivering reliability, quality, as well as technical and commercial services.
The new wire rod rolling mill further drives voestalpine Wire Rod Austria's competence and value to a demanding customer base. Mechanical and technological properties have improved and tolerances tightened through increased process reliability and integration. The size range is extended so voestalpine can offer from 4.5mm to 60mm diameters in coil weights of up to 3,000kg. Surface and heat treatment has been further integrated to the production process and customer requirements delivered from a cutting edge logistics system.
For voestalpine Wire Rod Austria the new facility also represents new levels of sustainability in its use of resources.
voestalpine talks about 'another step ahead'. That appears unduly modest. In a time of considerable turmoil in the global steel industry this strategic investment is an emphatic statement from a wire rod leader that it is committed to differentiating itself in an increasingly quality and service demanding market.