27 years at the Apex
20 April 2018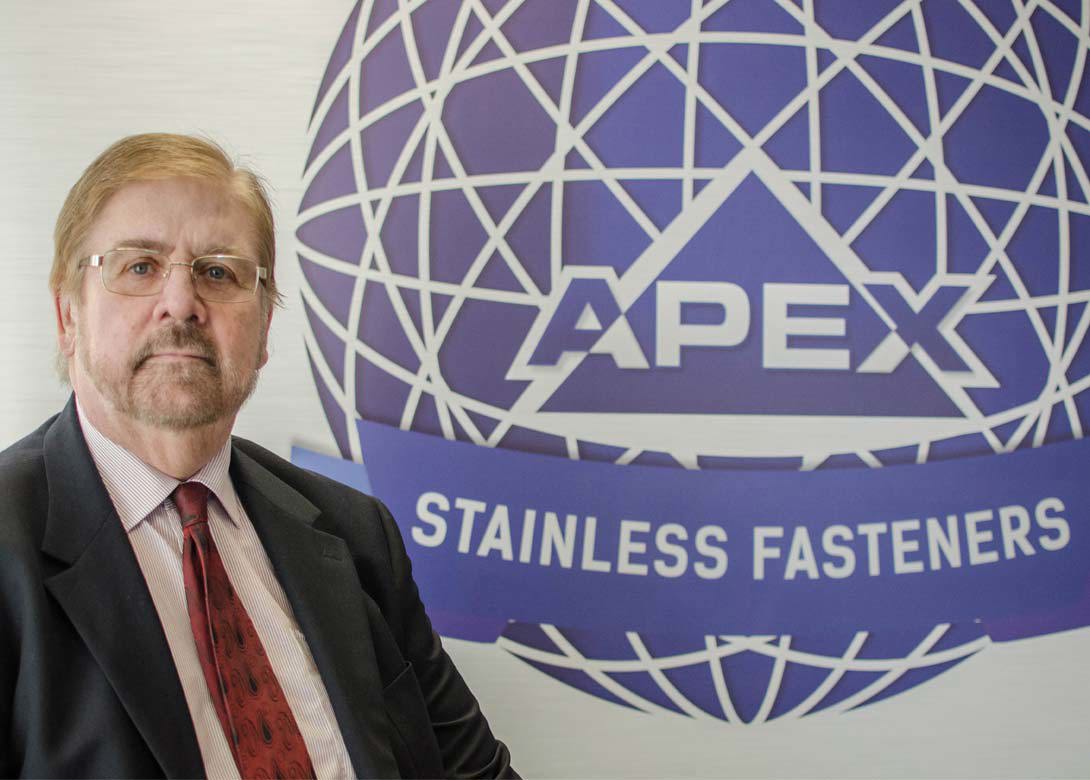 In November 2015 the Bufab Group acquired Apex Stainless Holdings Ltd, the largest UK stainless steel fastener supplier. Ever since, one question has been recurrent: 'When will Paul Lower retire – and what happens when he does?' Executive Editor Phil Matten got the definitive answer, from the man himself… and met his successor.
Paul Lower founded Apex Stainless in 1991, with a target to grow the business by GB£1 million annually. "For 2018 we are heading towards GB£30 million (€34 million) in sales," says Paul, at Apex' Rugby headquarters, "so we've more than done what we set out to do – and that's a great achievement for everyone in Apex." That growth has not been about price movement, it has been about growing market share including export business, through the consistency of the Apex business model. "We measure the number of pieces we despatch monthly. Historically, we saw the average grow to around 60 million, with a previous record of 70 million. Last month we achieved 80 million pieces, so you can see real volume growth is still coming through despite our strength in the market."

The Apex formula for success sounds relatively straightforward. "Having the right product on the shelf, at the right price, at the right time – and having robust, uncomplicated, disciplines in the business." More than 20,000 stock items and a current inventory value of GB£13.5 million, whilst delivering above Group average profitability to the Bufab accounts since acquisition, attests to the commitment to and potency of that formula. Not that achieving it is by any means straightforward in a product permanently influenced by the ebb and flow, sometimes ascent and plunge, of its most influential raw material. In the last ten years the cost of nickel has ranged from a peak of some US$54,000 per tonne to a low of around US$8,500/tonne.
Incisive reading of that supply market has long and widely been acknowledged as one of Paul Lower's most important attributes. The 'radar' is evidently as acute as ever: "Just in the last week we've seen stainless steel fastener prices from China jump significantly. That's the first sign of a deferred increase, which is still to come through to the wider market. Nickel suddenly pushed up in December. If you look at it now it's around US$13,500/tonne, compared with June 2017 when it fell below US$9,000/tonne. There's been some fluctuation day-to-day, but the curve is definitely upwards from mid last year to now."
"What has suppressed the market price movement for fasteners, however, is currency. I would have expected nickel to have driven fastener prices up by 7% – 8% in January, but the currency movements offset that by 4% – 5%."
"Now that deferred increase is coming through, and Dollar prices from China are up by 10% – 12% over a six week period. Added to that, the Dollar has recovered slightly against the Pound and Euro. It's not just us seeing that, the whole of the European market is seeing it."
"Look forward, and in the longer term there is still a lot of uncertainty about the impact of electric vehicle batteries on nickel demand and how it may change the fundamentals. However, more immediately, most economies in the world are showing positive growth, which means increased demand for all stainless steel products and hence for nickel."
It's a brief but eloquent demonstration – so when Paul Lower says: "I will retire at the end of April this year", the inevitable question is how is that intuitive grasp of the stainless market to be substituted.
"People forget that I am accountancy trained, and that Apex Stainless has long had very robust, straightforward, procedures and disciplines in place. We also have a long standing and very knowledgeable team that have operated to those standards, and closely with myself, for many years. Yes, I am leaving, and my sons Edward and Matt have already done so, but since the acquisition we have all worked to ensure this company continues to be in the best possible shape for the future. That's why I came back into the business after the acquisition, as chief executive, and why I have stayed until I was absolutely satisfied that continuity was assured."
"You need to look at the calibre of the people we have in key business roles. Gareth Whiteford, our purchasing director; Jim Carter who runs Rugby with his sales colleague, Daniel Rule; Stewart Lavender, business development manager at Bilston; and Lawrence Waller, who handles all our marketing as well as being involved in the purchasing; plus numerous others. These are all experienced, committed, long-serving Apex people. Where necessary, we have strengthened our team, and a key appointment has been Gordon Davies as commercial director – bringing with him more than 25 years' experience in stainless fasteners." "The other important thing to recognise is that the two years since Bufab bought the business have worked tremendously well. We have grown our domestic and export volumes and continued to strengthen both the depth and breadth of our range." "Jörgen Rosengren gave you a great insight into the Group management's approach to its acquisitions, in the interview* you published recently and from our perspective all of that has been accurate. Bufab has recognised and respected that Apex has a distinctive way of trading that has built a unique and strong position in the UK fastener market. There has been no question of the Group coming storming in and changing the way we operate – quite the opposite, the focus has been on understanding how and why we are as successful as we are."
Which leaves the big question, who will sit in that chair come May? "Willy Einungbrekke has actually been working with Apex for most of the last two years – since he took on Bufab responsibility for the UK region. He knows our business intimately now, he knows the people, and just as importantly they know him."
So who is Willy Einungbrekke? A 53 year old Norwegian, he first became involved with fasteners in 1989. In 1996 he joined Bufab as a sales manager; in the following year taking on the managing directorship of Bufab Norway. Between 2000 and 2002 he made his mark in the Group by turning around the Norwegian business to deliver excellent performance and results. From 2012 to 2015 he further extended his general management responsibilities, adding the role of regional manager for Bufab North. In 2016 he took on the regional management of Bufab's rapidly expanding portfolio of fastener businesses in the United Kingdom; in 2017 relinquishing his responsibilities in Norway to concentrate on the UK.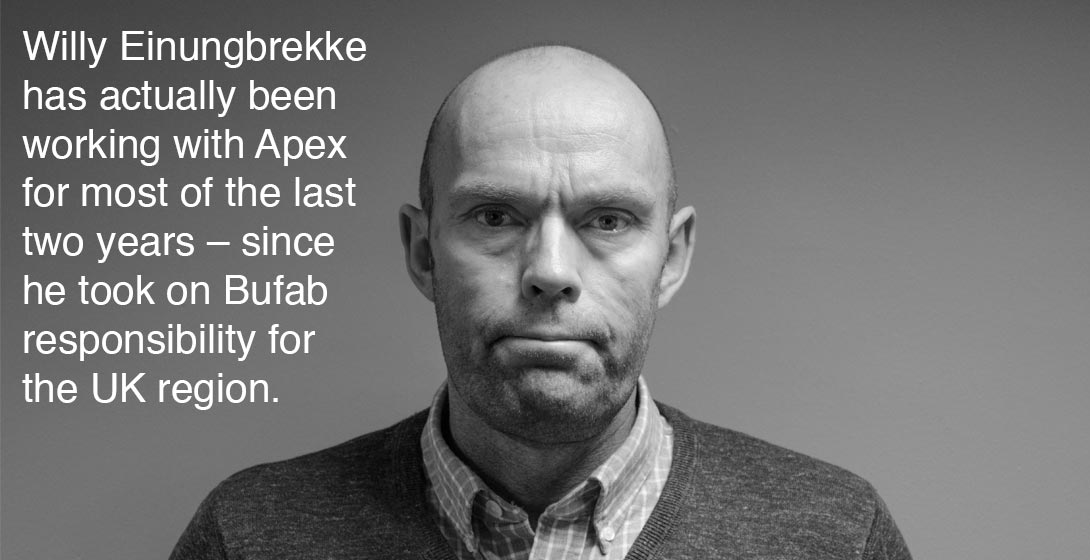 Willy comments: "Following the acquisition of Apex Stainless in 2015 we decided to build up a new region within Bufab, so I have been on the board here from that time, gradually becoming more directly involved. Supplying the distribution market is far from new to me – even today, more than half of Bufab Norway sales are to resellers, particularly because of the distances involved in travelling and moving product around the country."
Willy adds: "It has been really encouraging for me to see how well Apex is performing. As you know, it is not the Bufab way to impose itself on a successful sister company, and as with Apex, we often learn as much if not more than we pass on. Now, of course, the middle management in Apex will have to demonstrate what they have learnt over the years but it is clear that everybody understands how the company works at its best, so I am sure we can all look forward to another very successful Apex year."