Lederer outlines EFDA strengths at IFE Las Vegas
16 November 2018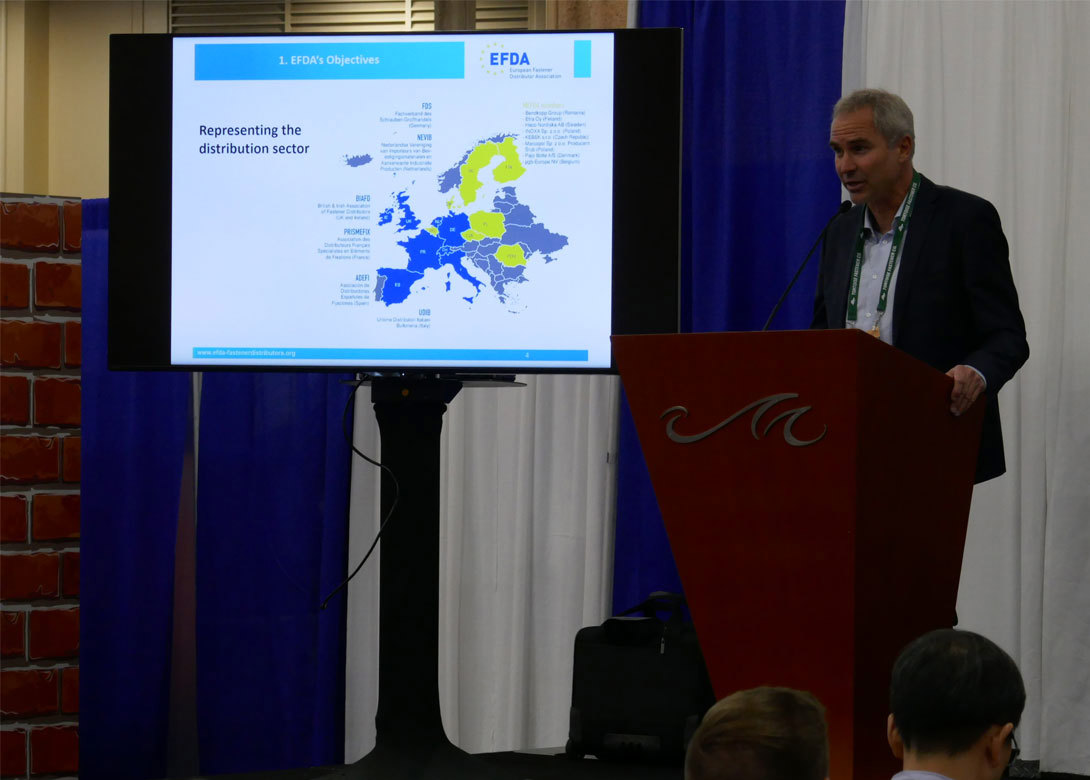 As President of the European Fastener Distributor Association, Dr Volker Lederer addressed the 'Sessions Corner' audience at the International Fastener Expo, Las Vegas.
Dr Lederer outlined EFDA's objectives, activities and values before exploring EU fastener distribution and some trends in the fastener business. He explained how the application of EU antidumping duties on stainless steel fasteners in the late 1990s had catalysed the formation of EFDA in 2000. "With EFDA, we European distributors actually began to defend our interests at a European level."
Eighteen years on "EFDA is deeply engaged in promoting the value of fastener distributors – especially its value to the European industry". That meant making it "clear how important we are for the smooth functioning of the European economy." EFDA had recently published 'Securing the Future: European Fastener Distribution in the 21st Century" – exploring how, while continuing to fulfil traditional wholesaling responsibilities, modern fastener distributors have invested in advanced technology.
"We fastener distributors provide the crucial, reliable link between cost efficient global manufacturing sources and worldwide industrial consumers," he said. "Increasingly complex and global supply chains must be effectively managed. We have to find and cooperate with reliable manufacturers. And we must provide them efficient production volumes that can be consolidated to cost-effective shipment quantities.
He noted that manufacturing and shipment leads could easily add up to 26 weeks and that in an uncertain world, the list of potential disruptions is always growing. Fastener distributors invested and worked tirelessly, he said, to provide precisely engineered and defined solutions. "We support every sector of European industry and make sure that they are competitive on the global market – today and tomorrow!"
In addition to representing national fastener associations in France, Germany, Italy, Spain Netherlands, the United Kingdom and Ireland, EFDA had seen rapid growth in MEFDA, the organisation representing fastener distributors in other European countries. EFDA's Sixth Triennial Conference, held in Rotterdam in June 2018, had underlined EFDA's vibrancy and its international connections.
"The guideline of EFDA is to lobby for free and fair trade in an open marketplace," Dr Lederer explained, elaborating: "Free means that EFDA basically promotes an unrestricted access of our companies to markets all over the world. We therefore oppose any measures against free trade which are simply protectionist." However, he added, "We believe that free trade must also be fair. We know that unfair trading practices such as dumping and subsidisation exist. In these cases, appropriate trade measures may be necessary to preserve the competitive environment." But, he emphasised, "these trade measures must not distort competition!"
Dr Lederer spoke about the crucial relationships between the U.S. and Europe Europeans and the importance of taking opportunities "to deepen our political and trade relations and further develop our ties with our American Friends". He went on: "We as EFDA hope, and we work for this objective, that free trade will succeed and not be regarded as a threat. Never in history has protectionism really improved the situation of the seemingly protected."
Concluding, he said, "Our Companies in the United States and in the European Union – whether manufacturers or distributors – benefit from a strong global market. I am personally convinced that the European Union has advantages for everybody. For EFDA I can definitely say that we are stronger when we work together."