Full house for hydrogen embrittlement seminar
05 June 2019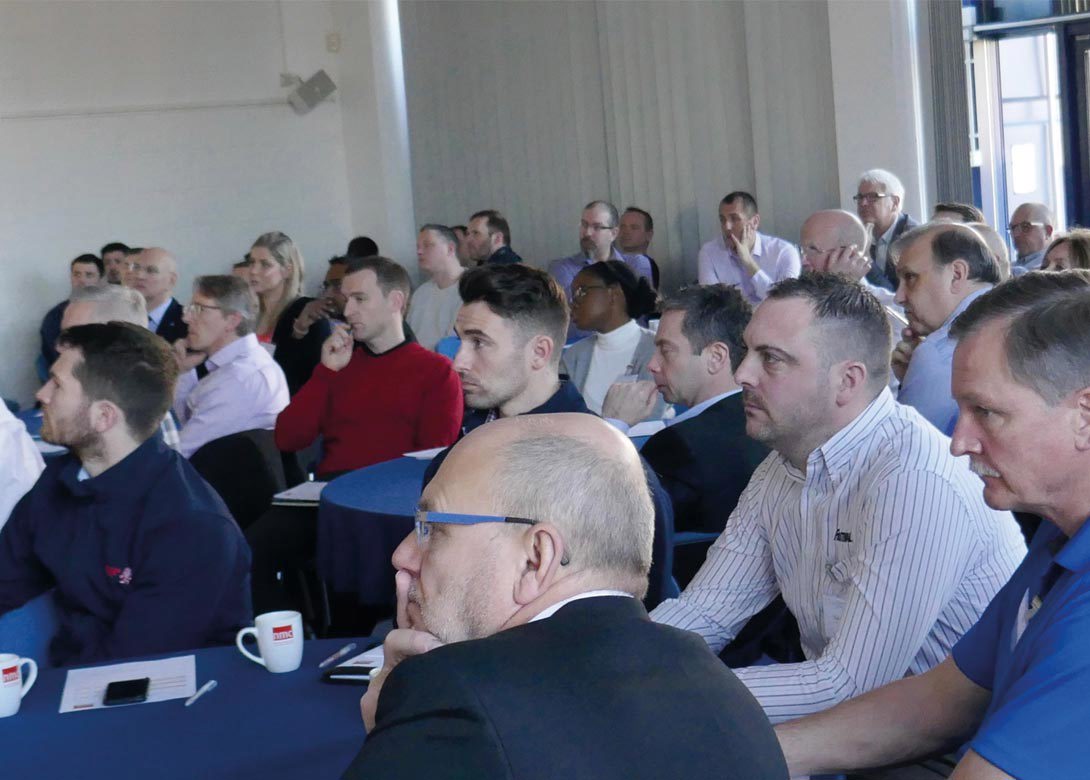 The BIAFD and the CBM, representative bodies respectively for UK fastener distributors and manufacturers, cooperated to present a technical seminar on hydrogen embrittlement and the implications of the recently published BS EN ISO 4042:2018 fastener electroplating standard.
The audience of nearly eighty, at the National Metalforming Centre, West Bromwich, heard a keynote presentation from Dr Bill Eccles of Bolt Science Ltd, considering lessons from the 2013 failure of thirty-two massive galvanised steel anchor rods installed on the then new Oakland Bay Bridge in San Francisco, USA.
Bolt Science is a specialist UK consultancy, focused on solving bolting problems, education and testing. In an excellent presentation, Dr Eccles also considered the mechanism of HE crack formation, and explored the two types of hydrogen embrittlement: Internal Hydrogen Embrittlement (IHE), where failure generally occurs within days of tightening, and Environmental Hydrogen Embrittlement (EHE), which may occur when a fastener has been in service for some time, and is exposed to atomic hydrogen from the environment, often as a result of corrosion.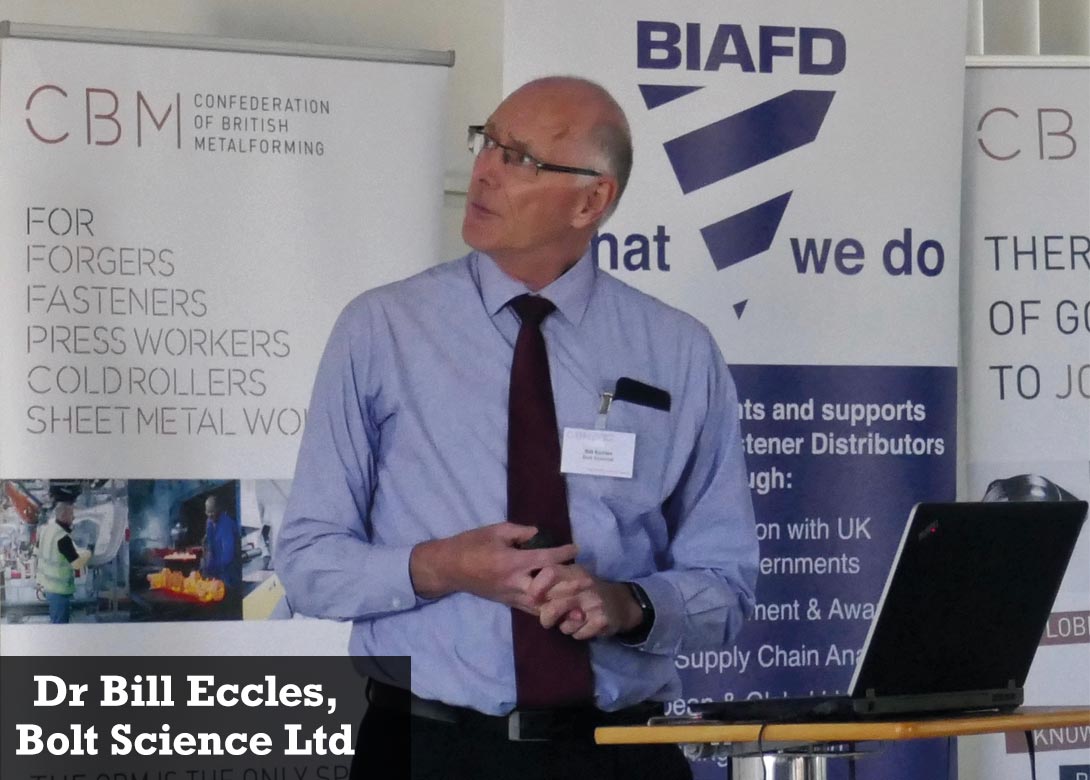 A key slide illustrated how the probability of IHE versus EHE is time-in-service related. A closing consideration was "stronger is not always better" with Dr Eccles explaining that opting for a fastener material with hardness below the hydrogen embrittlement threshold could offer a lower risk option.
Dr John Newnham, retired aerospace fastener technical director and a previous CBM fastener specialist, brought to bear his extensive experience in considering the significance of material characteristics and consistency in minimising the HE risks in high strength fasteners. A member of the BSI FME/9 fastener standards committee alongside Dr Eccles, Dr Newnham expressed concerns over some of the contentions of the recently published BS EN ISO 4042:2018 Fasteners – Electroplated Coating Systems Standard.
These concerns focused on the recommendation that fasteners with hardness values between 360HV and 390HV, need not be baked after plating, with reliance placed instead on supplemental process verification and product testing. Dr Newnham highlighted the challenges of confirming verification and testing in today's extended fastener supply chain – and proposed that continuing to bake remained the safer, and arguably more economic, approach to minimising IHE risk.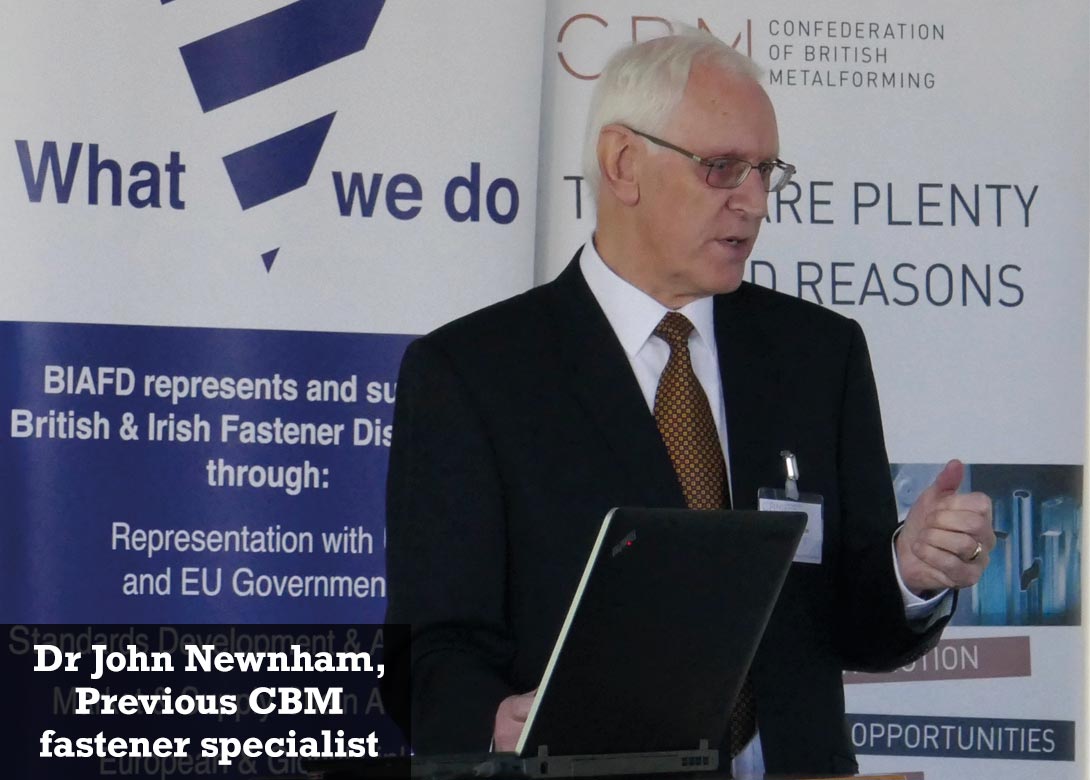 The British Standard version of ISO 4042:2018 includes a national foreword, recommending that all fasteners of property classes 9.8 and 10.9 should continue to be baked after coating.
A lively question and answer session, which followed the presentations, included further contributions from coating technology specialist, Clive Pearce and TR Global Quality Director Maddy Webb. Both emphasised the importance of fastener suppliers and their customers continuing to adopt a prudent approach to minimise the potential for failures as a result of hydrogen embrittlement.
For more information visit: www.thecbm.co.uk; www.biafd.org; www.boltscience.com