Visitors numbers flat but quality key in Köln
11 March 2016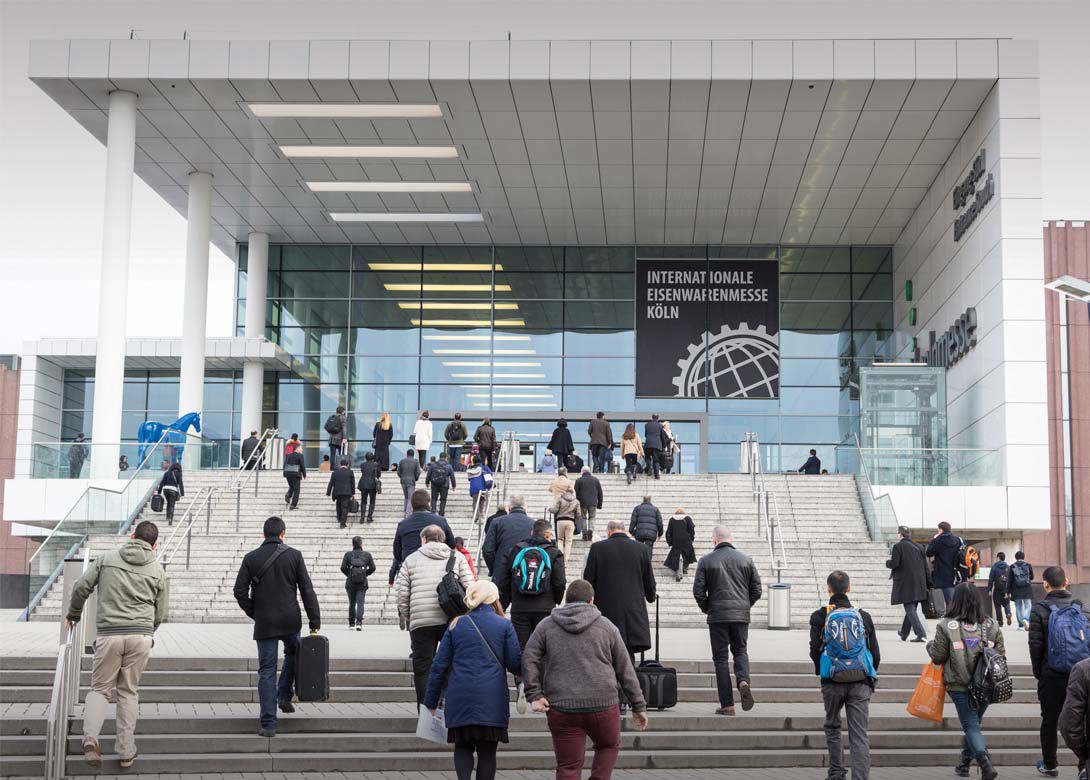 Held on 6th – 8th March 2016, once again at the Koelnmesse, this year's newly formatted three day EISENWARENMESSE International Hardware Fair Köln saw visitor numbers rise slightly to an estimated 44,000 (2014: 43,879) – from 124 countries. Claire Edwards, deputy editor, visited the show to find out what fastener exhibitors thought of the show and if it is still recognised as an international meeting place.
Total exhibitor participation for the show fell by approximately 4% to 2,670 exhibitors, representing 55 countries – compared to 2,783 in 2014. Germany recorded the highest growth in exhibitors rising by 6.3%. In addition to Germany, among the European exhibitors, France, Great Britain, Italy and Spain were strongly represented.
A total of 144,000m² of exhibitor space was split into four segments: Tools, industrial supply, fasteners & fixings and fittings, and home improvement. Around 170 'fastener' exhibitors were housed in Hall 5.2, however, unlike previous years this also included Asian exhibitors who were not limited to Halls 1 to 3. The Asian exhibitors accounted for approximately half of all exhibitors in Hall 5.2. Other fastener and fixing exhibitors included Bossong SpA, Chaves Bilbao S.A, Chemfix Products Ltd, Verbindungselemente Engel GmbH, Fixi Srl, INDEX Fixing Systems, Lederer GmbH, Lee Spring Limited, pgb-Europe nv, F. REYHER Nchfg GmbH & Co KG, Rivit Srl and Schäfer + Peters GmbH – with the latter having arguably Hall 5.2's busiest stand across the show's three days.
Florian Walter, product manager at Schäfer + Peters GmbH, commented: "This year's show has been a good opportunity for us to come and meet with all of our current customers in one location and maintain these relationships."
Also in Hall 5.2 was Italian specialist in the production and distribution of fastening systems and tools for sheet metal working, Rivit Srl. The company was showcasing its new RIV606 system for standard blind rivets, from 3.4mm to 4.8mm in diameter, and the RIV616 system, which can be used for rivet nuts from M3 to M8. Adrian Andreescu, export manager, commented: "We are extremely pleased with the selection of international visitors including those from Ukraine, Lebanon, Russia, Brazil, Portugal and Czech Republic. We are satisfied with the new three day format and the high-level of interest in our new products."
Also displaying new tools in Hall 5.2 was first time exhibitor SmarTTools®. Showcasing its new concept for screwdriving – the SmarTTool® handle enables users to keep just one tool for all screwdriving needs. The ergonomic oval handle has a comfortable grip and its socket is made of CR-V. It has a durable connection and can handle high torque. John Lanser, managing director at SmarTTools, said: "We chose this tool to bring with us to Köln because of its uniqueness and it has been very well received. On the first day of the show we saw many smaller retailers visit the stand. As the show progressed, the calibre of visitors also changed and we saw many distributors that we're looking to target."
Attracting visitors to its stand this year with another celebrity lookalike was stainless steel fastener specialist Lederer GmbH. 'Lewis Hamilton' was encouraging visitors to have a go on the F1 simulator that enabled visitors to 'drive' around famous Formula One circuits worldwide. Markus Gebehenne, marketing manager at Lederer GmbH, said: "The show has been up and down during the three days, but mostly 'up,' and as a result we will come away with some quality leads."
Many fastener companies noted that visitor numbers were simply "not what they used to be." Trade visitor numbers have fallen in the last decade. From a high of 75,000 in 2006 to this year's 44,000 – albeit across only three days.
Walking the aisles outside Hall 5.2 the main tool halls 10.1 and 10.2 were buzzing and were extremely lively throughout the duration of the show.
With a new position in Hall 10.1 returning specialist in threading technologies, BAER Vertriebs GmbH reported a busy and successful show. Paul Daroszewski, business development manager at BAER Vertriebs GmbH, said: "This year we've got a slightly smaller stand but we've moved our position and we're extremely happy with the decision. We've received some good quality contacts throughout the three days at the show."
Also exhibiting outside the fastener hall in Hall 10.2 was Heller Tools GmbH, showcasing its new dust extraction tool for drilling – Duster Expert. The innovative two-in-one drill bit drills and simultaneously extracts the drilling dust directly from the hole during the drilling process. The drill bit is also certified for use with chemical anchors of leading fastening suppliers. Kay Jungblut, head of marketing and product management at Heller Tools GmbH, explained: "Visitors have been particularly interested in our dust extractor tool with 98% less dust than during conventional drilling processes. Dust-free drilling is an interesting subject that we're predicting will be a hot topic in Europe over the next couple of years, and the interest at the show is proving that. We are creating awareness so our customers know we have a solution."
New to this year's show was the DIY Boulevard spanning 230 metres through the centre of Hall 5.1. Approximately 40 exhibitors were part of the DIY Boulevard including fixings manufacturer SWG Schraubenwerk Gaisbach GmbH, tesa GmbH, and fischer Deutschland Vertriebs GmbH. fischer was also the winner of the EISEN Award 2016 for its DUOPOWER, a two component general fixing which is able to decide autonomously whether to expand, fold or knot in construction material. The plug displays a high load-bearing capacity in all solid, perforated and board building materials.
Overall EISENWARENMESSE is still recognisably the best European event for tools, however that contrasts with a far less defined fastener and fixing presence. The feeling from 'fastener' exhibitors was that there was still quality visitors at this year's show, especially the long range visitors. Some exhibitors suggested, however, that fastener companies should be able to exhibit in the main tool halls where the aisles were significantly busier.
The next edition of EISENWARENMESSE will once again take place at the Koelnmesse on 4th – 6th March 2018.