Innovative products on display at EISENWARENMESSE
13 March 2018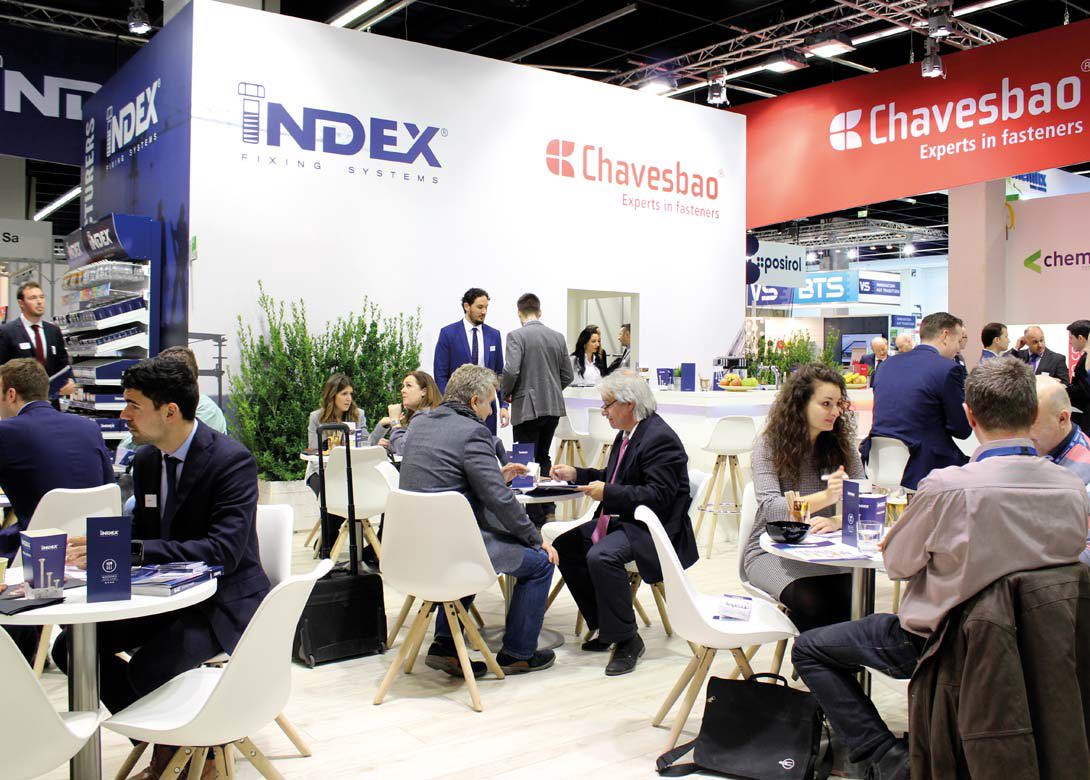 From 4th – 7th March 2018, EISENWARENMESSE – International Hardware Fair Köln – saw more than 2,700 exhibitors from over 55 countries present the latest tools, workshop equipment, industrial supplies, as well as fastening and connection technology. Here Deputy Editor Claire Aldridge gives a report from the second day of the show.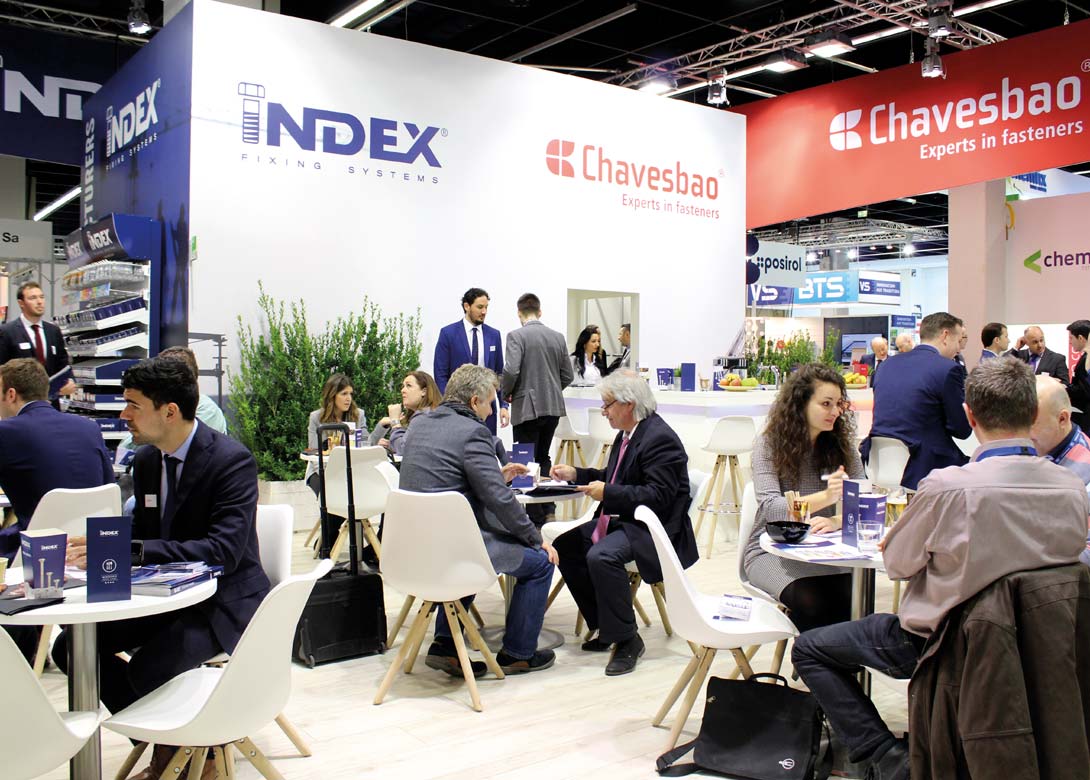 Held once again at the Koelnmesse, the show halls were separated into tools, industrial supply, fasteners, fixings and fittings, and home improvement. The majority of fastener exhibitors were housed in Hall 5.2, and some in 5.1 – including Ambrovit SpA, Chemfix Products Ltd, ESSVE Produkter AB, pgb-Europe nv,F.REYHER Nchfg GmbH & Co KG, Schäfer + Peters GmbH, Kyocera Senco, and INDEX Fixing Systems – with the latter benefiting from a new stand position at the front of Hall 5.2.
"We were happy to invite visitors to our newly positioned open planned stand, to do business in a relaxing, friendly atmosphere," commented Koldo Càmara, marketing manager at INDEX Fixing Systems. "It was the perfect position at the front of the hall to attract the interest of every visitor." There were also some fastener related companies that exhibited within the 'Tools' halls, such as Australian-based industrial cutting tools and accessories supplier Bordo Industrial Tools – with the company showcasing its latest insert – Loksert®. Loksert keylocking inserts are an easily installed thread assembly that are ideal for replacing damaged or worn threads in virtually any material – ferrous, non-ferrous and non-metallic. They are constructed from high-quality carbon steel or extremely hard wearing stainless steel. Lokserts are suitable for repairing and creating threads in a wide range of applications, including forgings and castings, and are especially suited to situations that experience heavy wear and vibration, such as mining, construction and earthmoving equipment.
"We are pleased to be at the Köln show with our Loksert. The show is always a great opportunity to get innovative new products in front of the international industry," commented Iain Brown, managing director at Bordo. Another new product on show was from Beck Fastener Group, exhibiting in Hall 4.1, with its LignoLoc® collated wooden nails and FASCO LignoLoc pneumatic nailer. LignoLoc is the first ever pneumatically driven wooden nail for future-oriented use in industrial production and ecological timber construction, as well as many other applications. LignoLoc wooden nails are made from indigenous beech wood and boast a tensile strength similar to aluminium nails. Their mechanic properties allow the nails to be driven into solid structural timber with the FASCO LignoLoc pneumatic nailer, without any pre-drilling, to form an inseparable bond with the timber. Throughout the show, new innovative products were displayed across all Halls. This included the winners and nominees of the EISEN Innvoation Award 2018 – presented during the Welcome Party on the evening of the first day.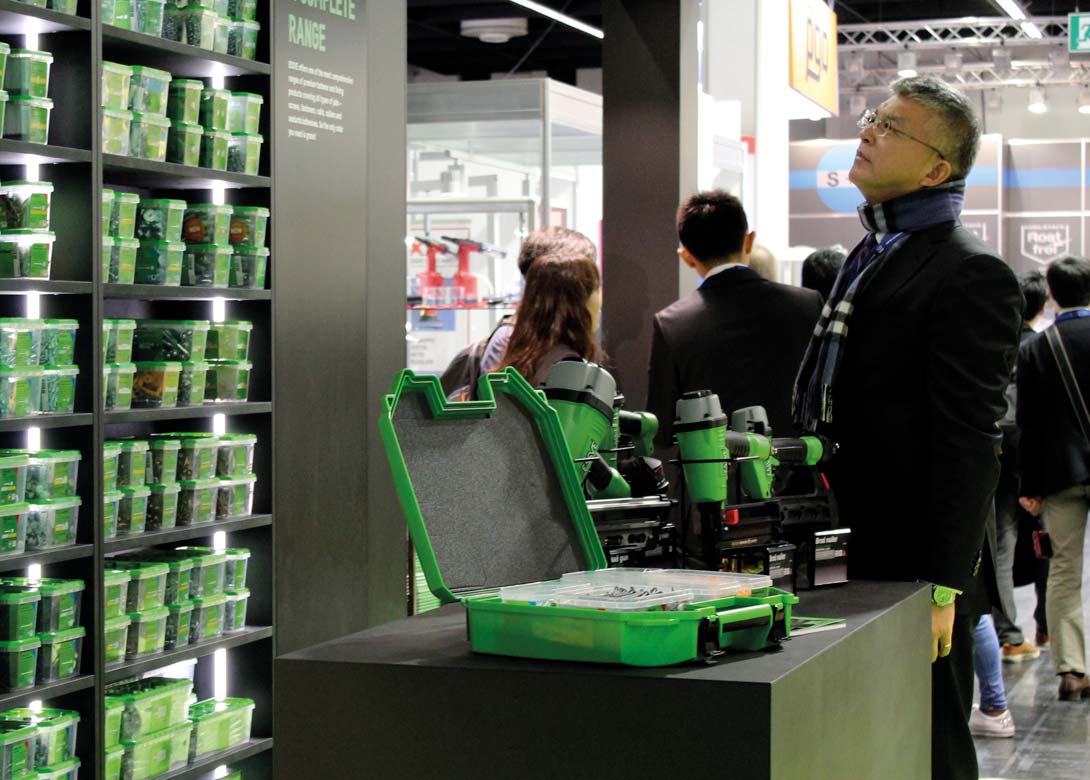 Powered by ZHH (Central Association of the Hardware Trade e.V.) the EISEN Innovation Award 2018 went to HAZET-Werk Hermann Zerver Gmbh & Co KG for its HiPer fine-toothed reversible ratchet 916 HP – 1,000Nm, 90 teeth. Wiha Werkzeuge GmbH was also presented an award for its Wiha SpeedE® – which the company says is the world's first electronic screwdriver in the handheld tool section. Other fastener products that were nominated included the ESSDRIVE wood screw from first time exhibitor ESSVE. ESSDRIVE is a screw with a patented tip designed for minimum pressure and a patented head for a nice finish. The tip reduces compressive force needed by more than 50% compared to other screws. For a craftsman who puts in 500 screws a day, ESSDRIVE reduces workload by 1,000kg of pressure, resulting in better ergonomics and fewer injuries over time. "We are taking this opportunity in our first show outside Scandinavia to bring the ESSDRIVE to the market and look for international distributors. We've had some really good interest. We are really pleased with the results so far," commented Caroline Larsson, marketing manager, new markets at ESSVE. Also showcasing innovative products was the Taiwan excellence stand in Hall 2.2 – which first appeared at the 2016 show. On display were Taiwan's most innovative products that provide tremendous value to users worldwide. All products on the stand carried the 'Taiwan Excellence' symbol, having been selected for specific 'Taiwan Excellence Awards' based on their excellence in design, quality, marketing, R&D, and manufacturing. Initiated in the Ministry of Economic Affairs (MOEA), R.O.C in 1992, the symbol of 'Taiwan Excellence' is recognised by 101 countries. Products on display included a smart tool torque display from KILEWS Industrial Co Ltd, a digital torque wrench from Sunheng Technology Co Ltd, and an industrial 1 inch twin hammer air impact wrench from Airboss Air Tools Co Ltd. Although only the second day of the show, fastener exhibitors were pleased about the quality of visitors, and were optimistic about the remaining days. Some exhibitors, however, questioned a Sunday beginning as aisles were significantly busier during the weekday. EISENWARENMESSE International Hardware Fair Köln will next take place from 1st – 4th March 2020.