Growth for FASTENER POLAND®
29 November 2018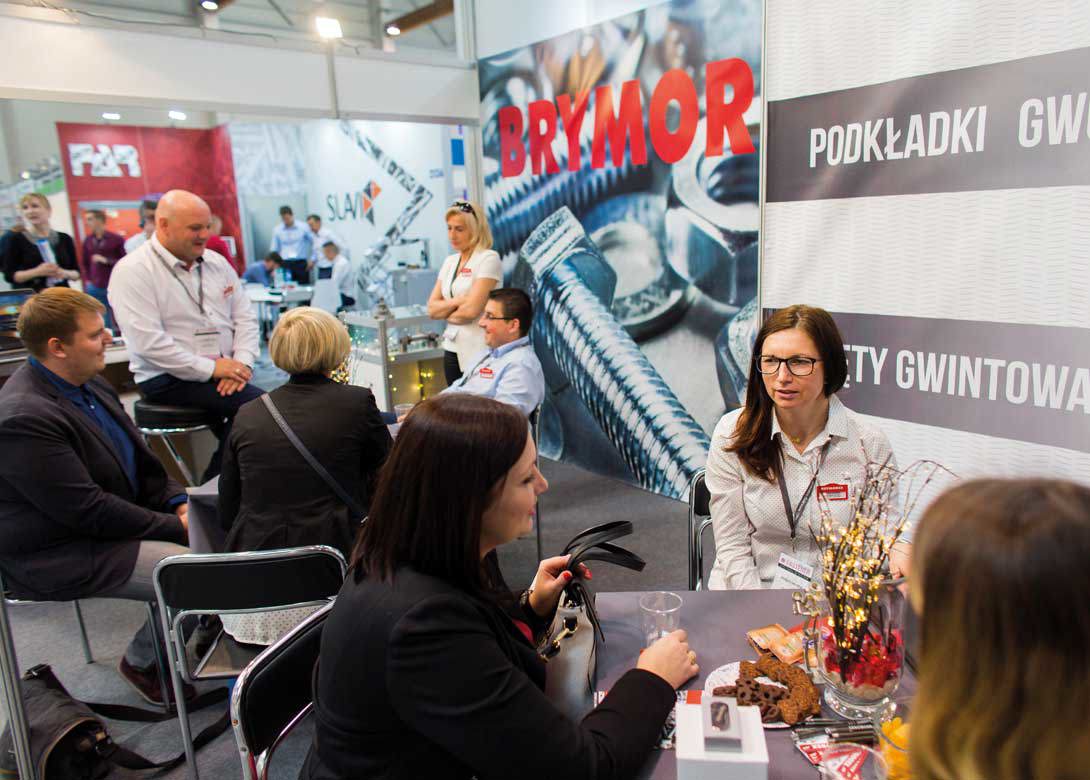 Show organisers hailed the second edition of FASTENER POLAND® a success, after reporting that over 4,000 visitors attended the two day show – which took place on 16th – 18th October 2018 at the EXPO Kraków.

During this year's edition of FASTENER POLAND®, visitors were introduced to the latest industrial fasteners and fixings, construction fixings, assembly and installation systems, fastener manufacturing technologies, storage and distribution factory equipment and a wide range of dedicated services – with 190 exhibitors, from around the world, taking part.
All trade fair participants were also treated to a programme of events, including the second Fastener Congress organised by Elamed Media Group and the 8th exhibition of industrial subcontracting.
Two thirds of exhibitors at FASTENER POLAND were from abroad including Czech Republic, Denmark, France, Germany, the UK, India, Italy, South Korea, Spain, Swtizerland, Turkey and the USA. Taiwanese and Chinese exhibitors also had a significant presence at the show.
The show organisers also highlighted the growth of international visitors, with 1/3 of visitors coming from abroad, including the Czech Republic, France, Germany, Israel, Russia, Ukraine and even Singapore.
"We must admit that both the organisation of FASTENER POLAND and the turnout were very good," commented Artur Janczy, sales manager Poland at exhibitor BRALO CZ. s.r.o. "We managed to meet with our current clients and attract new contacts. We hope we can make it to the trade show next year as well."
Robert Baran, from the sales department at H&S Technik, also assessed the trade fair very positively. "We decided to open a booth at the FASTENER POLAND trade show this year and we are glad we did. Our special fastener fixing machine with a feeder attracted great interest. We also secured a couple of valuable contacts. In general, it is clear that the trade show has grown, visitor turnout is good, and we will come again next year for sure."
Grzegorz Jóźwik, from ASMET Sp z.o.o Sp.k, also confirmed a positive experience. "It was our second time at FASTENER POLAND and we are very happy with the event. The turnout was good, we met with our regular clients and managed to attract new ones. I think we will come to the trade show again next year."
Finally, Adam Dobrzewiński, CEO at ABAKOSTEEL s.c, commented: "The second edition of FASTENER POLAND showed that the fastener industry continues to grow. For our company, it was an opportunity to forge new business contacts in Poland and beyond and meet our current partners. We appreciate the lengths the organisers went to in order to ensure visitor comfort at the event. We hope that the amazing atmosphere of this year's edition will help make the trade show grow in the future."
Development of the industry and fairs
"The world is very impressed by how the fastener industry is developing in Poland. Polish companies have recorded an average increase of 10%, which is unrealistic in Italy. We estimate that in the perspective of five years the market will grow by up to 40% and we will be behind the big four, that is Germany, Italy, France and Great Britain," stated said Dr Marek Łangalis, advisor support at FASTENER POLAND.

Show organisers have already announced that the 3rd edition of FASTENER POLAND will take place on 8th – 9th October 2019 in Kraków.