Expanded Fastener Fair reflects strong Turkish fastener industry
22 June 2016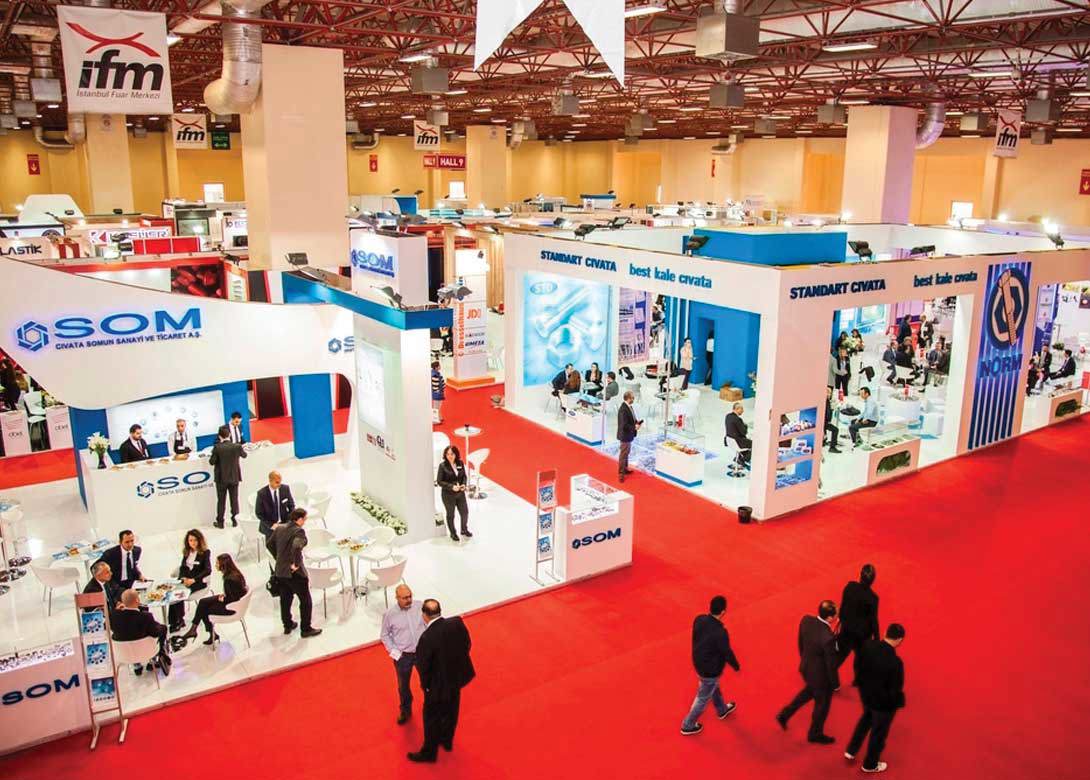 A proud Turkish fastener industry emphatically demonstrated the value it now places in Fastener Fair Turkey, during the third, substantially expanded, edition which opened at the IFM Exhibition Centre, Istanbul, on 30th – 31st March 2016.
More than 190 exhibiting companies – a 46% increase on 2014 – occupied Halls 9 and 10 at the IFM Exhibition Centre, close to Istanbul's Ataturk airport. Nearly half were Turkish, with many of the country's leading producers demonstrating, through both scale and design of stands, an evident pride in a growing and increasingly sophisticated fastener manufacturing sector.
The extent of manufacturing technology exhibits was also a clear reminder that this is the third largest fastener manufacturing country in Europe after Germany and Italy. That and a domestic market that Turkish fastener manufacturers' association BESIAD values at around US$1.5 billion, drew exhibitors from eighteen other countries, including Germany, Italy, Poland, the United States, China, Malaysia and Taiwan.
Domestic visitors solidly supported the third edition of the Fastener Fair, the first for which Mack Brooks Fuarcılık AŞ was able to meet demand by expanding into a second hall. A total of 1,700 managers, engineers and buyers visiting the two-day event, including a high proportion of senior commercial and technical management.
The majority was from Turkey but Mack Brooks reported "a significant 10% were foreign visitors representing thirty-eight countries". Half of visitors were wholesalers or distributors, 21% were from fastener end-users and fastener manufacturers accounted for the remaining 30%.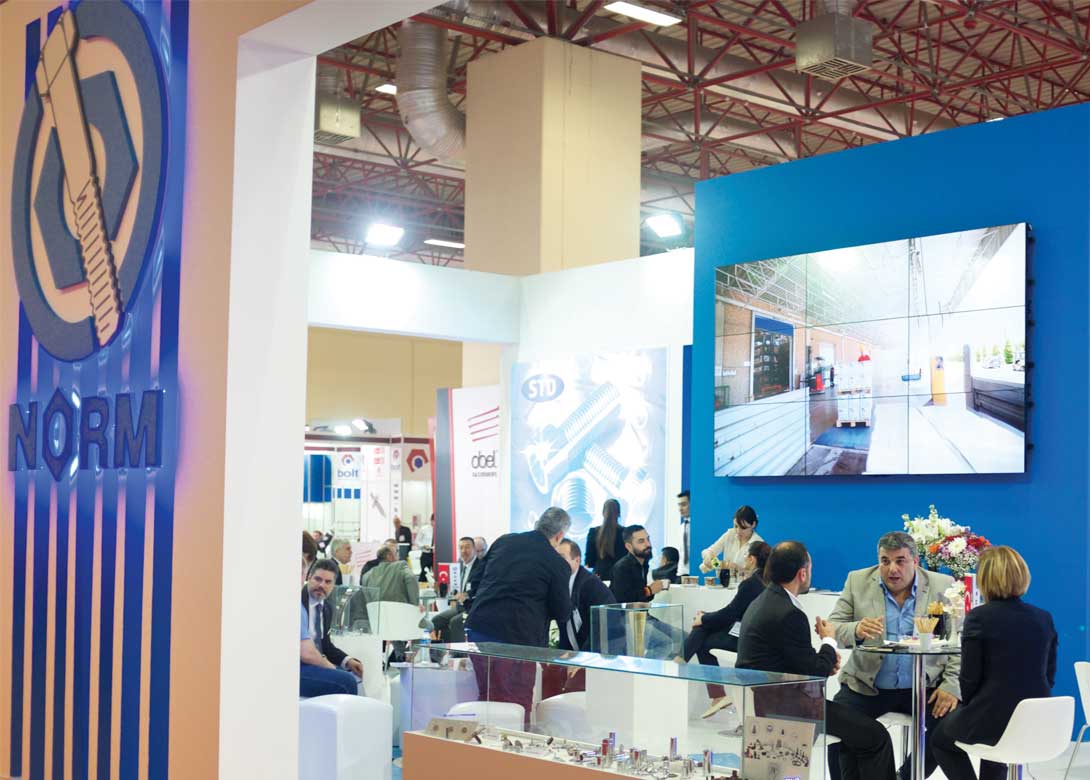 The visitor analysis shows the most strongly represented industry sectors were the automotive industry, hardware and DIY, construction, mechanical engineering, electrical products and domestic appliances, agricultural and off highway machinery, distribution, HVAC and furniture manufacturing.
Amongst visitors were Turkish automotive companies including Ford, Mercedes and Tofas, plus Otokar and BMC OTOMOTÝV from the commercial and military transport sector. Visitors came from domestic appliance OEMs Arcelik and Vestel, with others from metal industries companies Erdemir, Tosyali and Tata Steel Turkey, as well as Turkish Airlines, Mitsubishi Electric Turkey and Mitsubishi Electric Shizuoka. Several defence sector companies visited including Tusas Engineering Industries, ONUK-BG and Unidef, all from Turkey, and E3A Defense from the United States.
Olivia Griscelli, exhibition director at Mack Brooks Fuarcılık AŞ, commented: "The big increase in the number of companies taking part in this year's show confirms the strength and importance of the fasteners market in Turkey. It was also pleasing to see that visitors to the event included so many top level managers. Regional events and recent security issues had a slight impact on the number of foreign visitors attending this year but we are confident that Fastener Fair Turkey will continue to go from strength to strength."
Both days of the show were certainly active ones for most of the Turkish exhibitors. There was some disappointment – but also understanding – from exhibitors at the shortfall in European visitors this year. Turkey's current political and security uncertainty, however, has clearly not constrained a domestic fastener market, which most exhibitors described as stable and strong. A few quiet concerns were voiced for the future of both domestic and export markets – mainly in relation to wider economic uncertainty but for some standard fastener makers also the implications of the recent repeal of EU anti-dumping measures on China.
Overall, though, the Turkish fastener industry was on strong song, literally in the case of a Cetin Civata stand, periodically the centre of attention as a talented strings and voice trio drew, for the main part, approving attention. Turkey's largest fastener manufacturer, Norm Group, again was busy at centre-front stage in Hall 9 – flanked on all sides by similarly impressive Turkish stands.
Amongst them, Şa-Ra Civata produces around 14,000 tonnes of fasteners at the Group's manufacturing complex in Adana. The growth of nut and female cold formed component specialists, Som Civata, means it is now planning major investments to increase manufacturing capacity. Tekelioğlu Civata strongly promoted the 'Made in Turkey' provenance of its extensive range of cold formed and hot forged products. Net Civata, now part of Plogsties, concentrates on automotive parts, exporting more than half of its output, and holding both TS 16949 and Ford Q1 accreditation. Bolt Bağlanti is also TS 16949 accredited, with around 70% of output going to automotive. Responsive manufacturing combined with the flexibility of road freight also makes it a significant supplier of standard fasteners to south eastern Europe distribution.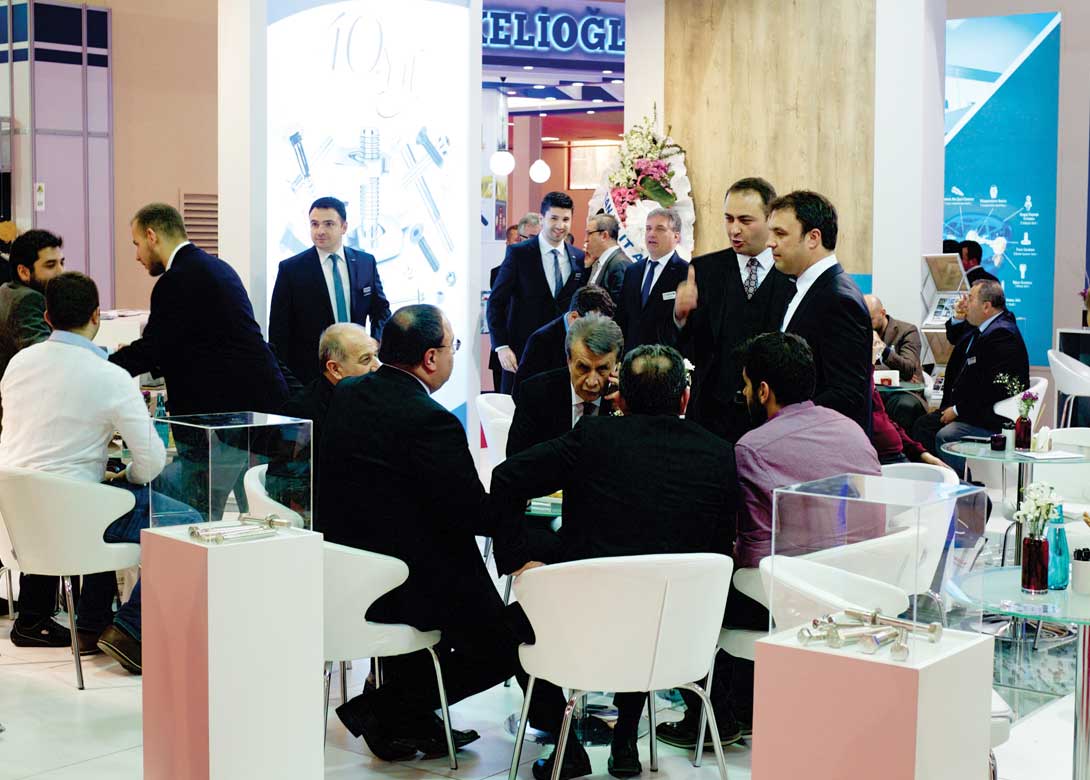 Berdan Civata celebrated new contract successes in the solar energy sector. Chairman and founder Hasan Şemsi was proud of the company's growth and positive quality reputation in the steel structural, energy and infrastructure markets.
Growth and investment are also high on the agenda for Mustafa Tecdelioğlu, chairman of the Cetin Group of companies, which recently installed a new Nedschroef multistage former, four new Jern Yao headers, and is installing a new heat treatment line currently.
Over the last six years Emek Civata has moved strongly into production of rivet nuts. Export Manager Serkan Senturk says it has now got to grips with the manufacturing consistency needed to ensure correct deformation during installation. UGER Vida's business reflects the strength of Turkish furniture manufacturing for which it produces both standard and special screws at its Istanbul plant. Taskazan lays claim to Turkey's most modern zinc plating plant, with a hanging, robotic controlled line for its range of allthread, hanger rods and U-bolts.
Many European fastener suppliers are now represented by and exhibited with local distributors or agents, significant in a market where relationships and culture are important. One long-standing example is Italian clip manufacturer Beneri SpA and Dinamo Banglanti, which have worked together for thirty years. Onurfix has representation agreements with A. Raymond, Southco and Alcoa Fasteners & Rings for the Turkish market. The Dresselhaus/Cetin Civata joint venture had its own stand, targeting a wide range of Turkish industry sectors from furniture and DIY stores, to the automotive and agricultural machinery sectors. SFS Intec has its own subsidiary in İzmir and also promoted the GESIPA and HECO Schrauben brands on its stand.
Overseas exhibitor stands were generally quieter than Turkish counterparts, more noticeable, perhaps, because there were fewer European buyers in the halls. Building business in Turkey, though, is not an overnight process, hinging on the establishment of strong local relationships and also the calibre of domestic competition.
Local representation is certainly important for manufacturing technology. There were plenty of machinery and services exhibits, indicative of the demands of a growing manufacturing industry, which last year exported some 92,000 tonnes of fasteners. In Hall 9, Santech represented a strong combination of high technology European suppliers: SACMA Limbiate SpA, Regg Inspection Srl, Weighpack International, CONDAT and Eldes, as well as RMG Products. In the same hall, Stahl Alpine Çelik, the exclusive Turkish agent for Voestalpine Austria Draht, had an imposing stand.
Most of the major coatings technology suppliers were present, including ND Industries, Atotech, NOF Metal Coatings Europe, Magni and MKS Dörken, together with several Turkish applicators.
Machinery on display was mainly Asian, reflecting a Turkish financial climate that continues to demand caution in longer-term investment. In Hall 10, King An showed a sold 6 die, 12mm cut off cold header. Turkish machinery dealers Maksoy demonstrated a 5 die Lian Shyang header destined for delivery to Berlik Baglanti alongside another, this time 4 die, Taiwanese header. Close by Simar was also busy, showing a Chinese 4 die header and a Chiang Tsai thread roller, both sold to Serin Civata. Simar also represents Hyodong and Videx. San Yuan, the leading heat treatment supplier to the Turkish market, had its own stand. Accuvision, Ching Chan Optical Technology and Dimac Srl all offered optical inspection machines, reflecting market demands for low ppm defects. The presence of TEST GmbH similarly indicated the importance of correct co-efficiency of friction, particularly for fasteners destined for automatic installation.
German thread rolling machinery and tooling specialist, Pee-Wee GmbH, has supported the Istanbul Fastener Fair from the outset and two years ago established a subsidiary operation in Istanbul from which it is gradually building business. For Neoboss GmbH, German specialist in nut taps, this was the second Fastener Fair Turkey, with General Manager Olaf Kalwies on stand to build further on contacts previously established.
After two events constrained by limited space, 2016 proved the importance of Fastener Fair Turkey. Overseas visitors may have been reticent this time but the Turkish fastener industry has clearly adopted the event. The potential is there to take on an international role at the strategic crossroads between Europe and Asia. That depends, though, on the security and political environment and perhaps also on the stamina of international exhibitors seeking to penetrate a lucrative but highly competitive market populated by ever stronger local manufacturers.