Vanke Pavilion created with KEIL attachment technology
22 February 2016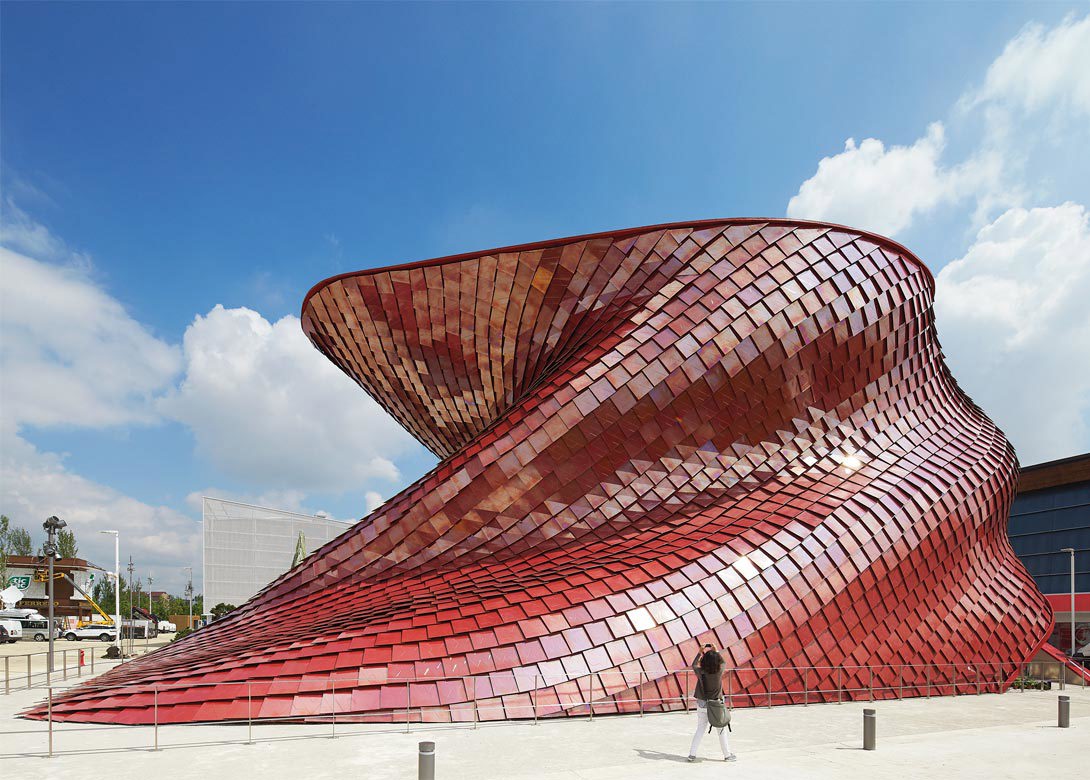 An exhibition pavilion with a particularly impressive façade design was created for the Milan Expo 2015 using the latest KEIL undercut technology.
Based on a design of the renowned architect Daniel Libeskind, the Vanke Pavilion used shimmering vermillion stoneware tiles for the façade of the complete building. The tiles were attached to the curved parametric building with KEIL's undercut anchoring system.
The undercut anchor system enables the invisible and, at the same time, very secure attachment of the façade cladding. The attachment points are on the rear of the tiles. A special drill bit produces the cylindrical hole as well as the conical undercut in one step. These form the basis for the attachment of the undercut anchor consisting of an anchor sleeve and a hex screw. When the screw is inserted, the anchor sleeve settles into the undercut hole with a positive fit and free from stress. The different diameters of hole and undercut ensure a secure hold – without loading the tile. Thus stress cracks are avoided. The tile can be cleanly attached to the support structure with the bracket situated between anchor sleeve and screw.
In addition to the tiles used in Milan, other materials such as natural stone, cast stone and glass fibre reinforced concrete can also be attached with KEIL undercut technology. KEIL points out that the system has extensive building approvals meaning manufacturers of façade material no longer have to obtain their own approvals.
"For the planner this means the greatest possible selection of façade materials for the design and their attachment under defined conditions – with clear performance parameters. The seismic safety of this technology has been tested up to magnitude 9.4 on the open-ended Richter scale. Characteristic values for wind suction loading are also available."