Technical guarantee with JCP's ETA certified resins
26 October 2020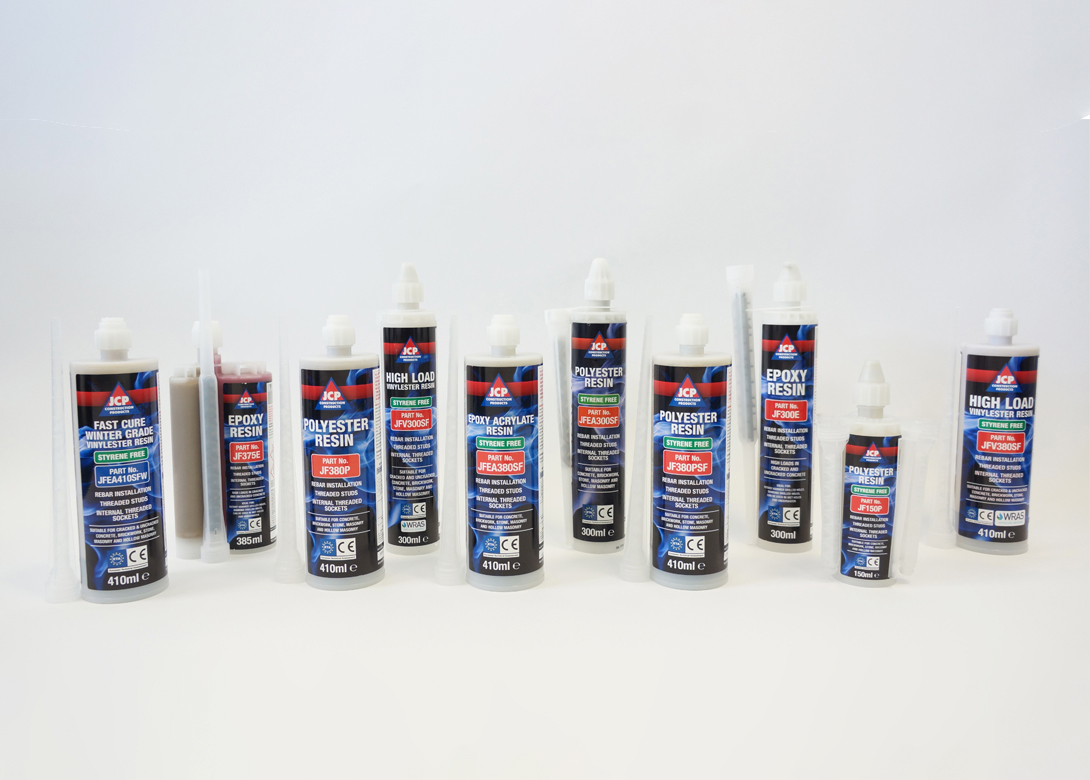 When identifying the right product for an application there can often be a vast amount of options and considerations to be evaluated, and it is no different when considering injection resins.
Used as a chemical anchor for installing threaded studs, rebar, or internally threaded sockets for structural applications, injection resins are commonly used in both new build and repair projects. To identify the right resin for an application, it is important to not only understand the varying 'good better best' performance options available, but also the importance of technical assessments, which guarantee products as fit for the intended application. JCP Construction Products supplies a comprehensive range of resins, all of which are backed with full technical specification, CE Marking and European Technical Assessments (ETA).
Although applying for an ETA is voluntary, as a leading specialist construction fixings supplier JCP often deems this vital, irrespective of how complex, time-consuming and costly the process may be. With recent changes in regulations and an increased awareness concerning the impact of fire on construction fixings, an ETA can assist in determining the correct selection.
The market has deferred to mainly offering Option 1 ETAs, covering both cracked and non-cracked concrete, or Option 7 – assessed using non-cracked concrete. However, two different resins that both have an ETA Option 1 may not necessarily offer the same load-bearing.
As far as performance is concerned, JCP's pure epoxy or vinylester resins are the best options. Both hold an ETA Option 1 approval and are designed for use in dry and wet holes in both cracked and non-cracked concrete. They offer very high load capacities with the pure epoxy resin offering the highest load of all the JCP resins. They are also WRAS (Water Regulations Advisory Scheme) approved for use in contact with drinking water.
In contrast to mechanical anchors, chemical anchors are sensitive to some environmental factors such as temperature. For applications in very low temperatures, JCP's Vinylester Fast Cure Winter Grade resin cures at temperatures as low as -10°C.
JCP's epoxy acrylate resin has an ETA Option 7 approval, making it ideal for use in non-cracked concrete. Whilst it offers a lower load capacity than the vinylester, it delivers a higher capacity than a general purpose ETA Option 7 approved polyester resin – available with and without styrene.
All product datasheets and declaration of performances are available to download from the JCP website. Also available is the JCP Anchor Calculation Suite, which can be used to calculate variable configurations of chemical anchors in differing base plate geometry.