Specialinsert® rewards employees with cruise
20 February 2020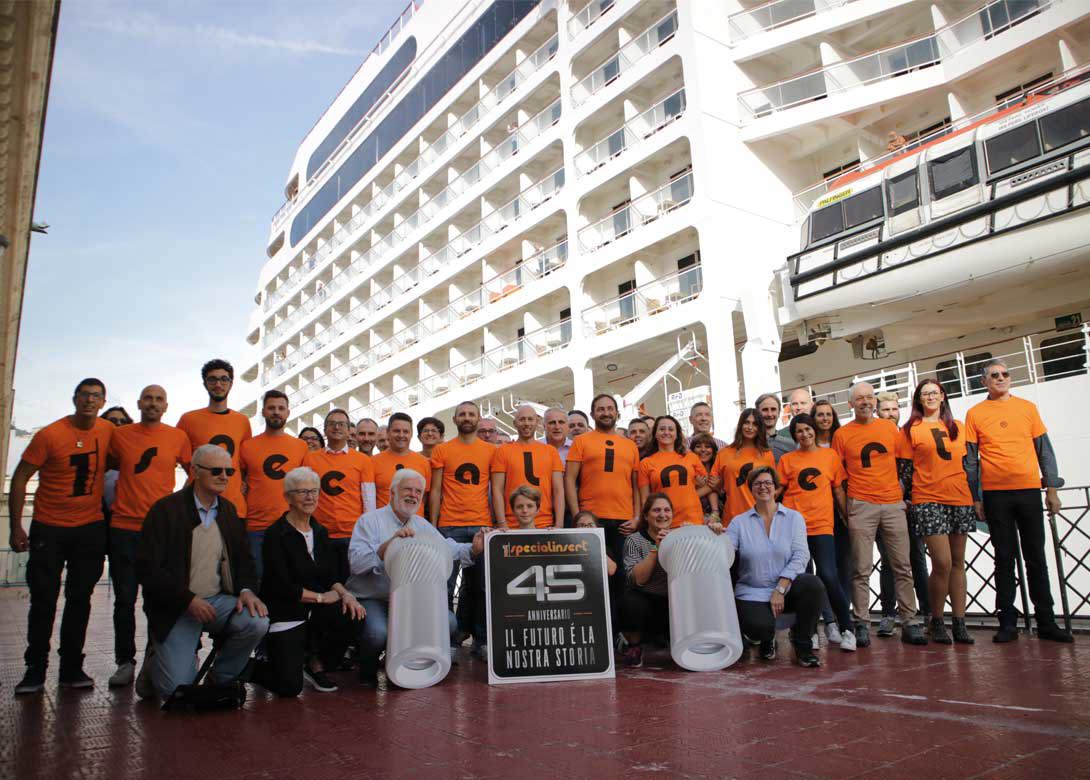 Specialinsert®, a leading industrial company specialised in selling and manufacturing fasteners that are solely 'Made in Italy', celebrated its 45th anniversary, and exceeding a target of €10 million turnover, by rewarding its employees with a Mediterranean cruise.
Taking place in October 2020, the cruise will journey along the Italian and French coasts and will involve all 62 employees, including the new hires of 2019 (and their families) – for a total of more than 200 guests.
"We have shared an ambitious goal with our employees and, thanks to their daily efforts, we have been able not only to achieve it but to exceed it," states Cinzia Arduini, CEO of Specialinsert® Srl, proudly. "We would like to thank every single employee who has contributed to this milestone – participating in the constant growth of Specialinsert with excellent results over the last three years, as well as our expansion in foreign markets. To date there is an 11% turnover increase compared to 2018. Our journey continues on the wave of success and the cruise will be a special moment to celebrate together."
Founded in 1974 by Piero Arduini, Carlo Gatti and Dino Lisso, Specialinsert has always manufactured all its products in Italy. Today, this happens in Turin (where the headquarters are located) and in Maerne di Martellago (located in the Venice area). In addition, at the Milan branch there is a warehouse with sales and marketing offices.
The second generation of the Arduini and Lisso families, holding tight together the helm of the company, continue to follow the path traced from the beginning – guiding Specialinsert on a path of continuous growth that is strongly oriented to excellence. Key competitive features are product innovation and R&D. Currently, Specialinsert holds six trademarks, three invention patents and ten utility models' patents, plus collaborations with prestigious Italian and foreign universities.
The company is UNI EN ISO 9001:2015 certified to guarantee its optimal quality management system, and also obtained the IATF 16949:2016 certification in 2018. The alignment with the standards that regulates the entire automotive supply chain has given momentum to the business' development, reconfirming the company as one of the industry's top partners.
Significant investments of more than €2.5 million have been made in enabling technologies with a 4.0 Plan focus. The Specialinsert 'Smart Factory' pursues the maximum integration of processes between the three locations, now monitored in real time thanks to the installation of an ERP management, where 90% of the plants are interconnected. The introduction of machinery with numerical control and state of the art instrumentation to check the quality of all products, as well as resources allocated for process automation – not just within production departments but also in the laboratory, R&D and logistics, complete the 4.0 plan.
"We strongly believe in the essential value of human capital as the engine of our growth and, for constant skills' refinement, we have allocated significant resources in the implementation of a structured training plan," says Cinzia Arduini. "Together with us, our staff have grown and expanded further, thanks to the inclusion of new profiles engaged in strategic business areas in key roles. Specialinsert intends to continue to actively contribute to the development of the territory in which it operates. Further ambitious projects are ahead of us and, in order to complete them, we will continue to focus on people, leveraging the talents of our local communities."