Reinhold Würth visits SWG's new building
10 November 2020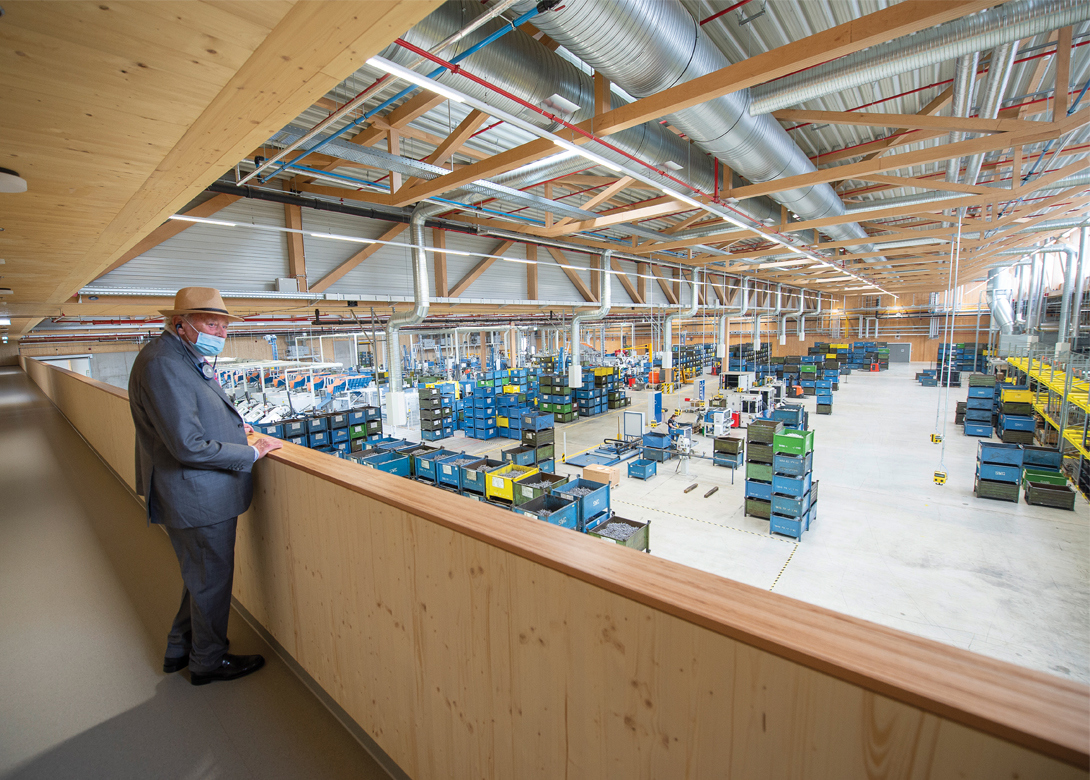 Since the official opening of the new production building of SWG Produktion could not take place in May, due to the coronavirus crisis, company owner Reinhold Würth finally headed to Waldenburg on 16th June to visit the new 12,800m² production unit.
SWG Produktion, part of SWG Schraubenwerk Gaisbach GmbH, was founded in 1967 and belongs to the Würth Group. The extension building, which was completed in May, responds to the demand that has been increasing for years, and includes the 'pavilion' – a three storey office and exhibition building linked to the production hall, which will soon house numerous exhibits from Würth and SWG.
The aim is to give future visitor groups and other interested parties an understanding of timber construction in general and timber engineering in particular. Screw connections for wood-concrete-composite ceilings developed by SWG Produktion internally will be shown here, as well as the implementation of classic timber connections, including those using the high performance building material BauBuche, which is also used for the roof structure of the associated production hall.
The new production hall measures almost 97m in width and 114m in length and is an almost column-free hall with a filigree roof construction. It is a highly complex and meticulously worked out structure that SWG states is second to none, and was developed and planned by the engineering office 'SWG Engineering' in Rülzheim according to the architect's plans.
The construction was only made possible thanks to the highly load-bearing wood-based material, BauBuche, which enabled the architects to realise a roof structure for a hall of this size with such slender components and just one intermediate support. "That an industrial building of this dimension can be built in wood is hardly known so far. The fact that such a building has now actually been erected is groundbreaking. But the world's largest roof structure made of BauBuche was only made possible by the appropriate fasteners – a total of about 250,000 screws were used in the new hall," commented Alois Wimmer, managing director at SWG.
The idea to construct the building in wood had its origins from SWG and its manufacturing of screws and systems for timber engineering construction. The company wanted to set an example and point out the positive effect of the natural building material for climate protection through CO2 storage in wood. By using BauBuche, the amount of wood required could also be reduced to a minimum in a resource saving manner.