Jahangir Doongaji - Member of the Hilti executive board
15 March 2019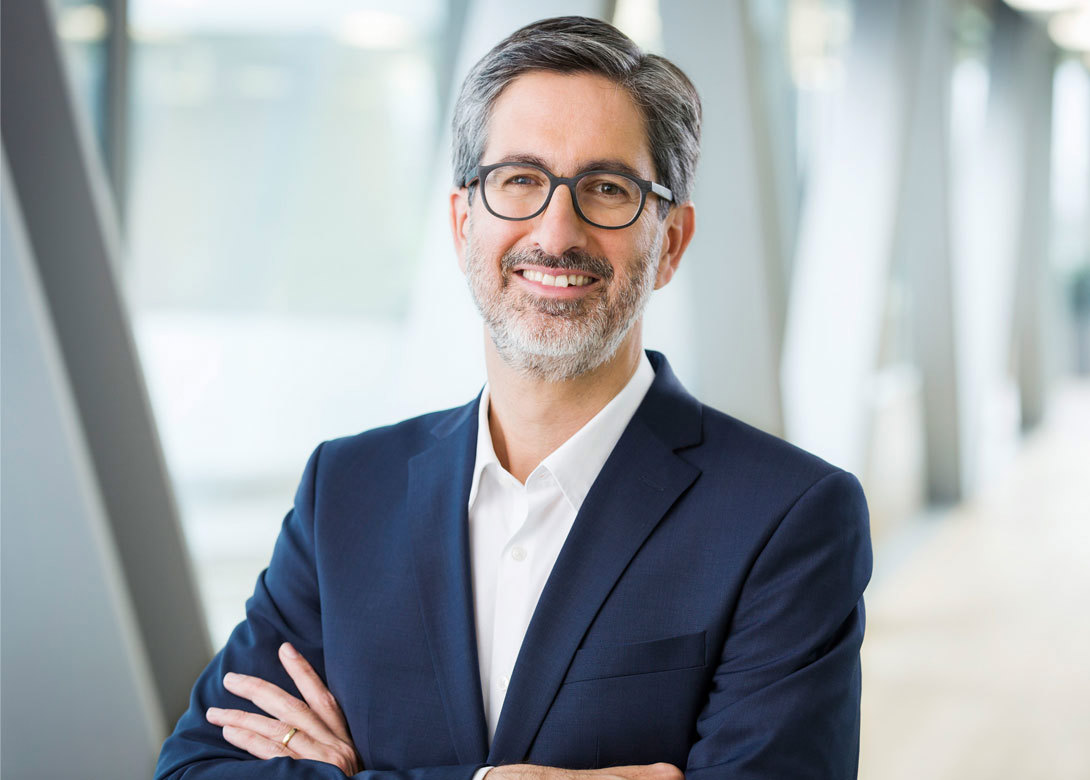 Executive Editor Phil Matten visited Hilti's Liechtenstein headquarters, to explore the Group's strategy in relation to the Internet of Things – one of Jan Doongaji's board responsibilities.
Born in 1967, Jan Doongaji joined Hilti in 2000, with a MsC in Mechanical Engineering, an MBA and an application engineering background in power generation. Initially he led Hilti customer service in the Swiss market, moving to the corporate headquarters two years later, most recently heading Hilti's Power Tools & Accessories business unit. In 2014 he became a member of the Hilti executive board, with particular responsibility for the Electric Tools & Accessories business and Corporate Research & Technology.
How ready is the construction industry for IoT?
"It's no secret our industry is a very traditional one and change takes time. We build today essentially the way we built one hundred years ago. Therein lies the strength of our industry – it's resilient, traditional. Therein also lies an opportunity, especially for Hilti, with very direct contact to the customer.
The construction industry is clearly ready for productivity driving measures and intellectually understands that IoT is one of those. However, this is not the mobile phone industry where technology is a 'pull' from the customers. Here, it is part of our job to introduce the technology, to create productivity opportunities, and help the industry get ready to take advantage."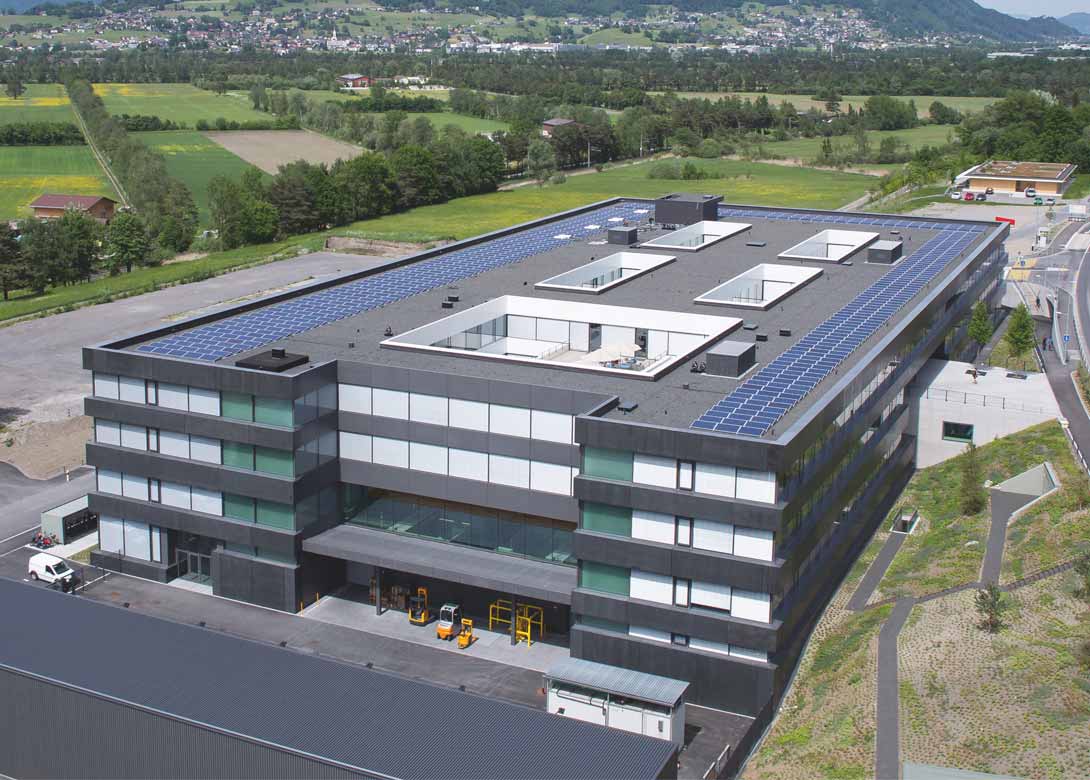 How does readiness vary in different markets?
"The extent BIM is actually used is a good indicator of readiness for new technologies and new ways of working. The west coast of the US is very technology savvy, and very much ready. Look at parts of western Europe or Sweden for example, it's a similar picture. In other parts of the world, we are lagging. Emerging markets vary widely."
How about looking at the scale of the business involved?
"That's the other important dimension. We have pull for IoT solutions from big customers, with professional processes and people whose job it is to figure out how to make the company more efficient. They do come knocking at our door for IoT solutions.
However, they face the same challenges as the smaller customers: The processes on-site, how people have been trained, day-to-day realities. If you say 'mentally ready', it is more the big customers and the big jobs but that also depends on the management level within the business – there can often be a big distance between the CFO and the site foreman.
If one really wants to generalise, our industry is traditional, big customers are more open than smaller customers, certain geographies are further than others, but everyone fights with the same obstacles and implementation is really where the difference is to be made."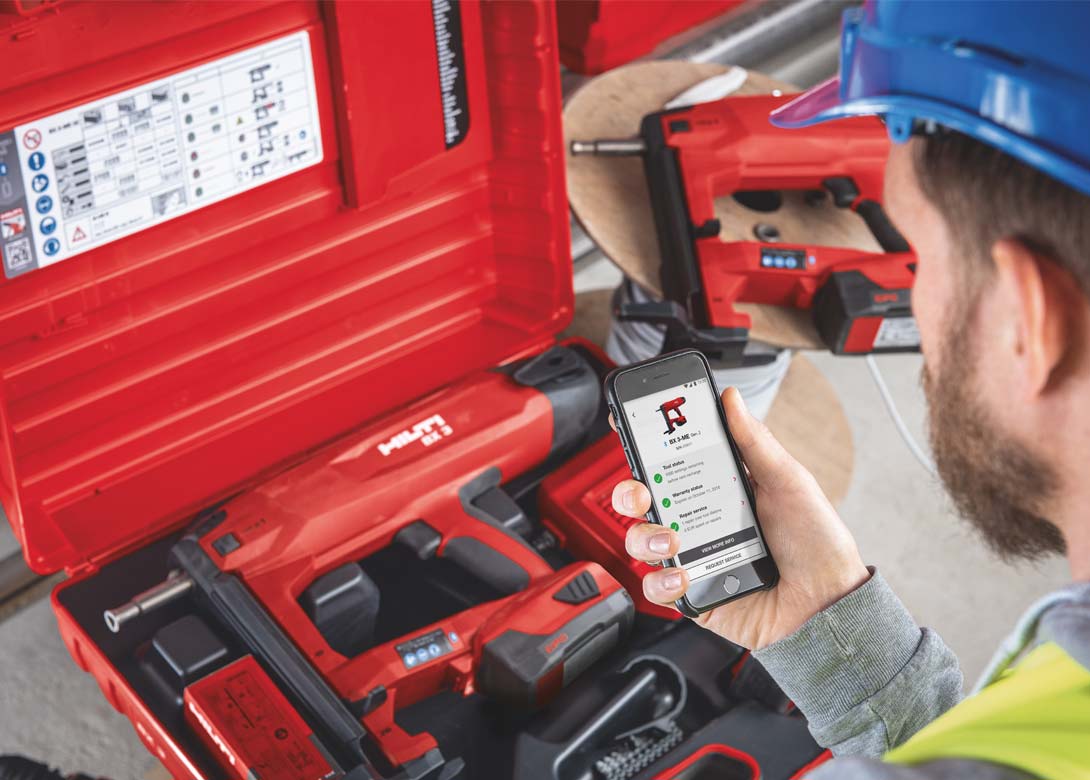 What does that mean for Hilti's interface with the customer?
"Hilti has a different business model than most of our competitors. We go all the way from fundamental research, through logistics, sourcing, production, selling it, servicing it. That is a major advantage – particularly in the IoT arena. Because it is a change in the industry, we are ideally positioned to work together with the customers, directly understand their challenges, and then directly help them implement solutions. 20% of the task is identifying where IoT can add value: 80% is about implementation with the customer. We can use our strength to understand not just the customers' product problems but also their process challenges; then develop the best solution there is.
However, you also have to be present in the customer C-Suite. Then you don't just speak to the foreman, or the guy using our tool, or the engineer using our anchors; you also understand the needs of the logistics person, the purchasing person, the CEO and CFO."
So, what is Hilti's vision of the role of IoT?
"You've seen the McKinsey study, which shows what has happened to productivity in different industries since the 1920s. All the industries have curves that are accelerating upwards – except one, and that is ours.
We don't believe in grand visions. IoT is one more tool, with which our customers can be productive. It's really not so different to our tools or anchors. We develop and engineer top-notch solutions that, combined with the services we offer through our business model, ensure our customers are more productive.
IoT is one more enabling component that fits perfectly to us. In some senses it is even less technology than some of our products, it is more service. Being close to the customer is what we do best, so it fits beautifully with Hilti.
We're also realistic. This isn't something that is going to happen tomorrow. The world is not going to suddenly be turned upside down by it. Our industry has proven – be it for good or bad is for others to judge – it isn't really disruptive, it changes gradually over time. We want to be at the forefront of that trend – like all the others we have experienced – battery technology, off-site pre-fabrication – and help our customers to profit from it.
That sits well with Hilti. It is about integration into a full service and support package and sustaining long‑term commitment to change. Over decades now, on the platform of our family trust ownership model, we have the privilege of being able to think long‑term. We have made massive investments into IoT. We are almost certainly one of the few in our industry that already has a sizeable revenue stream from our IoT offerings, because we are able to invest in the long‑term, in the confidence the pay back will be there over time."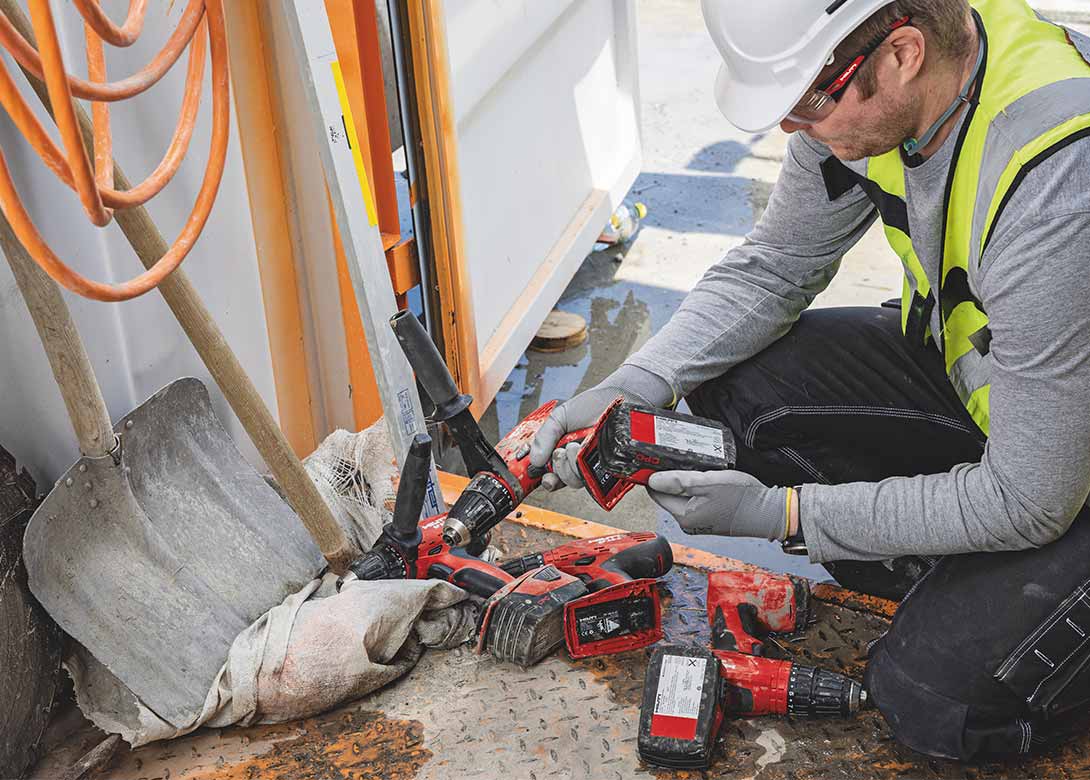 Let's talk specifically about some of those offerings
"IoT is a very broad term. Take it a bit further and describe it as digitalisation. It is really what we all do now with our iPads or phone, using digital means for our daily work.
We do have specific platforms but let's look first at the Hilti Total Station. Typically, total station technology has been used by surveyors and the general contractor, if he needed one, would call in the surveyor. Otherwise, even though he has a 3D model available to him for 20 years, he'd print out paper plans and then run around laying out points.
The Hilti Robotic Total Station is the purist form of digitalisation – a product and a service, allowing the normal foreman on the site to layout digital plans directly, without going through the detour of paper.
Another example: Our anchors need to be set it in a specific way. The tool recognises the anchor and sets the torque automatically to the correct level, allowing someone less qualified on-site to do the job accurately. It not only increases productivity, it ensures accurate installation, so enhances safety. That's also IoT – and it will develop further.
Hilti Connect is a platform we are now rolling out, which is so far unique. Because we develop the tools and sell them direct, we have the serial number of the tool and the customer number. With your mobile device, logged into your customer number, you can identify the tool, and then access cloud-based services, specific to the tool and you. It has been a major Hilti investment to equip all our tools with NFC (Near Field Communication) chips. We repair our own tools – so each time one comes in we have the opportunity to retrofit a chip.
Hilti ON!Track has really stretched our thinking. Up to now, we've talked about Hilti specific platforms; chips in Hilti tools linked to Hilti proprietary services.
A couple of years ago we thought, that's all well and good, but Hilti is typically only a fraction of the customers' total assets on‑site. Customer CEOs were saying: "My problem is not the Hilti tool performance; it's managing all these assets – pumps and ladders, lights and heaters, ventilators and on and on. That's where I lose so much time.
ON!Track asset management is a cloud-based solution linked, by retrofit tagging, to any site assets, not just those from Hilti. Extending that asset management makes the customer more productive. Typically, the customer needs fewer assets, because they know where they are. Inbuilt alerts for calibration and maintenance mean the asset is ready when required. Sure, our competitors now have asset management solutions. However, the distinction is not so much in the technology – that is ubiquitous. Yes, we can invest more because it is a bigger business for us – develop a smaller tag, a better UI/UX. However, the key is the service. The customer generally wants to progress, they just don't know how – so you need people that can take that path alongside them. We have 29,000 team members, with a large portion in daily contact with the customer. That provides a 'power ingestion' of high-quality customer understanding on top of all the other stuff others can do – user groups, focus groups, internet surveys.
For those who are reticent, we can show, we can demonstrate – build on the trust of the Hilti brand, trust of your Hilti person.
Then the real challenge! Find all the assets, tag them, install the information about each, install the system on everyone's mobiles, solve the inevitable problems. It's all about combining our physical presence, a digital product, a physical product – adding in a network of always available customer support centres: That is what makes Hilti unique."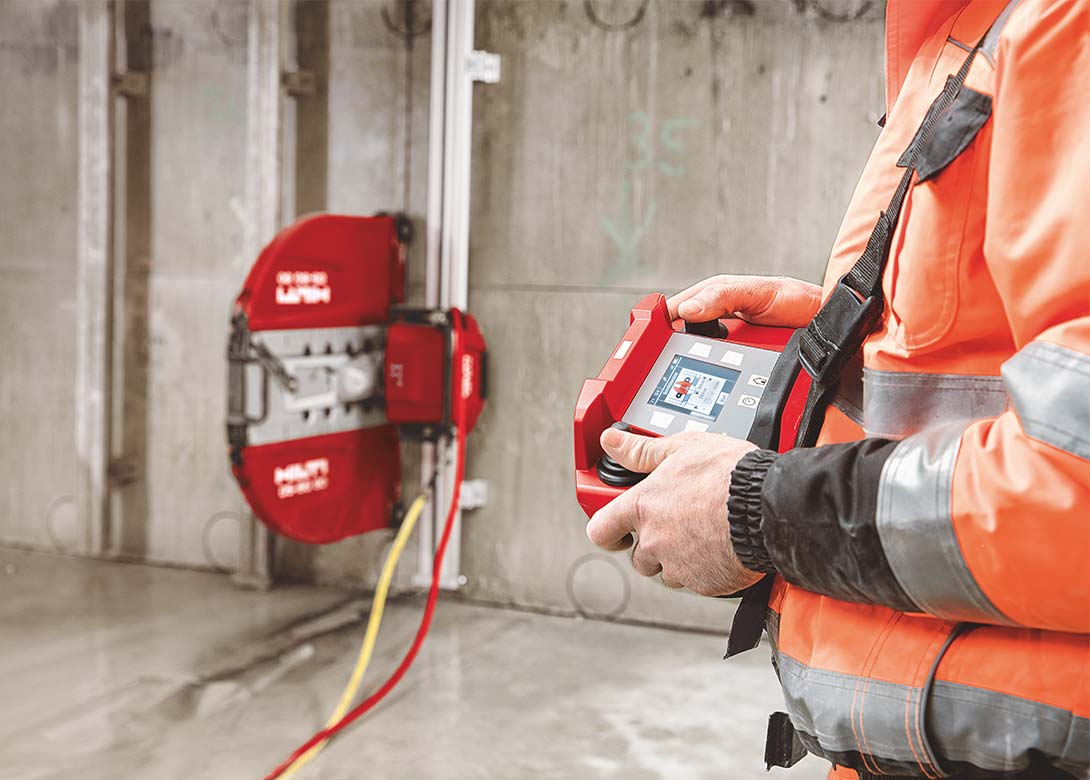 How about the big data benefits?
"For Hilti that is really not something new. We have offered tool fleet management to our customers since 2001. Once again, it's about Hilti's end-to-end business model, from developing and manufacturing the tool, to supplying, servicing, repairing and eventually replacing it. Also where tools are bought outright, we carry out the repairs. So IoT is not a 'big data' revolution for us. We've always had that data – it's at the core of the Hilti model.
Take a combihammer we've repaired three times. We might be able to say to the customer, 'we can see you only use it in chiselling mode, so why not switch to a breaker, which will be lighter, cheaper and is optimised for the purpose?'.
The other dimension is to channel the learning to the improvement of our own products. When you develop the next generation of tools the first place you look is the repair database. What are the most typical repairs? In what geographies do we need to tweak what we are doing? What do we need to change?
IoT, again, takes it wider. We have a very focused portfolio of products. Asset management helps us to understand applications that we may not previously have looked at, to recognise opportunities we had not previously seen. That provides insight to other products and their usage and, as time evolves, we will create more services based on that. The challenge is not acquiring the data, it is using it; understanding what can be of value, and above all being able to transform it into tangible productivity benefits for the customer, and that is what Hilti excels at."