HECO: Leading the way
27 March 2019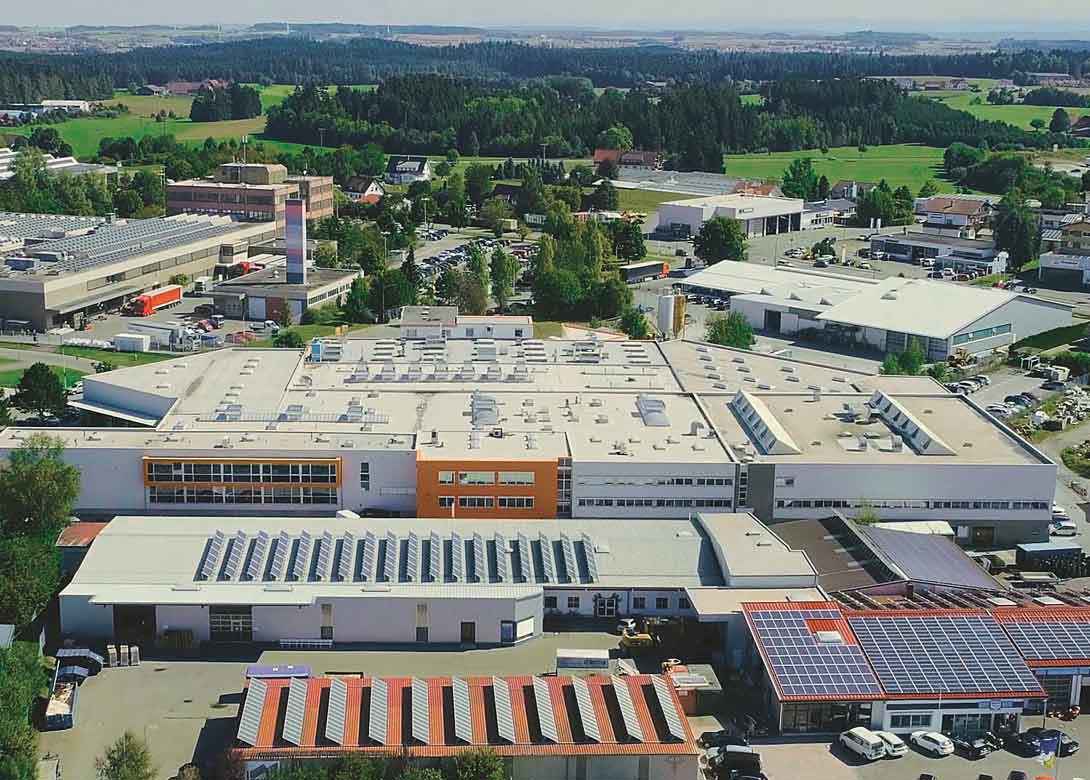 Producing approximately 1.5 billion pieces per year, with a steel consumption of 6,000 tonnes, HECO Schrauben is undoubtedly a leading screw manufacturer within Europe.
Founded in 1888, HECO has been owner-led for four generations, with the company very much influenced by the values of its founder Karl Hettich – inventiveness, diligence and quality awareness. "Whilst we are a highly innovative business, we have our feet planted firmly on the floor and we are always looking to meet the demands of customers, whilst producing high-quality solutions," explains Guido Hettich, great grandson of Karl Hettich, and managing director of HECO.
The centre of its production activities is in the district town of Schramberg in the Black Forest, Germany. Over the last 130 years the business' strength has been building on its experience and developing in-depth knowledge of production to produce the highest quality fixing solutions.
Today, HECO has over 2,800 products on stock permanently, which can be shipped the same day if ordered by 13:00. Its wide range of production capabilities mean it can produce chipboard screws from diameter 2.5mm to 5mm, wood constructions screws from diameter 6mm to 13mm – with a length of 1,000mm; as well as concrete screws with a diameter from 5mm to 20mm.
"We are extremely proud of our history as a German manufacturer, as well as our extensive range of quality leading products," states Andreas Hettich, head of marketing at HECO. "We have established HECO as one of the leading brands for the professional end user, which we supply through distribution partners. However, we do not only supply the highest quality products, but also the services to support them. It is about offering the right mix."
In addition to its fully equipped factory in Schramberg, HECO also has a second production facility in Romania. "We simply had no space left at our Schramberg site and we needed to enlarge our production," explains Guido. "We were increasing our sales and we needed additional machinery. We discussed various options and finally we decided to build a new factory in eastern Europe – and we decided on Romania."
This decision was taken at the end of 2006 and the first delivery of products was at the beginning of 2009. "In this time, we did a lot of planning and had to get a lot of approvals from the local authorities," says Guido. "We also had to install the capacity, get our employees trained, and start producing the quality products associated with HECO. It was the first project for me when I joined the business, and it was a big challenge to build the site and introduce everything we needed."
The Romanian site is able to carry out every step of the production process, including heading, rolling, and hardening. It also includes a full plating line, which is a big advantage. "We installed a plating line at the site because at the time there was no plating options in the country. We wanted to ensure the complete product was produced on-site and that no products required any further operations," mentions Guido.
Andreas adds: "Our screws are either 100% produced in Germany or Romania – using the same production and quality processes – there is no difference in the products. However, we predominately produce carbon steel screws in Romania and focus on stainless steel in Schramberg. As a business we are quality orientated – this is a base demand we must fulfil. We believe if you want to have reliable quality you have to produce the products yourself."

Leading with logistics
Products from both production facilities are stored in HECO's modern logistics centre, which is only a few hundred metres from its headquarters in Schramberg. "The needs of our customers over recent years have changed, with them wanting smaller deliveries in a shorter time frame. They were reducing their stock, and they were expecting us to carry their stock for them," says Andreas. "Due to the lack of space, we were being constrained in our capabilities. We therefore decided to set-up a new logistics centre and reorganise our logistic processes."
The new logistics centre is 25,000m2 and has capacity for 5,000 pallets and 60,000 outer cartons. It also offers fully automatic running to reduce the amount of manual handling required when sending out orders. "The people preparing the shipment previously would have to go and pick the stock manually, which was very time-consuming. Now the products are brought directly to the pickers, and the pickers know exactly what to pick," reports Andreas. "At just one worker station we are able to pick five shipments in parallel, so if the same product is needed for five separate orders, it can be picked for all of them at the same time."
Guido adds: "The logistics centre is state of the art, which is very important for our development in the future. We are now able to react to shorter deliver times and smaller orders to meet customers' demands. Plus, with the new processes and space we can focus on the needs and wishes for the medium and longer future."

Leading with innovation
Over the years HECO has been an innovation driver within the fixings sector, introducing cutting-edge technology that helps it stay at the forefront of the industry. "It is the experience and knowledge we have within the company that has established us as a leading innovator within the sector," states Andreas. "We look at the market and the applications and when we have ideas for better solutions – we realise them."
"Traditionally the team involved with innovations was very small and mainly involved our brothers Stefan and Ulrich working on the ideas," explains Guido. "However, over the last ten years we have transformed the process so that now around 10 – 15 people are involved in the development of ideas. We have an innovation process that involves several steps before a product is launched – idea, first proof, early development of product, market preparation and then promotion. After every step there is a 'stop point' where the group decides the business case for the product and whether we carry on with the process; maybe take one step back; or we look at further development. This innovation process is now integrated into the organisation."
Andreas adds: "We have to mention that we are not discussing inventions we are discussing innovations. An innovation is an invention that is sold to the market. It could be a new product or it could be adding features to an existing product. Both are crucial in offering customers new capabilities and solutions. We have a big box filled with ideas that will come into realisation. However, we have so many ideas we have to prioritise what we can do this year, next year, and the year after."
HECO highlights there were two important steps that led it to becoming the innovative company it is known as today. "The first was the launch of the HECO‑FIX‑plus, a self-invented screw with a teeth design on the thread, which we introduced to the market over 30 years ago," says Andreas. "Not only was it our first innovative product, but it was the first time we had produced our own rolling dies. This was a big step for us, because we realised that as an innovative company, we couldn't develop solutions without also have the rolling know-how and knowledge of how to design dies. That is when we decided to set-up our own rolling department."
Andreas continues: "The second step was the transfer of the teeth design principle from the chipboard screw to the MULTI-MONTI® concrete screw. Not only did we create a new product that changed the industry, but it also led us to developing our technical services – due to the amount of approvals and certifications the MULTI-MONTI achieved. These two crucial experiences have become the foundations for every innovation that we have developed since."
By following its founder's vision of inventiveness, diligence, and quality awareness, HECO has become a pivotal manufacturer within the fixing industry. This was further underlined by its strategic partnership agreement with SFS Group in 2015. "The partnership with SFS, who is also a shareholder, has been very positive," states Guido. "We have taken responsibility for and produce all of the product line – timberwork, which is sold in a different sales channel to our normal market. Making it an additional opportunity for us that offers lots of potential."
Andreas adds: "SFS has been a positive addition to our business and gives us another 'leg to stand on', but HECO will continue to be a strong brand for the trade. We have experienced good growth as HECO and we forecast that this will continue over the coming years. The general construction sector within Europe at the moment has been very good and we see a lot of opportunities in the future. Our share in the majority of sectors we supply is relatively small, when compared to some of the larger players. This means our growth does not depend on the market growing, but rather on how we develop as a business through or processes and our products. If we do our homework, we can be competitive in all sectors."