G&B Fissaggi adds new hybrid formulation
15 February 2019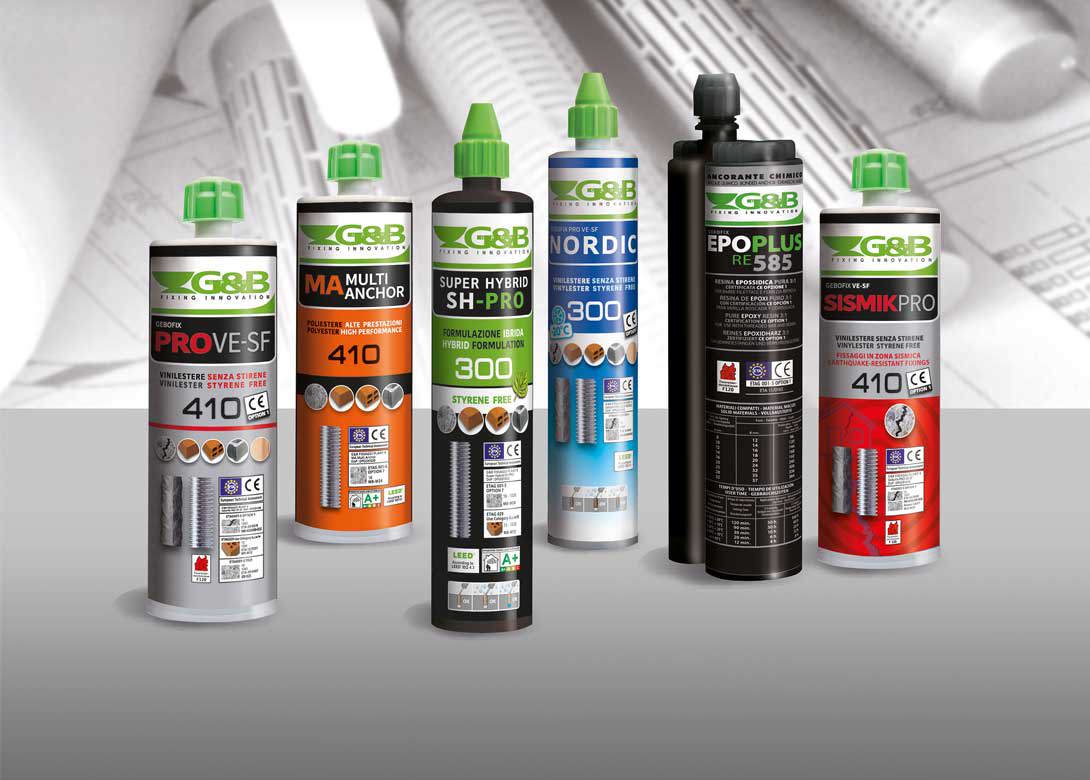 The latest addition to G&B Fissaggi's extensive range of polyester, vinylester, and pure epoxy chemical anchors, is the bonded anchor SH-PRO SUPER HYBRID CE 7 – a new hybrid formulation, styrene-free, resin available in cartridge sizes 300ml and 410ml.
The new SH-PRO SUPER HYBRID CE 7 has an ETA Option 7 certification for use in non-cracked concrete and is also approved for applications in masonry, as well as wet and submerged holes. The product has been designed for use on the main construction materials. On solid supports it can be used with galvanised steel and stainless steel accessories. For semi solid supports it can be used with steel perforated sleeve and polypropylene brush.
The SH-PRO SUPER HYBRID CE 7 has no expansion effect – allowing it to be fixed closed to edges. It also does not modify the external appearance of the support.
Another leading product from G&B Fissaggi's GEBOFIX line is the vinylester formulation ETA Option 1 certified PRO VE-SF, which is also available for fastening in seismic area (SISMIC PRO) and for low temperatures (PRO VE-SF NORDIC).
The GEBOFIX PRO VE-SF CE 1 is a vinylester styrene-free resin that is approved for use with threaded bars and reinforced bars in cracked and non-cracked concrete, as well as in submerged holes. A no expansion effect enables fixing close to the end of material, and the resin has received fire resistance ertification F120. It is available in 300ml, 345ml and 410ml versions.
The GEBOFIX PRO VE-SF CE 1 is suited for heavy loads on solid and hollow supports, including stone, concrete, aerated concrete, solid and hollow bricks. The resin can also be used for applications in wood and metal carpentry, as well as for fixing of façades, railings, pipe connections, and profiles.
"At G&B Fissaggi we offer products of the highest quality and certified performance, including nylon fixing systems, as well as steel and chemical anchors. These products are suitable for a variety of sectors, such as: Ironmongery, hardware, building and industry, electric, thermo-hydraulic and DIY stores. Through our headquarters in Italy, as well as commercial offices in the UK, Germany, Belgium, Spain, and France, we are able to meet our customers' needs."
Find G&B Fissaggi at Fastener Fair Stuttgart on Stand 1.270