Façade construction in the fourth dimension
03 May 2019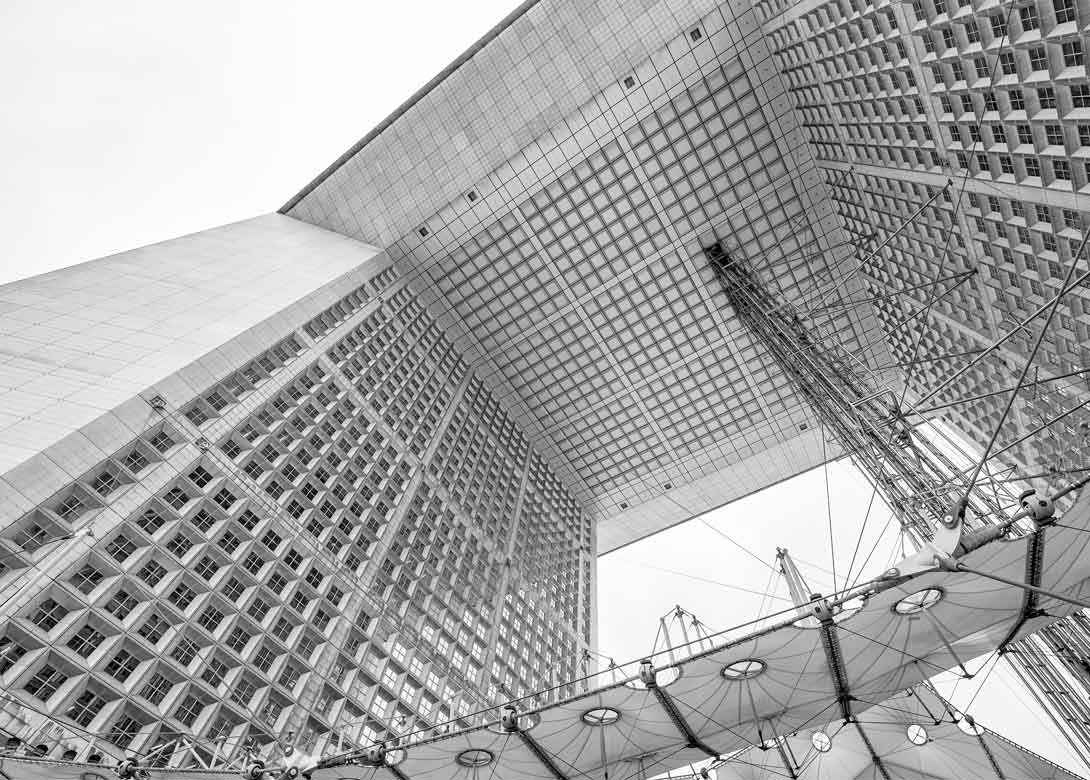 Approximately 76,000 fischer Zykon panel anchors FZP-II have recently been used as part of a two phase renovation project on the multi-storey office building – La Grande Arche de la Fraternité – in Puteaux just outside of Paris, France.
At a height of 110.9 metres, a width of 106.9 metres, and a length of 112 metres, the La Grande Arche office building is almost cube-shaped and is made of reinforced concrete while its façade consists of glass and natural stone.
Heat, frost, moisture and air pollution, put the white Carrara marble slabs into a poor state, resulting in distortions, spalling and cracks – while some of the panels that had been attached with mandrel anchors came loose. The marble was therefore replaced with white granite, known as 'Bethel White', obtained from a quarry in Vermont, USA. The stone's special surface treatment gives it the same colour and shine as the original marble while being significantly more robust. Mobile access platforms enabled safe and productive replacement work to be carried out on the tesseract façade, optimising the final result.
The fischer Group of Companies, in cooperation with a drilling firm, was in charge of the attachment using undercut anchors. FZP‑II‑SO Zykon panel anchors were installed using the stand-off method of installation in order to attach the granite panels to the façade. fischer supplied EDM with 42,500 anchors for the renovation of the south side and decorative surfaces between the end of 2015 and the end of 2017. The second phase, lasting from the end of 2017 until the end of 2018, saw 35,500 FZP-II-SO anchors being supplied in order to exchange the panels on the north surface.
fischer Zykon panel anchors FZP-II ensure form-fit and expansion-free installation in the conical undercut drill hole. Their reverse mounted installation enables fastenings in the ¹⁄₅ point of the façade panel. Compared to edge fixings (pin, plug pin and slot fixings) this technique achieves lower panel bending moments and higher load-bearing capacities. This allows the installation of thinner and larger-sized panels compared with installation using edge fixings. In comparison to the previous solutions, individual panels of the façade of the Grand Arches can be replaced thanks to the FZP-II, if required.