Bossong never gives up
09 December 2020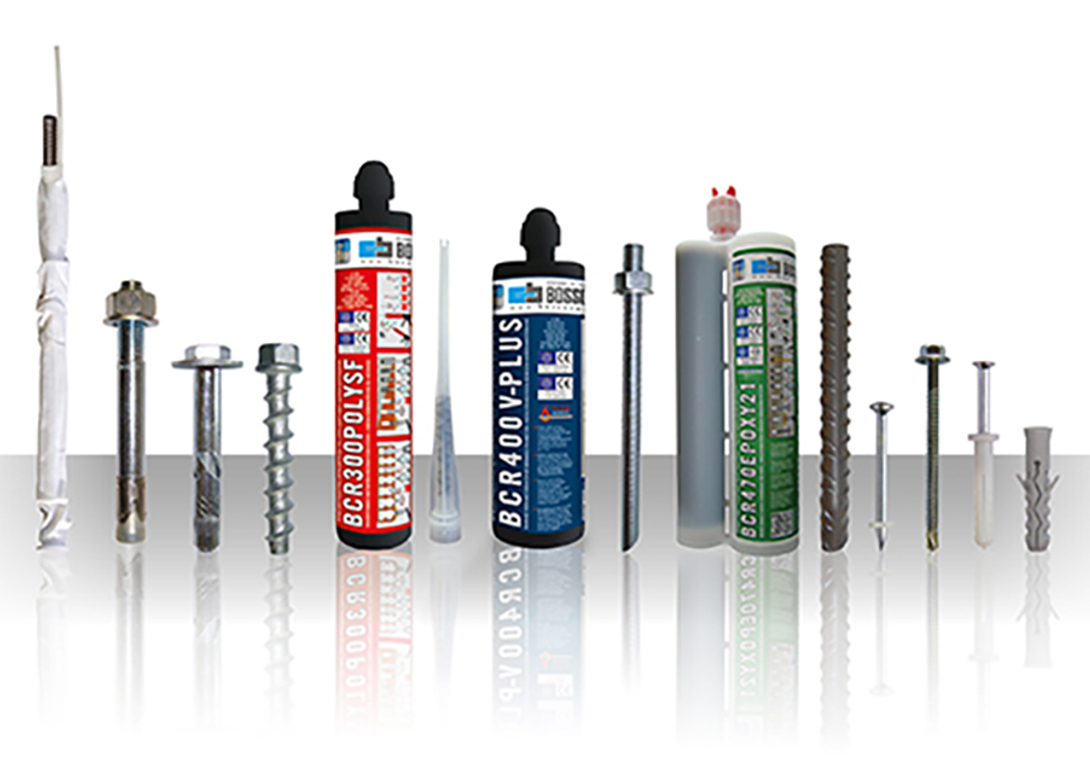 Here we speak to Mr Michele Taddei, co-owner with his brother Andrea (CEO) of Bossong SpA, about the importance of certifications and regulations within the construction market and how the company has developed to meet these requirements.
What have been the key developments for Bossong over recent years?
"A key focus for us over the last few years has been on fixings in areas of high seismicity. This includes not only chemical anchors, which are our main business, but also mechanical zinc galvanised and stainless steel anchors. We also have a full range of concrete screws that reach the C1 and C2 performance category. For masonry we also have our injected anchors with sock, which is a well-known system for restoration in ancient buildings and monuments.
It is important to remember that seismic category C1 is only for non-structural uses and for levels of low seismicity. Whereas seismic category C2 is for structural uses and non-structural uses and for all levels of seismicity.
It is well known that Italy has a high seismic history and our country is almost completely in the C2 category. For this reason, Bossong was one of the first companies in Europe to focus on this qualification for its products in order to offer reliable and safety solutions in earthquake situations."
How important is it to keep up with certifications and regulations and what are the benefits to you as a manufacturer?
"In many countries, and the number of countries is increasing, the high-level of qualification is not only required but it is becoming mandatory if you work with professional consultants and contractors.
For our full range of anchors with seismic certification we can offer the following approvals:
ETAG 001 – Annex E: Guideline for assessment of metal anchors (mechanical and chemical) under seismic action.
EOTA TR049: Post-installed fasteners in concrete under seismic action.
EOTA TR045: Design of metal anchors for use in concrete under seismic actions up until the Eurocode 1992-4 became effective.
EOTA TR055: Design of fastening based on EAD 330232, EAD 330499 and EAD 330747. Transitional document between different publications for the design of a fastener for use in concrete, such as ETAG 001 Annex C, TR029, TR045 and the Eurocode 2-4.
Eurocode 2-4: Design of fastenings for use in concrete. Into this document it is possible to find reference for the static, seismic and also fire design of fastening for use in concrete.
If we want to be an important reference point within the construction market, then it is vital that we follow these European standards and regulations and show we can meet the requirements. European Technical Assessments (ETAs) are recognised worldwide and have a production procedure check that is controlled yearly to ensure companies maintain their ETAs.
In addition, the seismic performance categories are very demanding for instance in seismic the C1 test protocol includes everything that is recommended already in the United States regulatory document ACI 355-2 and requires 10 tests to be performed, with tensile and shear seismic simulation for every diameter of the anchor, to achieve certification. The test protocol for the C2 performance category is even stricter and requires a minimum of 30 tests per diameter and tests in which the anchors are qualified for the load cycling, and in cracks up to 0.8mm in width, by simulating the inversion of the moment through the active compression of the concrete around the anchor."
The Covid-19 pandemic has undoubtedly impacted everybody within the industry. After nearly seven months, how is your business now operating?
"Bergamo was unfortunately the centre of the Covid-19 pandemic in Italy. I still have in my mind and in my eyes the images of military truck with coffins of hundreds of my citizens – 'bergamaschi' – people of Bergamo. We are people of the mountain and workers, we are strong. Here we use to say: 'Berghem mola mia' that translates as 'Bergamo never give up' and this saying has become famous in all of Italy from the north to the south of our peninsula.
Yes, we have already recovered part of the loss of sales thanks to our export, which is still increasing, and our national market is running well. However, we still need more time to return to last year's turnover.
A difficult aspect of the handling the pandemic from a business point of view has been the change in business relationships. Unfortunately, we are losing human interaction and the importance of a 'real meeting' that helps build relations between people. Relationships between companies go on of course with mails and video conferences, which give us the possibilities to plan video meetings all over the world, but it will never replace the face-to-face meetings.
I'm confident that now the world knows how to approach this virus and I hope we will start to come out of this difficult time."