100 year milestone for Rawlplug
20 May 2019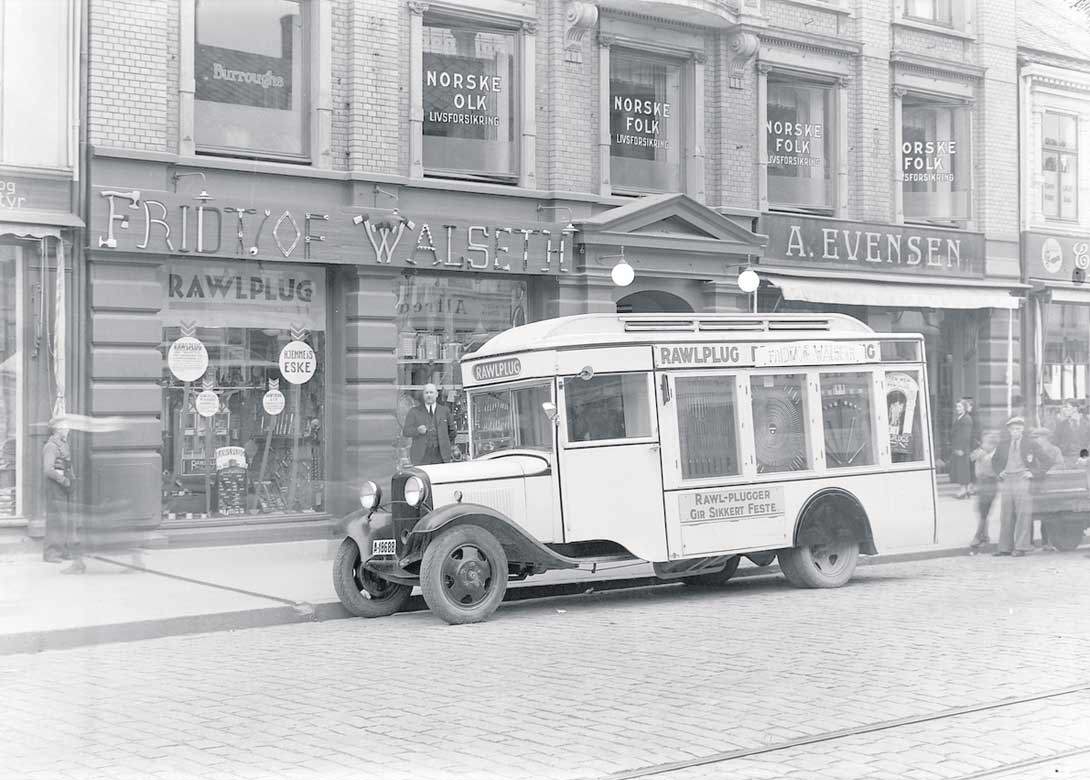 It is 100 years since the Rawlings brothers incorporated The Rawlplug Company Limited. In his second year as UK managing director, Pietro Grandesso might be a relative newcomer to the company but he's certainly no stranger to the UK fixings industry. We caught up with him at Fastener Fair Stuttgart.
The iconic Rawlplug actually predates the company that took its name by eighteen years. Patent 22680/11 was granted to John Joseph Rawlings in 1911, then running a small electrical engineering company in London with his brother.
His invention was catalysed by a contract with the British Museum that required electrical fittings to be installed unobtrusively and without damage to the Museum's plaster walls. Rawlings developed an extraordinary solution – a plug made from jute soaked in animal blood and glue, which could be inserted into a carefully pre-drilled hole.
The flexible material expanded when a screw was driven into it, securing the fixing into the hole. The pioneering solution rapidly gained recognition in the construction industry and the RAWLPLUGS™ trademark was registered in 1912. By 1919 the product so dominated the business that it was renamed 'The Rawlplug Company Limited'.
In 1930 Rawlplug broke historically significant new ground again, with the invention of the RAWLBOLT; the first mechanical expansion anchor in the world and forerunner to the array of designs now relied upon by the global construction industry.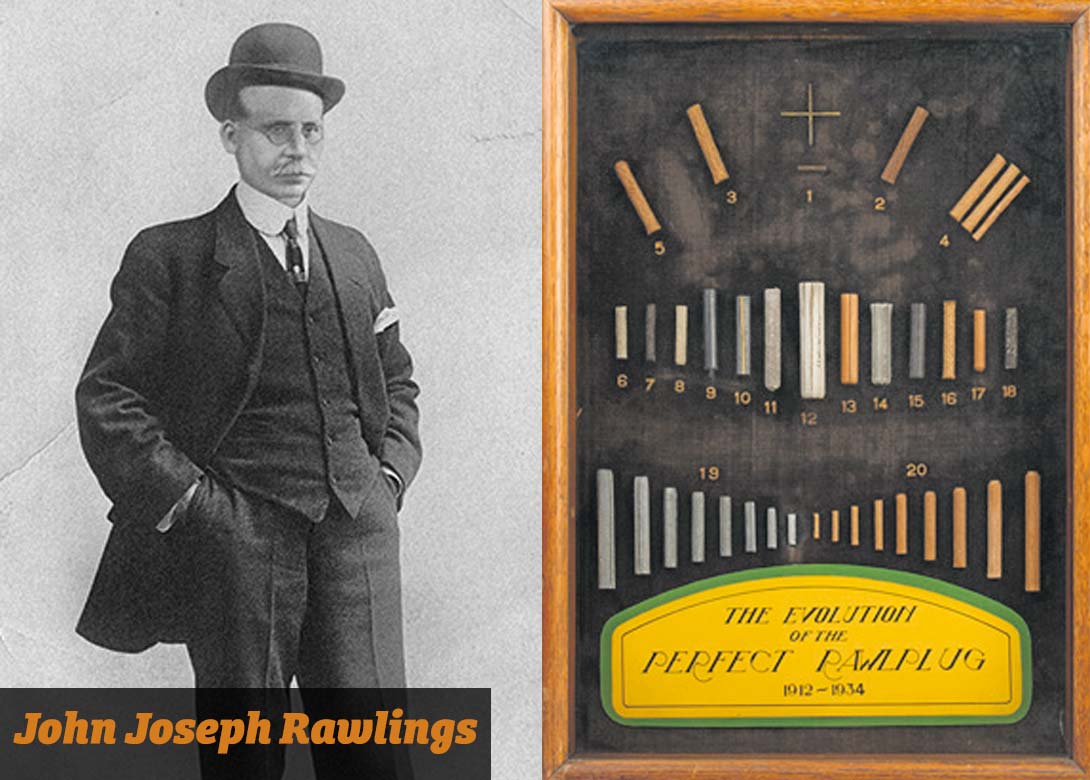 By 1939, just before the outbreak of the Second World War, Rawlplug had ten manufacturing plants in the UK, throughout Europe and in the United States. Rawlplug solutions were used quite literally "from Iceland to Fiji".
By 1967 Rawlplug began producing and marketing a more advanced alternative to the jute plug: Its first range of wall plugs manufactured from extruded plastic. In 1969 manufacturing was focused in Glasgow, still the UK company's distribution centre and offices.
Between 1968 and 2005 Rawlplug's ownership changed four times – a period of turbulence that unquestionably undermined the business, as the market around it became increasingly competitive and technology driven. The global recognition of the brand itself, however, remained largely undiminished.
In 2005, the Koelner Group acquired Rawlplug, returning the business to family ownership and introducing real stability, investment and commitment to the future of the brand. This magazine interviewed Radoslaw Koelner at the time and there was no doubt about his personal commitment to continuing production in Glasgow. However, the overriding rational of efficiency and productivity eventually led to the relocation of the machinery to one of Koelner's production plants in Poland.
That plant, in Łańcut, near Poland's eastern border with the Ukraine, has its own extraordinary history. Conceived and located by the Soviet occupiers of Poland in the 1950s, the 'Srubex' (it simply means screw) factory was one of the biggest employers in a small rural town, alongside the all important vodka factory, employing thousands. Functioning behind the Iron Curtain, through necessity it developed remarkable self-reliance in the maintenance and repair of its production machinery. While the equipment has most definitely changed, the legacy of engineering expertise has carried forward into the ownership by the Koelner Group.
Face2Face: Pietro Grandesso, managing director, Rawlplug UK
Born in Padua, Italy, Pietro Grandesso arrived in the UK in 2001, to take up the managing directorship of fischer fixings UK. A BA from the University of Modena was honed by more than six years managerial development and experience with the global fixings group. In 2009 he was appointed managing director at VJ Technology (part of SIG Plc at that time), making a successful transition from supporting distribution to first hand engagement with major construction contractors. He was appointed managing director at Rawlplug UK in January 2018, immediately injecting his unique combination of personality and drive to the business.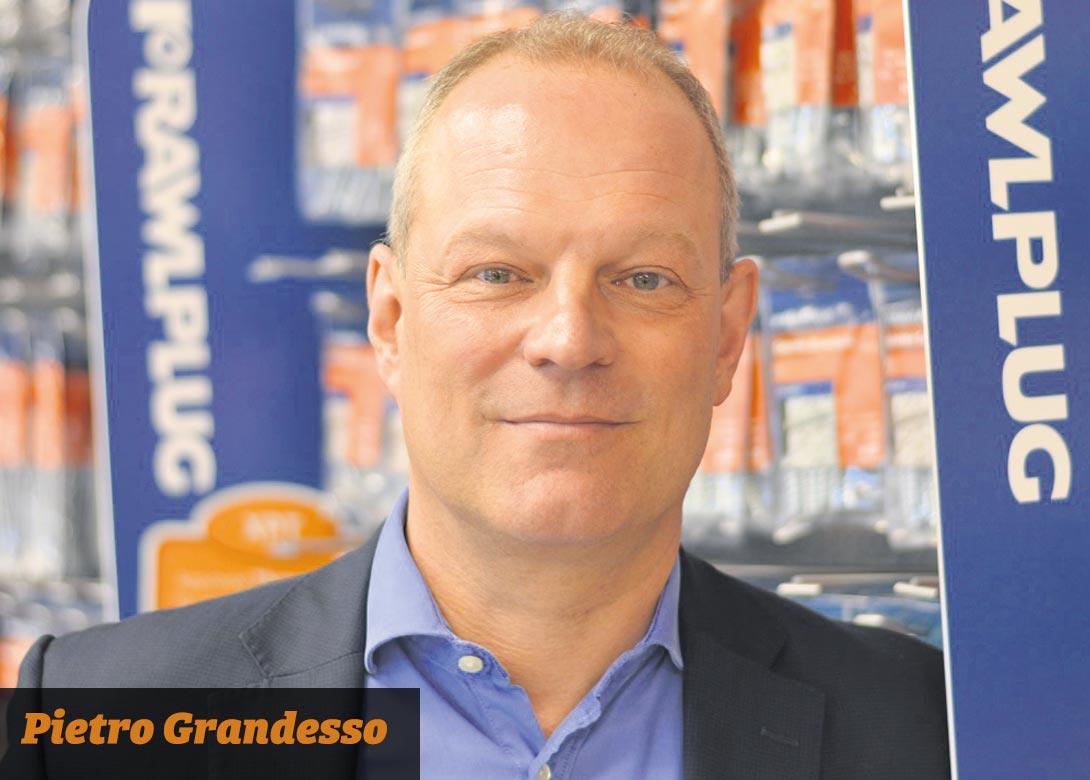 "You are quite right," says Pietro, "in saying that Radoslaw Koelner really wanted to keep manufacturing in Glasgow for as long as possible. However, there were unexpected challenges and moving the machines to Poland made massive sense from the Group's point of view. Even then, Radoslaw Koelner was careful to look after the people in Glasgow".
"We have two main manufacturing plants in Poland now. Łańcut has always been a fastener plant, and it now manufactures all our heavy-duty metal anchors and screw bolts."
"The plant has progressed a lot over the last five years. Major investments in the latest cold forging and coatings technology have hugely increased our capabilities. That commitment to investment and development is one of several reasons that motivated me to join the Group."
Originally, two Nedschroef cold formers were transferred from Glasgow. The plant's extraordinary reservoir of engineering skill and experience was rapidly brought to bear on the machines, resulting in almost immediate improvements in productivity. "Now we have another two new Nedschroef and a number of top range Italian and German machines," says Pietro.
There are also major levels of investment in the second manufacturing centre, at Wrocław, which is also Koelner's headquarters. "There is an ongoing programme to replace our older injection moulding technology with advanced electric moulders. In all there are around fifty moulders and half have already been replaced."
Both plants have adopted lean manufacturing techniques, delivering greater efficiency and productivity, as well as ensuring the stringent quality controls essential for modern construction fixings.
"85% of our products are now made in-house," explains Pietro. "We are reaping the advantages of advanced German and Italian manufacturing machinery, together with eastern European manufacturing processes, delivering consistently high product standards at advantageous cost levels."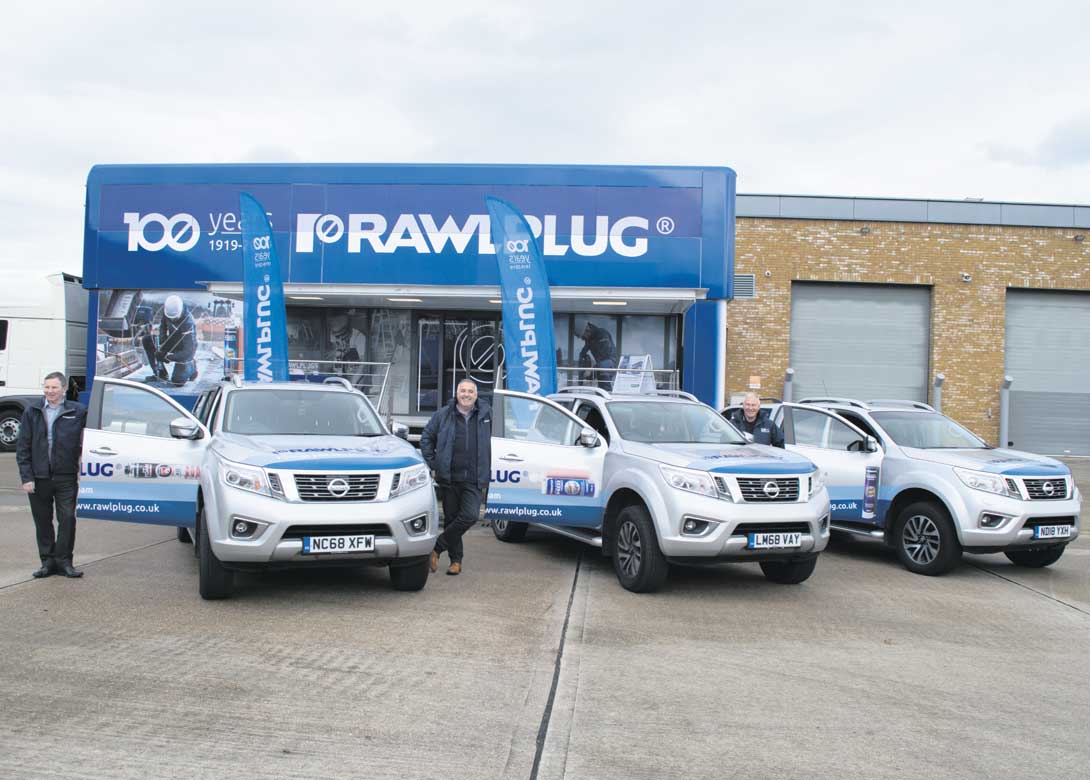 "In Glasgow, we receive almost a truck every day from Poland, with shipments based on careful forecasting, which ensures high-levels of availability to UK customers. We are also able to obtain products quickly from Poland when necessary."
"What is also really exciting," continues Pietro, "is the research and development capability within the Group. There are excellent developments in external wall insulation products and new frame fixings. Following Koelner's acquisition of Stahl and the relocation of production to Wrocław, there are also new vinylester hybrid resins and epoxies being developed. Our screw bolt, again developed in-house, also has very interesting loadings".
Reflecting on the 100 year anniversary, Pietro Grandesso notes, "Rawlplug operates actively in more than fifty countries around the world and is recognised and supplies to double that number through international distributors".
"Today, Rawlplug is around a third of the total Group turnover. We have Rawlplug subsidiaries in France, Germany, the UK, Nordic Countries and the Middle East, with export demand serviced direct from Poland, where we have a dedicated export sales team."
"Rawlplug has brought real strengths to the Group. Koelner was historically focused on the European market and was particularly strong in the DIY and own-brand sectors. The strength of the Rawlplug brand, especially in Commonwealth countries where it has long been recognised and respected, has opened new potentials. It's an excellent fit."
In the UK, Rawlplug has continued to command a market leading share of the DIY and trade markets but Pietro Grandesso is passionate about the opportunities for its more technical products. "At the moment Rawlplug UK has a market share in DIY and trade of more than 40% but only 12% in technical, including EWI (External Wall Insulation). Our work is to bring the balance in our business between technical and DIY/trade closer to 50-50."
"The historic strength of the brand is a huge asset. There was a recent newspaper report, looking at the Top 50 UK brands, and Rawlplug still ranked number 27. In DIY our strength has historically been mainly with plastic plugs. Now we are demonstrating to people that recognise and respect the brand, that it is about far more – a comprehensive product offer that also delivers the value and reliability, synonymous with the name Rawlplug. Our new 'Shop in a Shop' point of sale concept is really important to growth; keeping it simple but attractive and making it easy for the consumer to select the right product for different substrates."
"Merchants that have trialled the range, have found that the Rawlplug brand sells 10% more than a similar own-brand offer. Interestingly, put alongside own brand products, they both sell more as a result. This validates our approach and the research we have put into the right packaging and the right pack count, as well as colour coding the product by substrate."
"Training is also incredibly important. As well as Rawlplug's in-branch training support our customers are now nominating their own training champion, into whom we put maximum effort so they can go back and pass it on to colleagues. That is part of the reason we have invested in the Rawlplug Academy, which opens this May, and will deliver both e-learning and hands-on product education."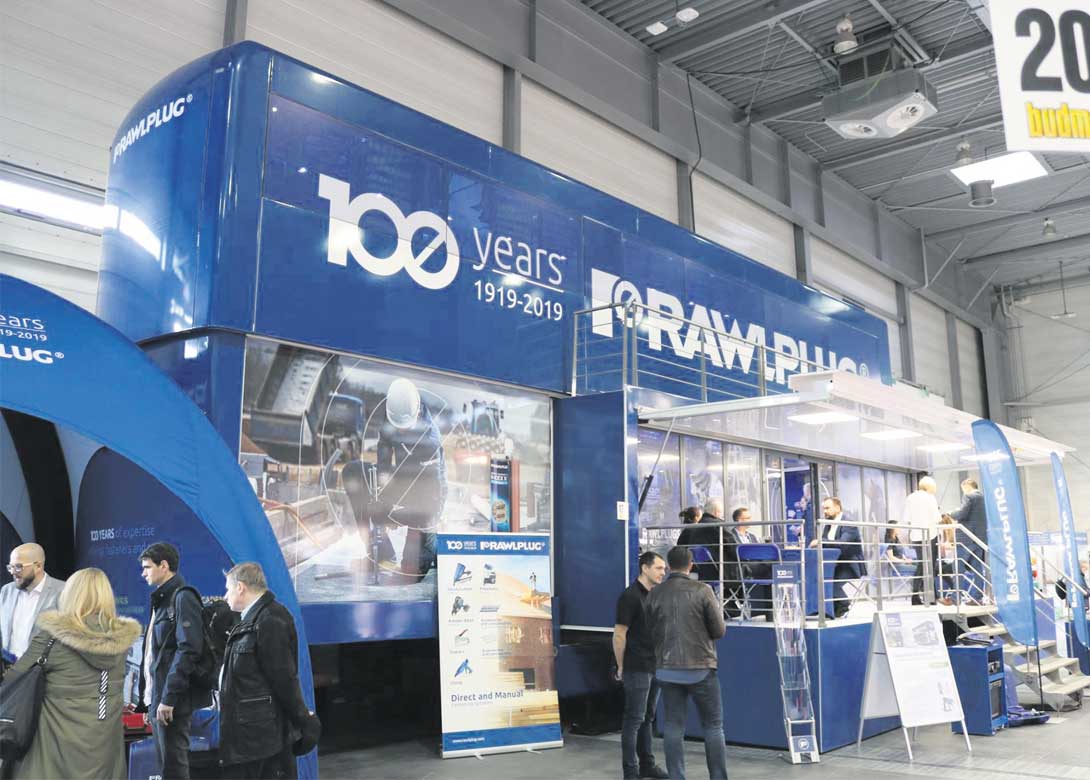 Developing Rawlplug technical sales will take time, Pietro Grandesso acknowledges. "There are two routes. One is working on specifications, running CPD seminars, making engineers aware of Rawlplug's full technical package, including technical documentation, BIM, software for calculations, and so on. The second is to make sure the Rawlplug offer through technical distributors is fully supported on-site – whether in testing or technical advice and documentation."
The Rawlplug UK structure reflects Grandesso's triple objectives. "We will constantly innovate to maintain UK market leadership in DIY and trade. In our other two divisions, Technical and External Wall Insulation products, we will keep on bringing new developments to the market and provide the intensity of technical support and education, in order to become market leaders."
"Of course, the proof is in the pudding, but already after one year I can see definite improvements in the areas we wanted to improve."
Pietro Grandesso brings a potent mix of management skills, technical knowledge and experience but he is clear: "It's not just about what I do but about the entire Rawlplug team in the UK, and the team behind it in Poland. A lot of our people have worked for the company for many years and seen a lot of things happen during those years. It has been really important to them to recognise there is clear direction and commitment from the top and that the brand is here to stay."
Pietro Grandesso is confident the UK market welcomes the re-energisation of the Rawlplug brand. "We hear from customers regularly, that 'it is good you are here after 100 years; and good you are strengthening your presence in market sectors that have historically become weaker for you'".
Celebrating the 100 years anniversary will be pivotal, Pietro believes. "Our campaign in the UK starts now and will run through to the Build Show at the NEC, Birmingham, in October, where Rawlplug will have a big presence. There will be a big celebration in Poland for all our employees and there will be plenty for our customers to get involved in, too. As well as media and digital campaigns we will also have the arrival and tour of the RawlTruck, currently making its way around all our major European markets."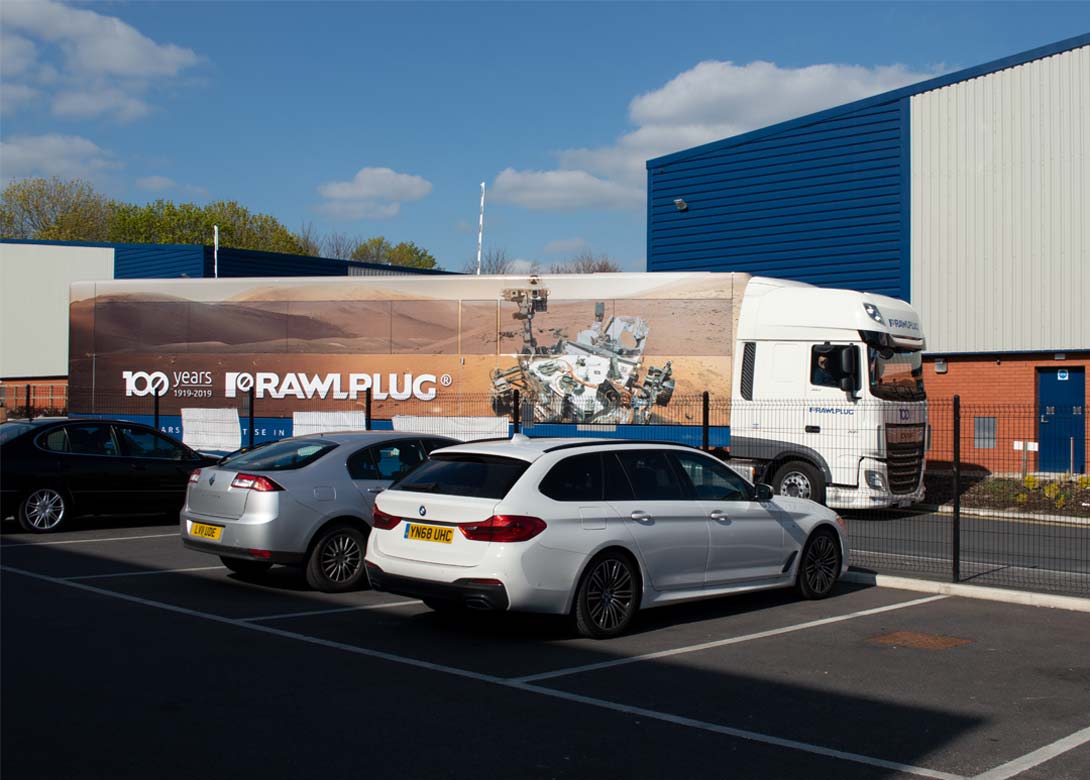 What about Brexit? "I see always the positive in everything," Pietro smiles. "If you believe in what you do, you can always find advantages and opportunities, even amongst the current uncertainties."
"Rawlplug will this year receive the biggest investment it has experienced in more than twenty-five years. Of course, we have worked on the contingencies, and we think we have a solid plan in place."
"The market is still buoyant and Rawlplug has not seen a negative impact in the first quarter. The important thing is to have the strategy in place, and if you have the right strategy and the right people in place, the results will come."
"As much as looking at the history of the company, this anniversary is about looking forward – it is important for our people and all our customers to see the depth of commitment to the Rawlplug brand."
"We have invested strongly in our people – particularly in both product and functional training. We have a great team, committed to the brand, and to winning the growth that will ensure it and their future prosperity."
"What better time to celebrate 100 years of an iconic British brand?"