A 'Hi-Torque®' clamp for low pressure applications
16 February 2017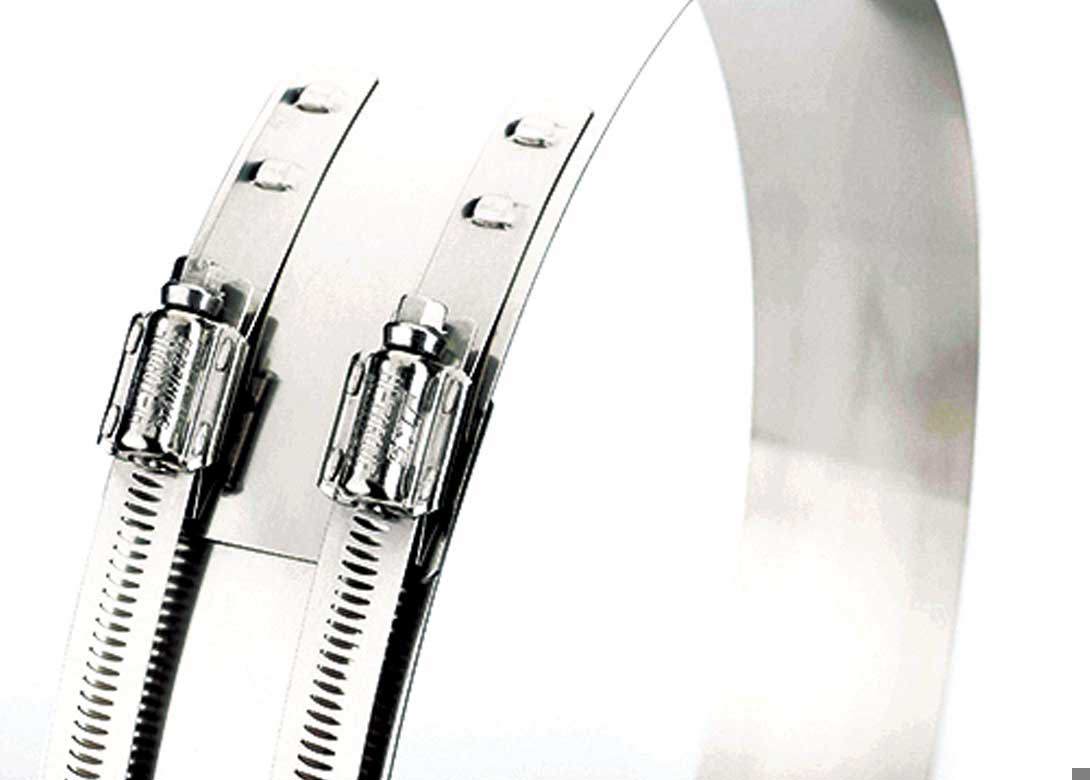 UK-based hose clip manufacturer JCS Hi-Torque Ltd says it is able to produce custom clamp assemblies on very quick turnaround times for a huge variety of applications.
In particular the JCS Hi-Torque® range offers an extremely adaptable clamp, which can be easily customised to suit – with lengths and adjustment ranges being almost infinitely variable. This combined with being corrosion resistant (fully 304 and 316 stainless steel) makes it one of the most popular for bespoke applications.
One industry demanding versatility, strength and superior corrosion resistance is the underwater drainage industry. JCS supplies virtually all the major European drainage coupling manufacturers.
Drain couplings can vary in size from 25mm up to 1,000mm and pipes are commonly connected by a rubber bellow that fits over the ends. These bellows are then clamped and sealed by use of a hose clamp. These joints can be a connector for the same or different sized pipes or for repairing a broken section.
Repairs on drainage pipes can costs thousands, even hundreds of thousands, dependant on the underground location. It is because of this that companies want to ensure the couplings and fixing assemblies they use are of upmost quality.
JCS offers two main types of clamps to the drainage industry, one being the standard Hi-Torque clamp – with different length and adjustment ranges. The other utilises the Hi-Torque clamp but is in effect cut in half and then connected to a larger piece of stainless steel known as a band clamp. The band clamp offers a large area of contact with the rubber boot and the pipe it's clamped to.
JCS points out that its Hi-Torque clamps are needed for this application as although the pipes are working under low pressure a large area needs to be compressed evenly and no other design of clamp offers the uniform seal.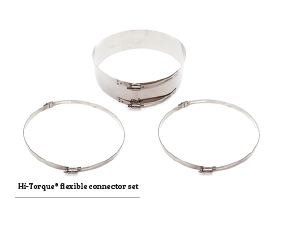 The only issue common with all manufacturers of band clamps is the way in which the clamp is secured to the band – often done by spot welding – which can lead to an area of localised corrosion that eventually could cause the failure of the clamp. Although in theory the clamp will outlast the rubber boot even with spot welded joints, JCS worked alongside one German manufacturer and found a solution that not only eliminates the risk of corrosion but adds very little to the production costs. Instead of spot welding, a mechanical lock between the clamp and the band was used, which in tests has proved to be stronger than the spot welding. This option is now available to all customers as JCS has the machinery in-house.
In the event of a damaged drainage pipe, speed is of the essence. JCS Hi-Torque has all its component and production processes under one roof at its facility is Sudbury, Suffolk, which means it is able to produce custom clamps on extremely short turnarounds – if required, even in just a couple of hours.